ES Thursday 8-22-13
Magnet price for me today is 40.50 but I don't have a great read of the market yet...
I know that 44 and 46.25 are the first key numbers....I know we have a
gap
up of 8 points if we opened now...we also have the major resistance at 48.50...
see where your 1/4 and 1/2 gap numbers fall today ....for confluence
My plan is to see them get two points up and away from 44.25 to look for sells first...then use the 44 as a first magnet price..with 40.50 as the major magnet price..
we do not want to see them get above the 46 number and have that turn into support that will be bad for us short bias traders..we can sell the 48 number if it gets up there and us the 46 as a target too
if we open under 1644 I will sell a rally up to it knowing that the better sells are up at 46.25
I will watch 37.50 for possible support if it get s that low
...34.50 is another key number today too
my concern is that yesterday was just a big fake out
some will be using the 44 - 46 as a zone and a bull / bear "SWITCH" to provide them a bias...long above it and short below
Click image for original size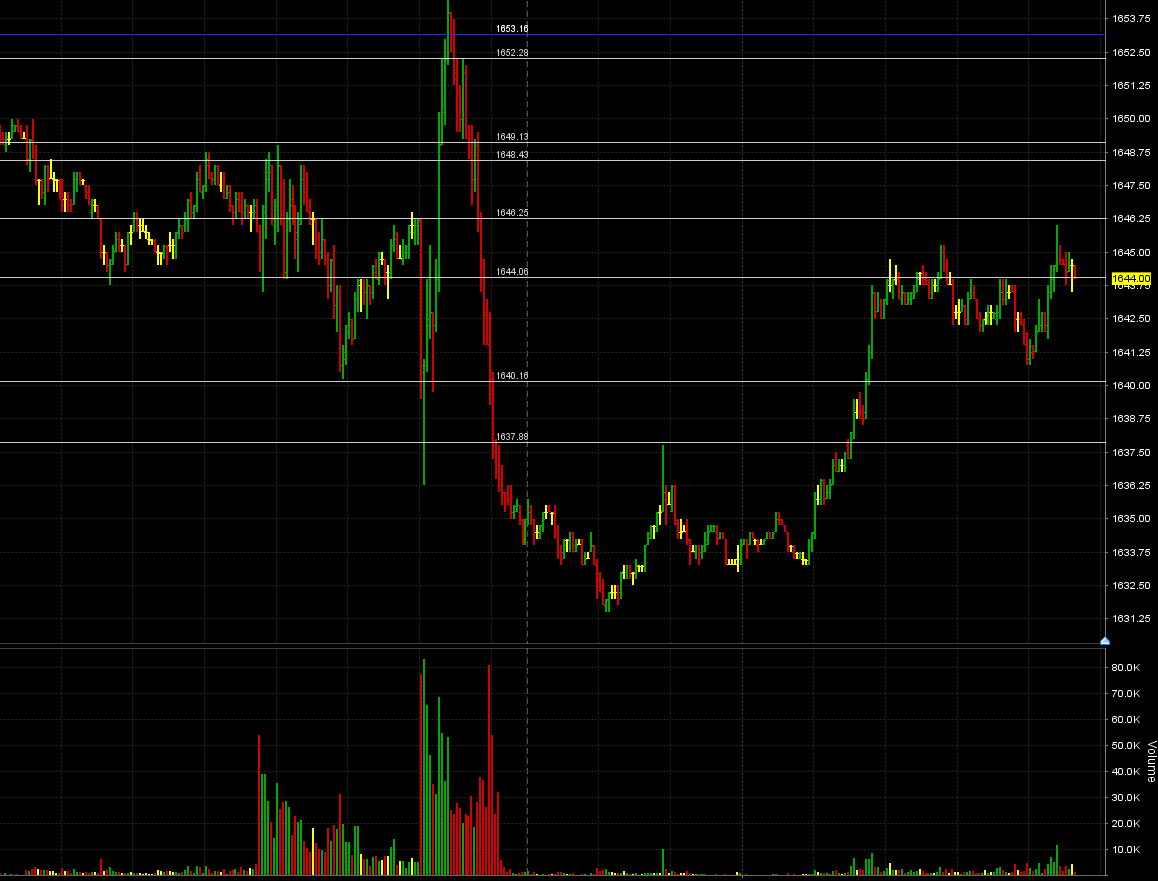 here is the net
delta
i was talking abt...in general at the end of a move u get some exhaustion that shows in the form of a 5m bar with >10k or <-10 k in net buying/selling....then we usually one or two
tick
that high or low and u r good to go...hope it helps
btw this is the updted
tick
chart showing that more balanced
tick
after that 54 area was hit
http://www.charthub.com/charts/2013/08/22/es_1m_1308221104
scaled some 51.75s here since i don't want to be left with nothing if this thing turns back up...
mit order to cover most at 49.50

placed stop for last couple at 51.25 lets see if they sell it back to that 46 area
took some 50.25s and 49...flat now
good trade nick..glad to see you posting again..
thx guys, will try to show up more often
we ended up going down a bit past the
rth
vwap
down to the
rth
mid (48.75)...so taht
vwap
to mid was a little zone u could use to get long if u thought they were done selling...today's
vpoc
and
poc
is at 49 btw so more confluence...
i thought abt the long but preferred to cover the short instead....
tick
balanced and such a long rally from
o/n
lows made me a bit cautious abt longs here
tick
chart updated
Source:
http://www.charthub.com/charts/2013/08/22/es_1m_1308221138_0
I went flat at 49.25...great postings today and trades everyone....tomorrow us early morning traders will do better
trouble so far holding outside the
IB
high and our upper zone....meant to put that in last post !!