ES Thursday 8-22-13
Magnet price for me today is 40.50 but I don't have a great read of the market yet...
I know that 44 and 46.25 are the first key numbers....I know we have a
gap
up of 8 points if we opened now...we also have the major resistance at 48.50...
see where your 1/4 and 1/2 gap numbers fall today ....for confluence
My plan is to see them get two points up and away from 44.25 to look for sells first...then use the 44 as a first magnet price..with 40.50 as the major magnet price..
we do not want to see them get above the 46 number and have that turn into support that will be bad for us short bias traders..we can sell the 48 number if it gets up there and us the 46 as a target too
if we open under 1644 I will sell a rally up to it knowing that the better sells are up at 46.25
I will watch 37.50 for possible support if it get s that low
...34.50 is another key number today too
my concern is that yesterday was just a big fake out
some will be using the 44 - 46 as a zone and a bull / bear "SWITCH" to provide them a bias...long above it and short below
Click image for original size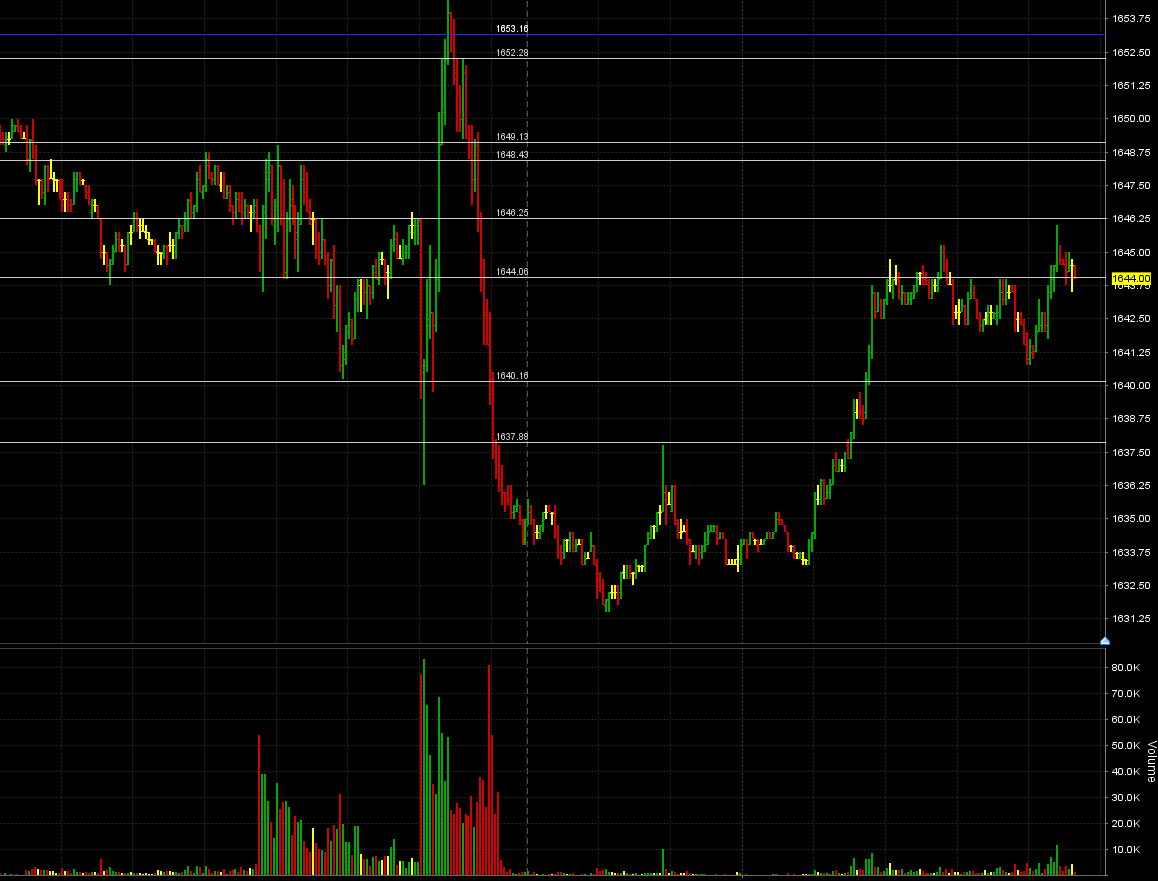 tick
is shown in the 2nd pane starting from the bottom....
u can see we had only one negative print and it was bought up fast...the rest all positive
Source:
http://www.charthub.com/charts/2013/08/22/es_1m_1308221021
oh yeah..that's great stuff from both of you..imagine if we had more folks posting stuff as cool as that more often ....


fantastic..!!
here is my area....I really want that test back to the 49.50...gotta try it
soI'm gonna try for the 50.50 but if we get into 1655 then I won't try
fades
....prefer the 52 - 53 to inititae in
less than 1 point from 50 dma
50 DMA printed at 53.805
That 49.50 looks a lot better now


what do u know...there is my 54-56 area...with net
delta
hitting some exhaustion (will show taht as well in a bit)....
shorted 54, and
tick
is starting to chg character a bit, flirting on both sides of the zero line here...50-50.5 area is a good target for this, knowing
vwap
is right below at 49.5ish and they like to hold that on trend days
that 54 was a Nice entry, I sold the 37.75
trouble so far holding outside the
IB
high and our upper zone....meant to put that in last post !!