ES Friday 1-31-14
How I have it today...Long bias especially on a drop lower first

got comp chart fixed ...here are main levels.......to confirm with lower time frame video above
Click image for original size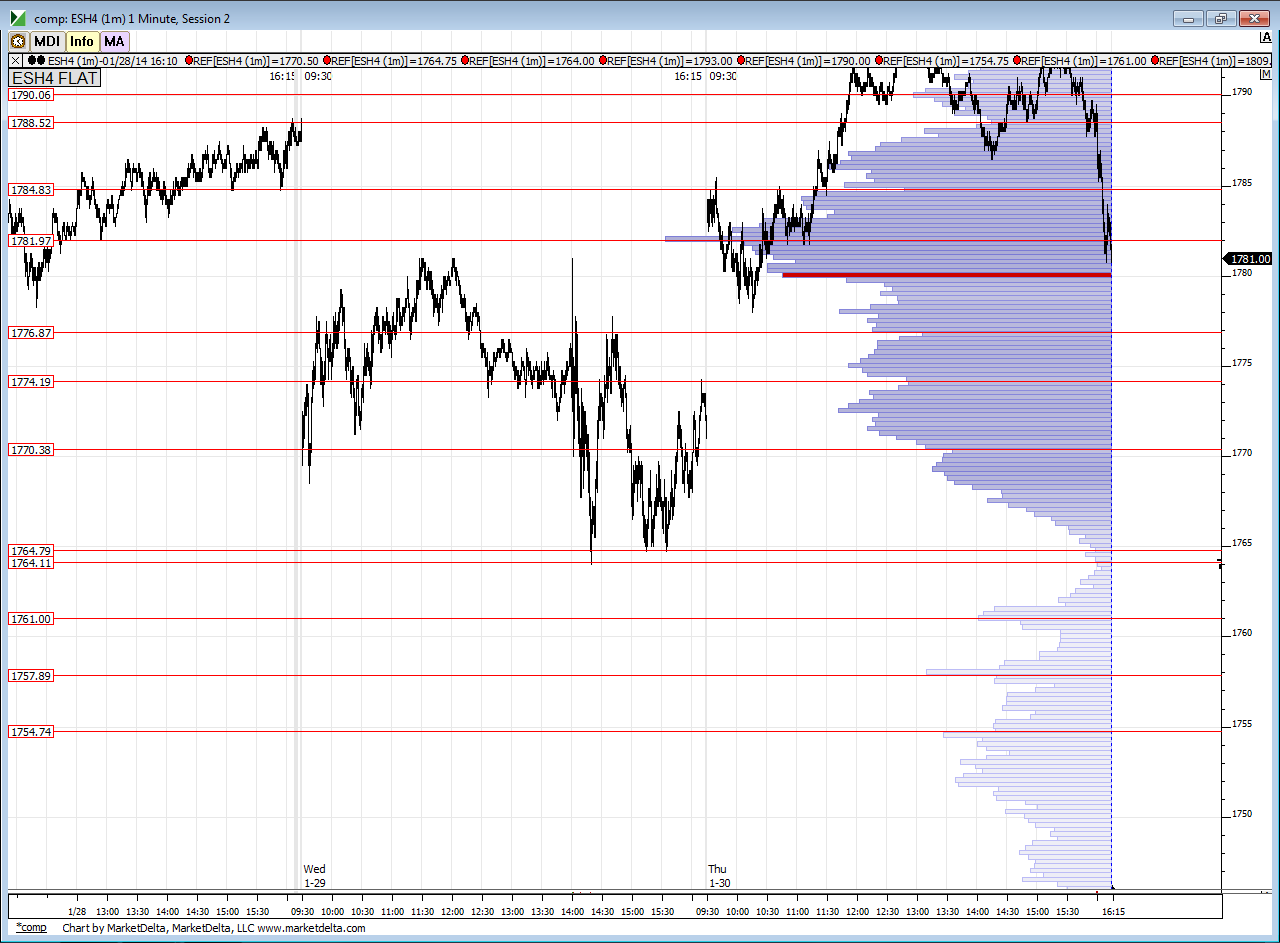 and here is composite with Overnight action to confirm key areas
Click image for original size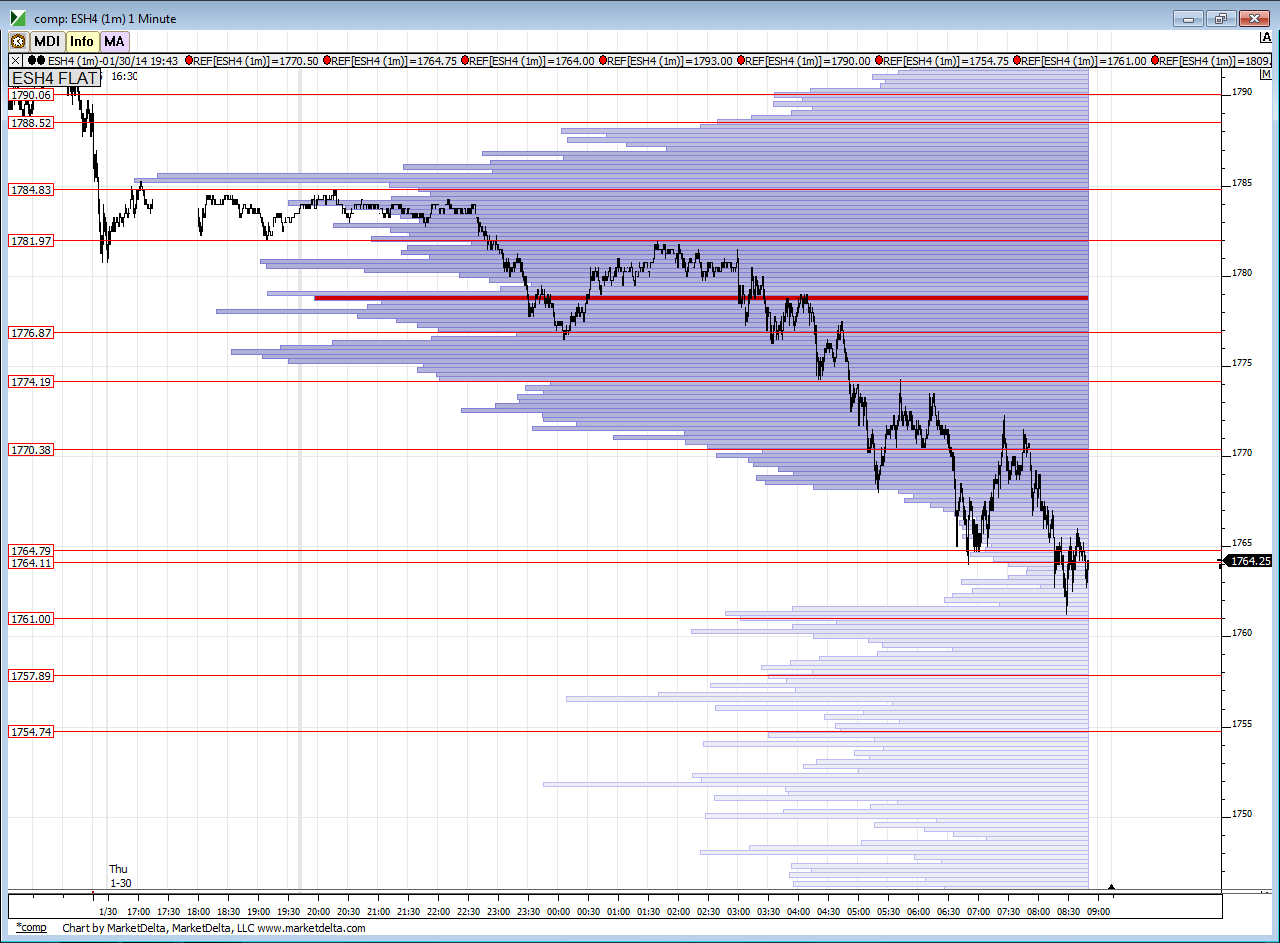 note that the Time profile changes when I include the Overnight....I do not look at the time profile when I
add
in the overnight...I'm only looking to see what happened in the overnight to confirm what happened from the Time day session only composite....does that make sense ? yikes !!
my two plans are to try and buy expecting the 70 line to print at least....ideally off the 64.50- 65 .....other plan is to buy under On lows to go get the 64.50 retest..
should have mentioned this in the plan but the
VA low
from Wednesday was 69.50.......so that 70 should have been set up as a zone in general...I still think they ultimately want to go back to 73 - 74 but may take a while
I took one minute high breakout trade today after the second test into my 65 number....see the second one minute bar had matching high of first one minute bar....normally I like to see some movement to a zone ....so this is an alternate way to enter and is very aggressive....but opening out of value and on
gaps
this method works much better than if we open inside a range of the previous day....then we may be prone to chop under those conditions...trying to hold measly runners to get back to 73 - 74 but think perhaps somebody is exiting heavy in front of that at the 72.50........that 69 - 70 needs to become support for us longs now on any retest back down
that's me done at 73.50...i consider this a good trade but some poor trade management....at 72.50 print I moved stop up to 68...so I risked a 4.5 point
drawdown
to make an extra point.......that is just plain stupid !!
will short at 1775..reason
rat
# also
pitbull
8 and 10 in area..also 74 mark on bruce chart..3 point stop
the composite time profile will give us the General areas to work from....then we want to see where our daily Value areas from time and volume are and also look at the
VPOC
and
poc
's off the daily bars to help refine the areas.....there can also be
LVN
and
hvn
on the smaller time frame......then we look at the Overnight and mix it all up into one big technical stew to spit out the numbers.......hope all have a great weekend....I thought this week was amazing and hope the volatility can stick around for a while
bruce you have good weekend too..i will be too hoping that volatilty sticks around..maybe the late 90s are back..still waiting for 75 short
fill at 75 target 73.50 stop at 77
great work on being open and transparent about your strategy fills, successes and fails duck. Really impressed with that. I think it's a great example to follow. We all fail from time to time (it's part of trading) and to see others be open about it helps everyone.

I encourage and challenge others reading this topic to do the same. Remember that you're using a "username" to "identify" yourself. Nobody knows who you really are so failing in public is completely anonymous and gives you the chance to discuss your weaknesses and address them to become a better trader. For all I know duck might be George Soros trying his hand as index futures trading