ES Wednesday 3-5-14
best idea for me today will be to trade for the Overnight midpoint in
RTH
...hopefully we won't open too close to it....if they run out the overnight high then I would watch 77 - 77.50 and then 80 - 82 and 84
we still need to think about last weeks highs at 66.50 and the buying tail S1 level at 64 ..so that becomes a key zone...then a
LVN
at 59.75 and volume node and daily s2 and fridays
VPOC
at the 57 area
here's a video for those who can spare 4 minutes or so..trying to get them under 3 1/2 minutes but haven't done it yet
and here is what this week looks like so far...( last profile onthe right )had to shrink it down to fit it but u can see the high and
low volume
spots
Click image for original size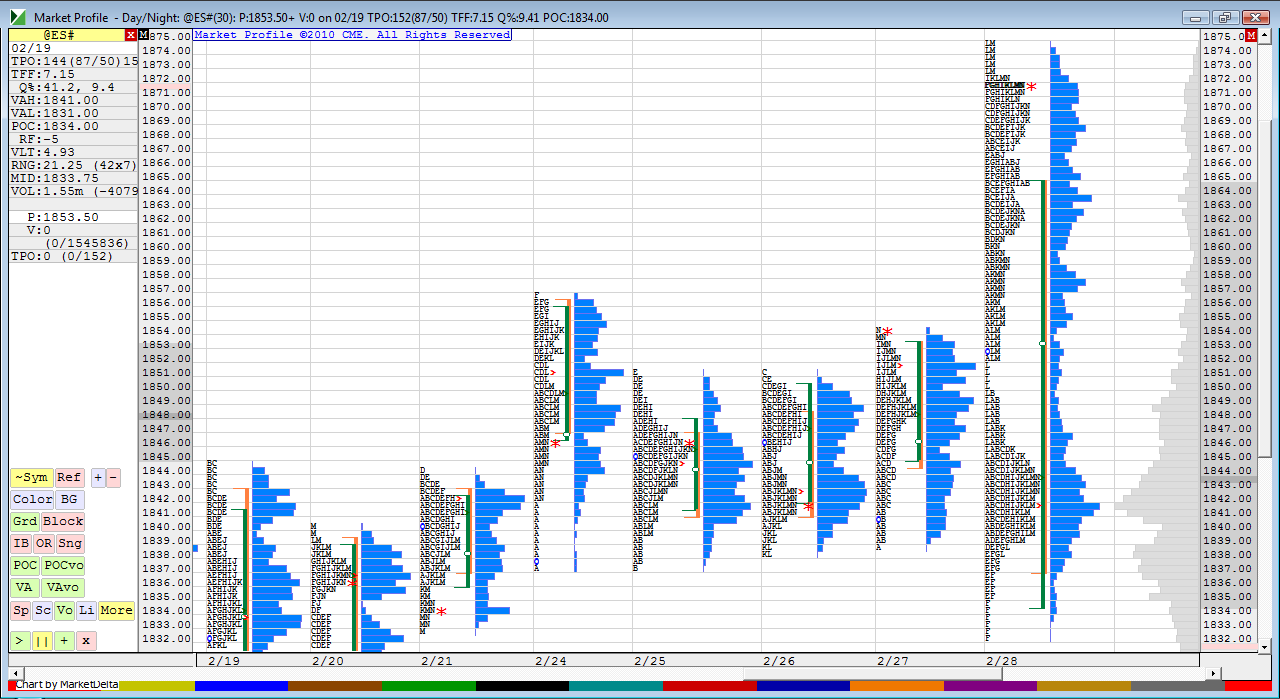 taking small short lunchtime trade off 72.50........gonna try for that ledge and lows at the 70.25...this has to be small and wide...no good risk points here
Thanks for the trade video Bruce
no problem..hope it helps anyone looking for some good context on entries and exits...there are now two
gaps
in the data which tells us we have a
low volume
environment.....as if just looking at a 5 point range doesn't tell us...ha...so 70.25 and 71.25 now both have holes in the data..I don't want to see this back above 75 now.......this is a
low volume
manipulated environment.....they KNOW what we want and we WILL suffer !!
in my review of trading this morning and my trades I made a mistake by missing yesterdays
POC
of time...that was 69.25.....so I should have at the very least made a zone out of the
VPOC
and
POC
from yesterday...I would have had better exits and even possibly got long....just pointing that out...todays current low is 69.25 to the
tick
.........just pointing out a mistake that I made as we are all human and this is part of trading...
taking the bulk of this trade ( it was small ) off at the 71.25....just in case they torture me some more...only holding one...a terrible time to trade.....
got stopped at entry on last runner...looking for one last small short off this 73.25 area...may mess around and take a few tries as we approach the 45 minute before bonds close...that's some ledge down below