ES Friday 6-13-14
how I see it...hoping to target the midpoint and the 1922 today....doesn't matter to me which side of it we open...that midpoint is a big magnet and I hope we can use it today and have some room to take a trade and get at least 1.5 points of profit....

starting early shorts at 25.75 in
O/N
but for anyone watching I am prepared to go as high as 28.75 if needed......I want that midpoint and am not afraid to fail on a high probability trade idea....!!
that sure was purdy !! here's how it looked.....the "B" period on the right is current days first bracket...to the left is the
O/N session
.....little white mark between green vertical line ( the
value area
of time) denotes the midpoint of the overnight session...but most probably know that...so that's for those who may stumble here for the first time today...
here is a picture
Click image for original size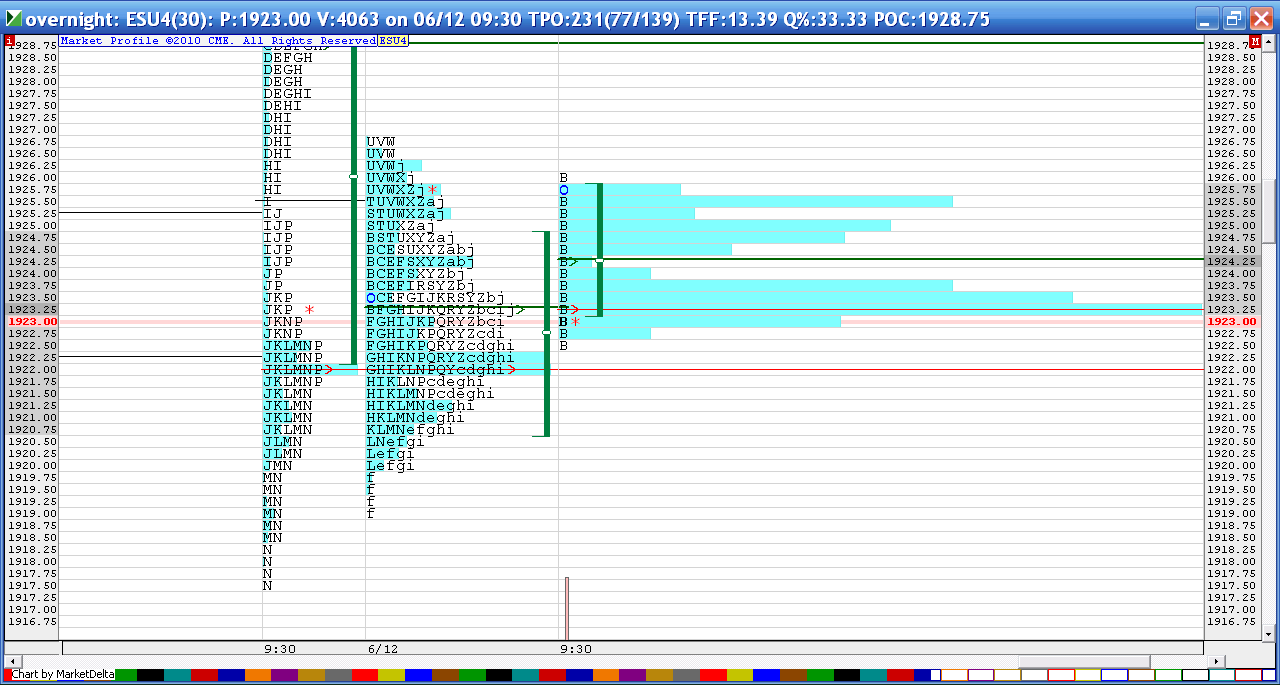 an open and drive off the
single prints
that divided the double distribution day and daily pivot....my best fill is that 22...trying to hold a runner for the
O/N
low...
Bruce,
terrific comments, ... I understood everything.

Thanks for posting and explaining.
Nice analysis and foresight Bruce
right on Guys...!! glad u followed the logic to that one....
my runner got stopped at 22 once we got back in
value area
of YD...now hunting longs for that poor
O/N
high
We had a major
VPOC
of the 6/4 and 6/5 profile at 1919.50 which held up prices now seem to be
one time framing
higher
full moon effects...markets going up! :-)
ES
low on Thursday was on the weekly s1 classic pivot pivot and the high on Friday was at the weekly
pivot point
, #pivotpower