Market sentiment, seasonality and other factors
Market sentiment, seasonality and other factors
Hi, I am new to this website and this is my first post here.
Seasonality for the next 2-3 weeks
We are entering a period of strong market from the point of seasonality. Typically one week before Independence day stocks start to be strong and this can last until July 19. However as you can see from the chart, seasonality was not a strong factor up to this time in 2014. I personally expect that stock indexes will be mostly up in the next 14-20 days. Stocks may start their typical move down in the second part of July.
Click image for original size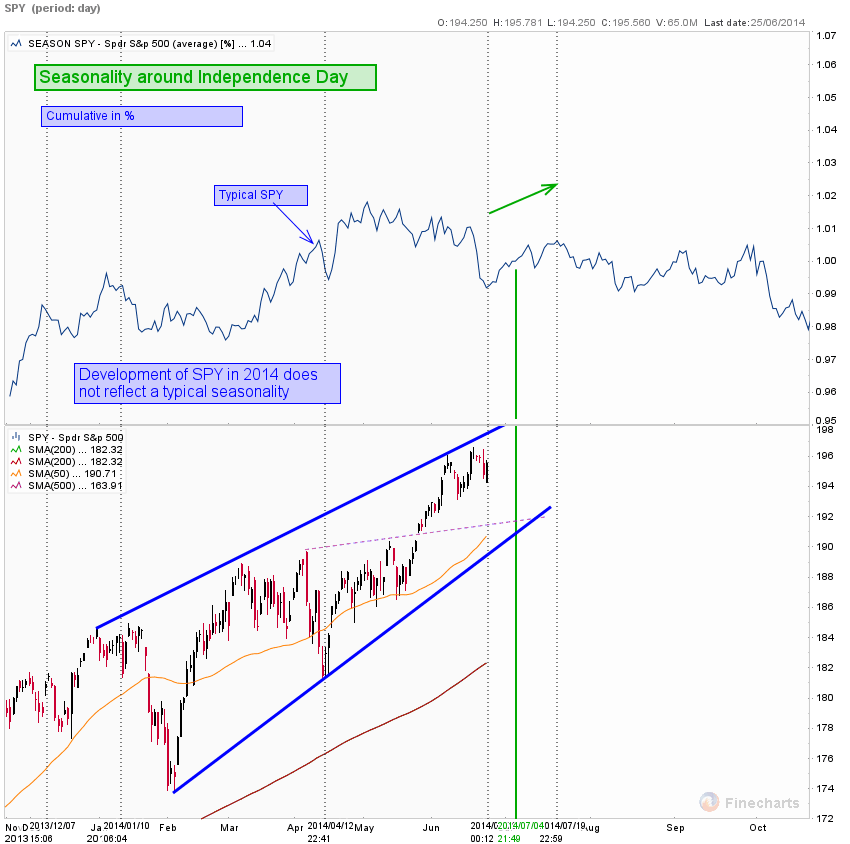 Petr
Sentiment of banks
This chart shows almost 10-year history of relationship between demand of banks for the money of the FED and price of the S&P 500 futures contract. This indicator is derived from the daily operations of the FED. As you can see rising demand mostly manifests in rising price of the
ES
futures contract. This indicator is very smoothed ( 25+50 weeks) and serves as a tool for finding longer trends. Right now you can see that indicator have reached a threshold of 50. It looks like banks are starting to be defensive again. We can take it as a warning that some correction could be on the cards for the summer.
Click image for original size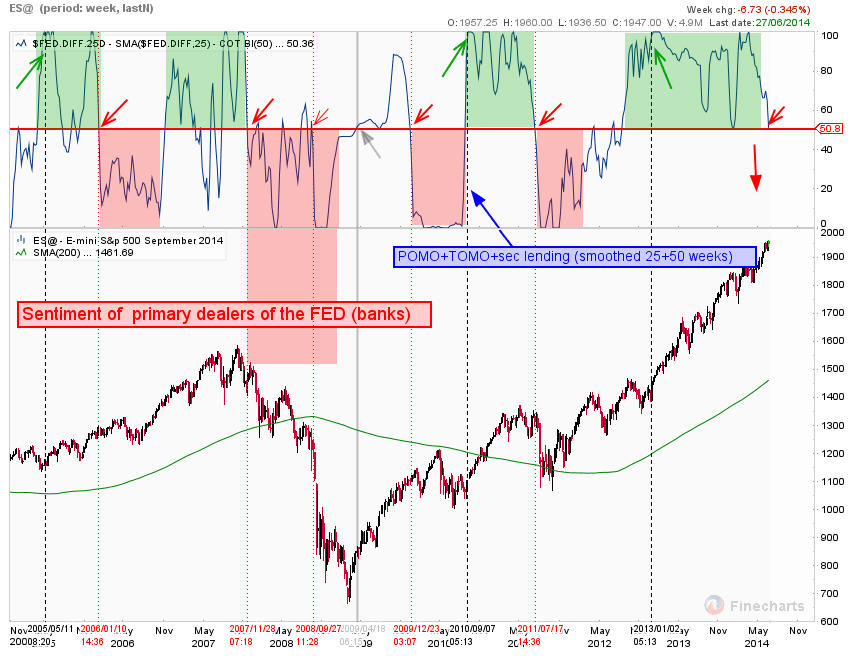 IYT
- Transportation
ETF
This
ETF
is on BUY signal . It seems to me that another wave up has just started. The price could go somewhere above $150, perhaps to the upper trendline. Last up wave that began on May 15 lasted 16 days. This time it may be similar.
Click image for original size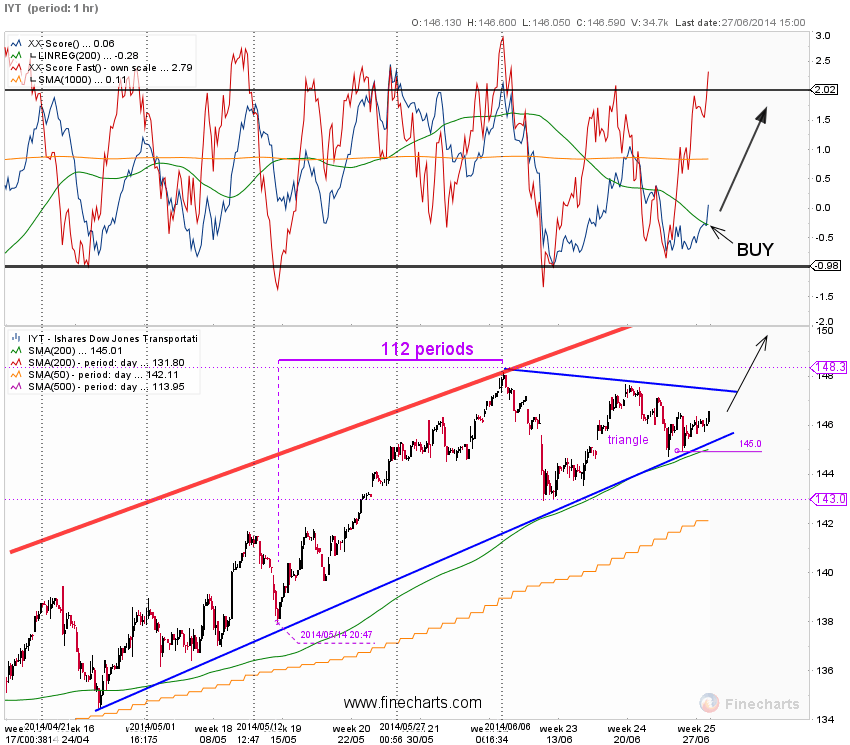 SPY
weekly chart
Triple
negative divergence
on the XX SCORE composite oscillator. It means that price of
SPY
( S&P 500) have reached new highs while the oscillator has failed to do the same. There is still some room for
SPY
to go up to the blue line which is resistance. Current situation seems to me a bit dangerous for the BULLs. It is time to be cautious.
Click image for original size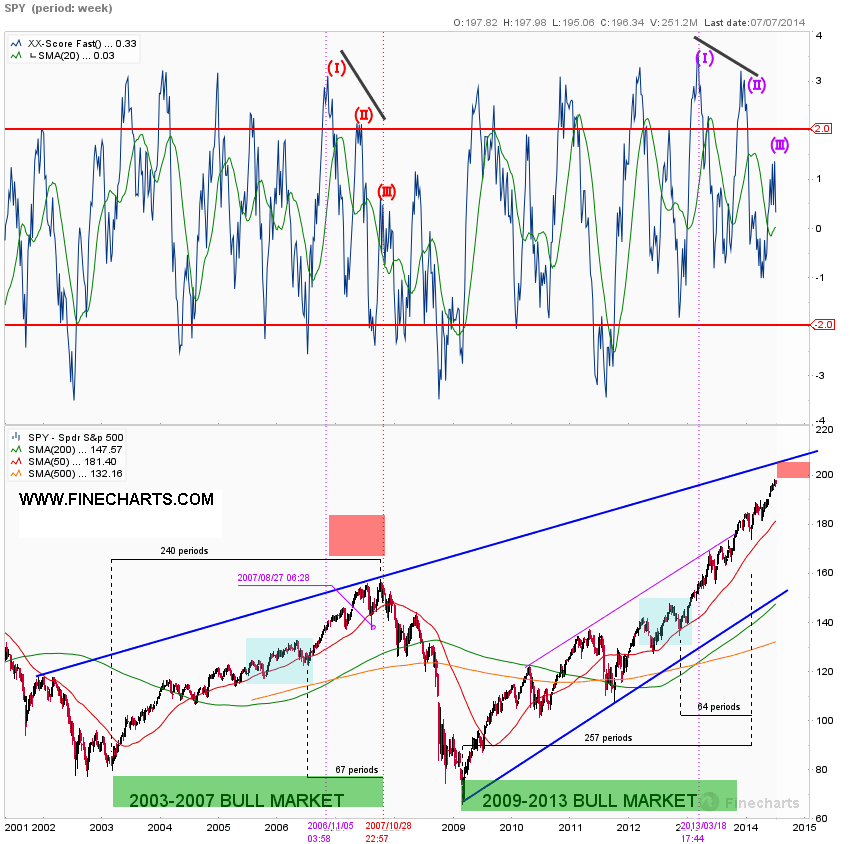 Emerging markets seasonality
As you can see below, we are entering a favorable period for emerging market stocks. Typically these stocks perform well until November. Both
EWZ
and
EEM
may be a better choice than overbought U.S.
ETFs
in the weeks ahead. There has been strong accumulation of Latin American stocks in recent weeks, especially
dividend
stocks from Argentina are hot ( look at ARGT, BMA, BFR, EDN,
TEO
). I suppose that this trend of investing in good "VALUE" stocks from emerging markets can continue.
Click image for original size