ES Monday 9-8-14
Here' how I see it today....those standard deviation bands when I changed the multiplier are suppose to show a spot where the market should NOT trade too by fridays close...the first screen I showed were the bands just for today...hope that's clear
I just added this chart in...you can see the
low volume
spot at around 1999 that separates the two distributions we had on Friday........so this goes well with our 2000 area anyway but in general you can use 1999- 2001 as thee critical area to watch today for clues of direction
Click image for original size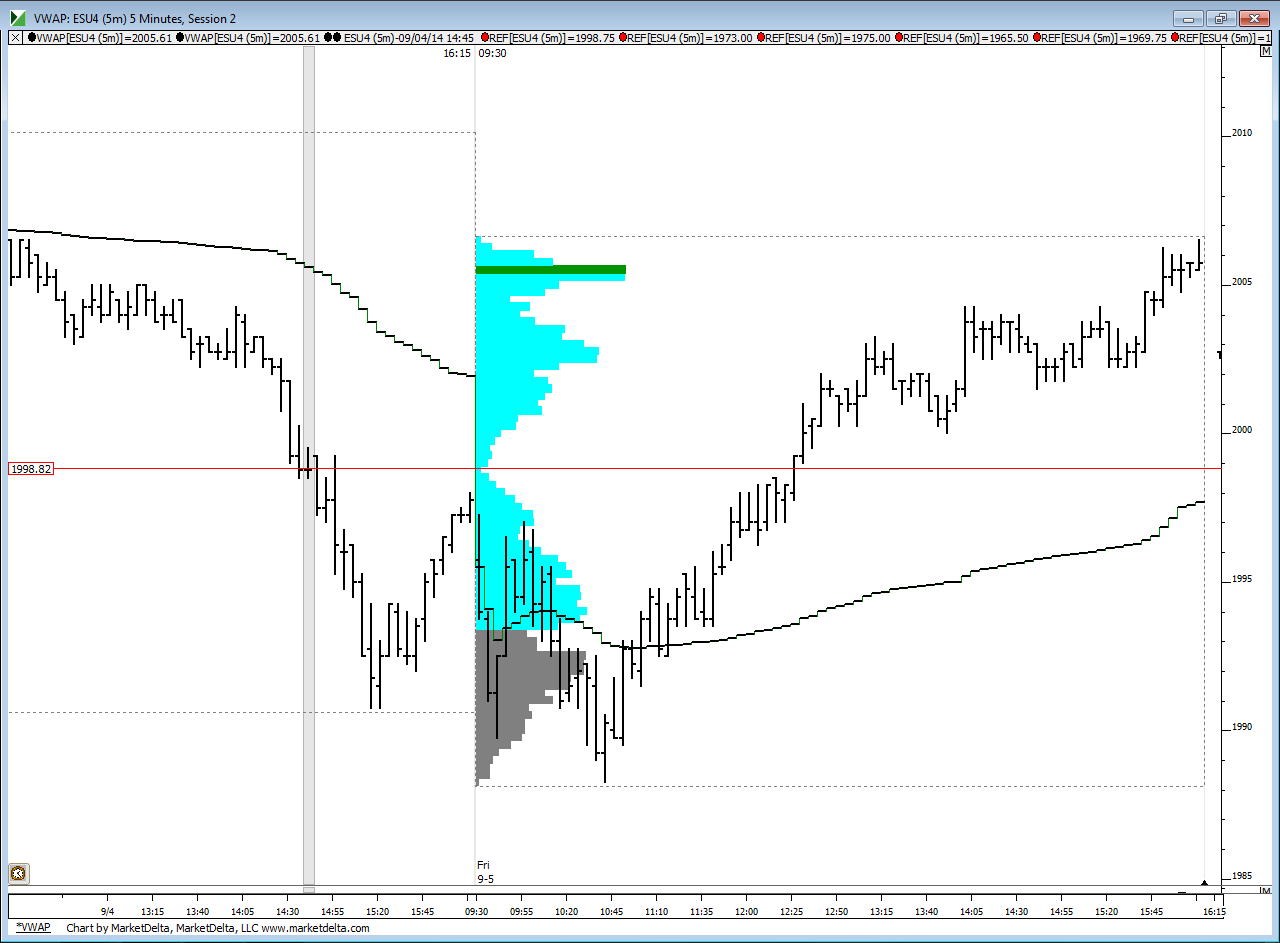 Originally posted by sharks57

Thx bKay, Yes but got off the train a little early. See a single print on Fridays chart if I'm reading that right could be a target to the downside.

Yes a couple singles right in Bruce's 98-99 zone
official
single prints
sit at 02.50.......all us buyers want this to hold inside the upper distribution so that
LVN
at 1998 - 99 area becomes real important to me...adding in at 99.25 but biggest
add
point will be if 98.25 prints....revising first target to 2001.25 ...
I took off the 000.75 for a break even trade....keeping my 99.25 on for now...just not sure if they want that 98.25
current
VA low
and YD
poc
here so I have to take something off at the 2001...leaving two runners only on...I had a grand plan if that 98.25 printed so this wasn't the size I had intended
yeah, nice one...I'm always leary when
VA highs
fall so close to
RTH
highs and closes...nice trade
Originally posted by sharks57

took a quick short in here around 2005.25 delta was dropping off and momentum waning looking for 2003.25 little late on the post sorry.

trying to get 2002.25 ...just in front of those singles...with YD
POC
here it may get choppy..but so far they are givingthe illusion that we have a nice buying tail off those
single prints
from Friday...we'll see.....may be too obvious
a
vpoc
flip lower ...skew is up...we'll see..not gonna give this much room or time as 11 am is coming up ..interesting that even though value is all inside of Fridays value... we are in theory building value ABOVE the lower distribution...which should still be good for the bulls....
Looks like you have a solid trade off that 99.50 area Bruce
that's me done all out at 02.50....just in time.......gotta get outside and do something physical....I hope it keeps running if you are long...this thing needs to get above 04.50 as next stumbling block...good luck....I have some emails I will get to later for those I haven't responded too yet...I didn't forget
just small pieces for me but I'm all out now....we are at developing
vwap
now too...
Originally posted by sharks57

Looks like you have a solid trade off that 99.50 area Bruce