ES Tuesday 10-7-14
not so clear today but I am using 54 as a magnet in early trade...YD was a
low volume
decline and all the trade is under YD settlement in
O/N session
.........probability tells me that 64 OR 48 will print today but that is of limited use unless you keep taking trades off of the first 5 minute bars range highs or lows.... watch 47 - 49.50 and then 44 area on downside....
big selling would have confluence with
SD
bands and S2 at 38 - 39......nuff said..I am looking for longs in On at 49 - 50.50 area but prepared to
add
in and be more agressivfe if we can push under the current On midpoint...54 is closest volume magnet I see......I don't like trades inside of that mini bell of yesterday so 58 - 61 is a better magnet area and if fading from long side then wait until we push above YD
VA high
near the 64 if you must take the short today
and here are 30 minute untouched volume nodes.....attractors..
Click image for original size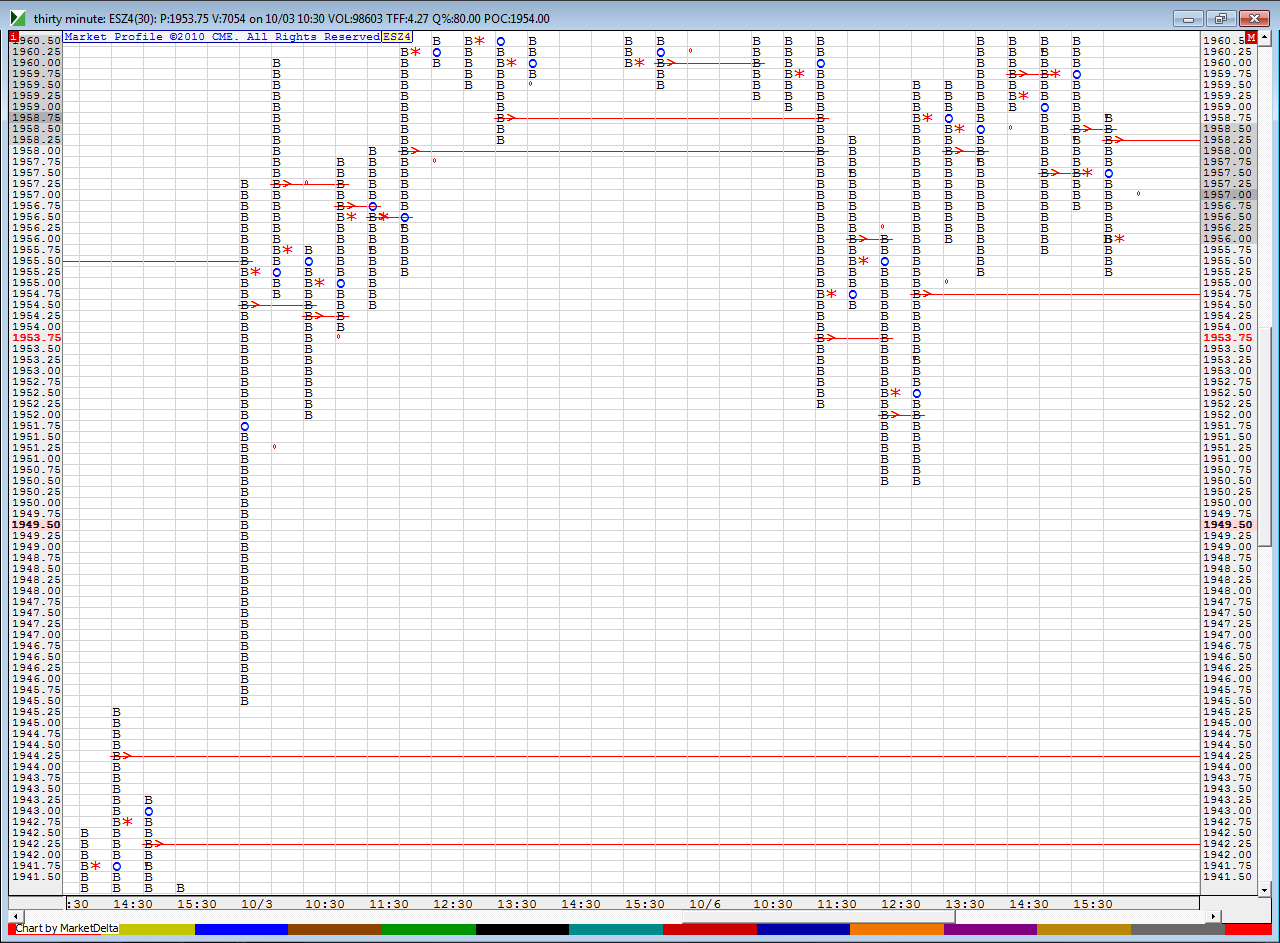 final for me is 47...I had my hand on the trigger as soon as I saw the opening range low print....the first one minute bars low....and S1 is 47.25....I hope it keeps running for anyone who has more ammo than me
that's gonna do it for me today.......I think today's thread should be titled " Be wrong and make money"...gheesh...this market needs to stay above without getting a 30 minute close under 10- 2
VA high
..( basically I think 42 - 43.75 ).then we should see that
vpoc
from
O/N
and possibly even that 54........so my good thoughts are with you regardless of which way the market moves...sending positive vibes and hope all have a good day....
cool..can u post that ...? always instructive stuff
Originally posted by sharks57

Nice trading Bruce,
I saw where 1940 had some delta flip as well to support your trade...


This is a 15 minute profile chart of 10/1 and 10/2 merged together...
POC
at 1940...
Hind sight is always easier I know
sorry for the double posting
Paul brought this typo to my attention....I meant to say that at a 68%
SD
band there is a only a 32 % chance that we close below that line today and a 68% chance that we close above it ...thanks for the good eyes Paul.
Originally posted by BruceM

sorry typo...43.25 is VA high from 10-2.....32 % chance we don't close under 39.75 today....not the best odds but that was also a one standard deviation move down...so buying into that 40 was the right move even if it was scary

and one last thing...it still seems as if the buyers are stepping in slightly under the 50 - 51 spx cash 50% retreace line I mentioned this morning ...so watch that 50 - 51 line as per cash that would be about 42 - 44 the
ES
....