ES Thursday 12-18-14
gonna kick it off with trying to answer a few questions from Tuesday trades....
and here is "M" pattern from today...trade it at your own risk like all of this stuff
key numbers for Wednesday Overnight and Thursday....employment report at 8;30 EST
Click image for original size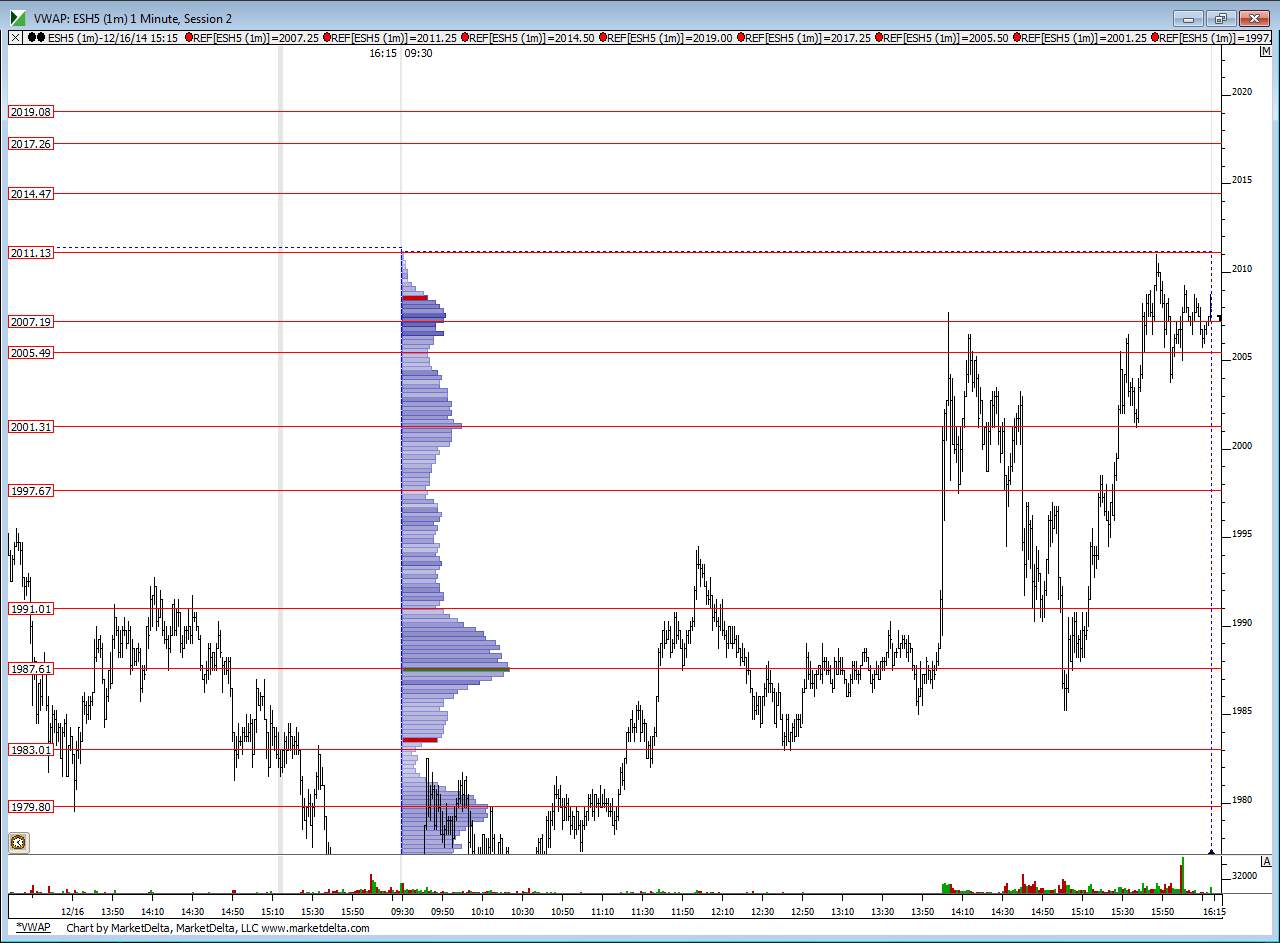 I agree that this is how Dalton would look at value...he always compares the previous trading day but he does not look at swing highs and lows from Overnight trading...the absolute highs and lows are important to him from the
O/N session
but not each swing...unless he is singing a different tune now....two things I always seem to forget are the concept from Dr Brett and that is the post 8:30 report swings are important from the On too.....
the person who taught me the "
pitbull
" ideas used what he called the COMPUTER session....these were the swings from 7:30 - 9:15...he really liked those.....
for me under that anomolly from 12-11 at 2029.50 I really had nothing until the high of 12-12 at 2025.50...so this rally up surprised me
Originally posted by Aladdin



Originally posted by BruceM

market is one time framing DOWN and value is overlapping to lower that 12- 11



Bruce, from what I understood from Dalton: "The market has to take care of current business first".
Therefore I compare current day value to yesterday's value (and not the value of 12/11).

So value being higher and no O/N inventory adjustment, kept me thinking long.
(My entry was near the O/N swinglow - see chart).

Gotta run, don't want to keep Mr. Dalton waiting...



Click image for original size



Bruce, thank you for the advice. i will take it to heart and try implementing it.
Paul, thank you for the kind words as well
all matching highs have been run out today..I do not think the high is in for the day...I think the greenie up at 46.50 is in the plan
I have Greenies 66.50 and 54.75...those are the only two nearby to closing price...one will print in the
O/N session
....then green up at 69 too and way below is 2034 for the future ...certainly not the only numbers to work from but good magnets
Bruce, i hope u bot back those strangles u were selling yesterday...this goes to show my point from a few weeks back that u make pennies on those stratgies but then go on to lose a boat load...
spy
went out at 207 and change
in fact if u look carefully
spy
had a ghost spike all the way up to 213 !!! which means at one point this strategy was down 8 full points on the call with one day to go
yes...I would have closed them yesterday for a nice profit in terms of percent as posted but I was looking at them today and somebody who became a pig would have been clobbered.....my real concern is putting these on in front of key announcements when higher volatility is priced in and taking them off the same day when volatility contracts ...but I get your point LOUD and CLEAR...and thanks for following up with me on that..I'm glad u r here , keeping me honest and givingyour input...it is much appreciated
Bruce, are you trading for those greenies?
no..I never trade at this time...never do after market trading but will sometimes take trades around 9 a.m EST...but even then it would be small
Originally posted by NewKid

Bruce, are you trading for those greenies?