ES Thursday 12-18-14
gonna kick it off with trying to answer a few questions from Tuesday trades....
and here is "M" pattern from today...trade it at your own risk like all of this stuff
key numbers for Wednesday Overnight and Thursday....employment report at 8;30 EST
Click image for original size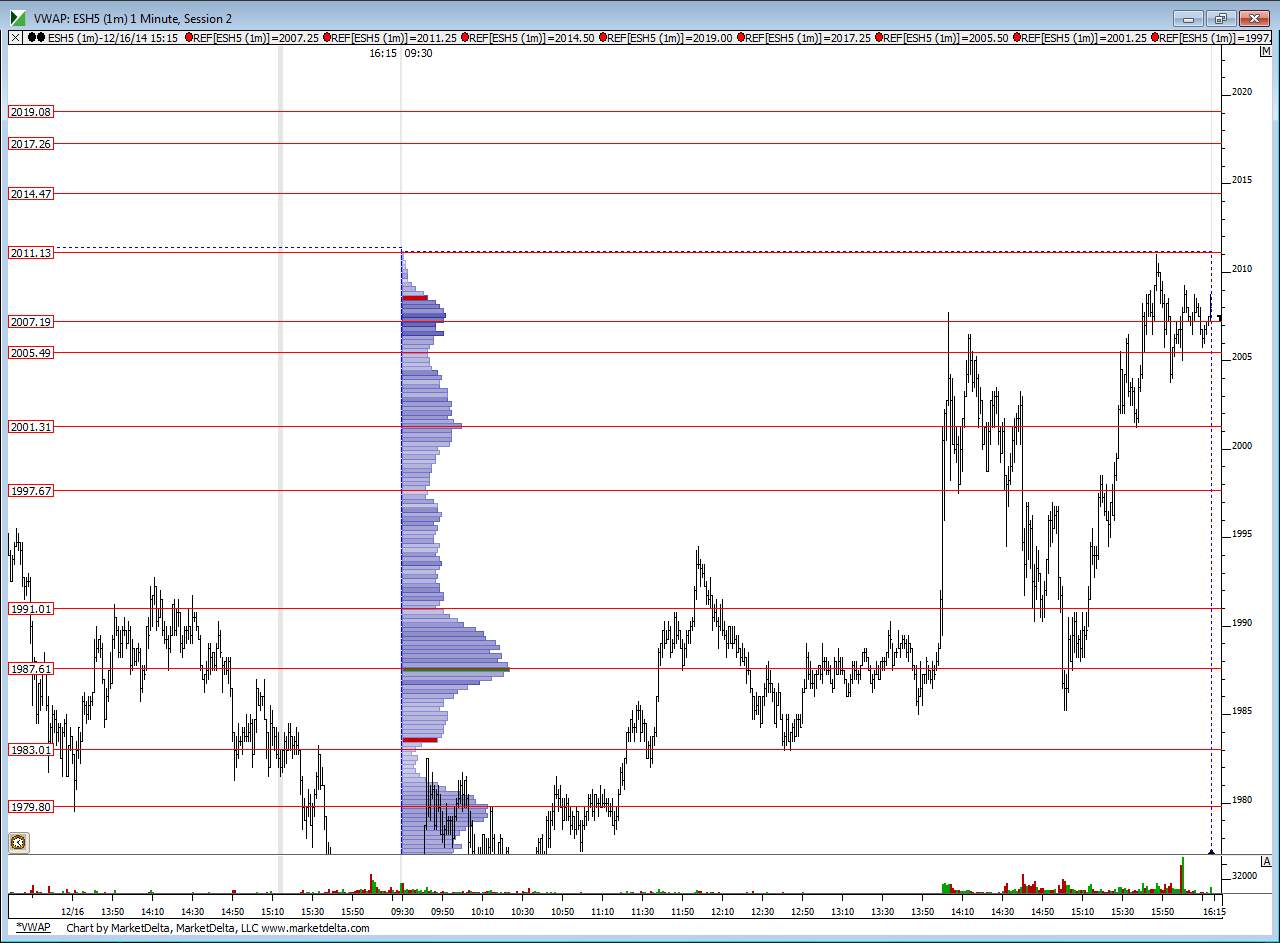 Bruce, thanks for the videos.
I am relatively new to the
ES
trading business and I 'm still trying to figure out what works and what does not.
I also used to watch
NYSE tick
volume, but found it confusing.
Your question about Tuesday's trade: why did I take the long daylow 1974.50?
The idea comes from one of Jim Dalton's webinars where he mentions one of his signature trades: price opens outside previous day range and enters the previous day range. Jim likes to enter the day extremes and then he monitors price for continuation.
I guess I was just lucky, but the following had me thinking a long might actually work:
(1) At the time of my entry there was a poor high formed at 1981.25 and 1981.00
(2) Previous day
VAL
was at 1981.25
(3) The prominent
POC
area 1984.75 - 1986.50 had not been visited yet
For those who are interested: today Jim Dalton will be talking about Signature Trading Opportunities in his live webinar.
Click image for original size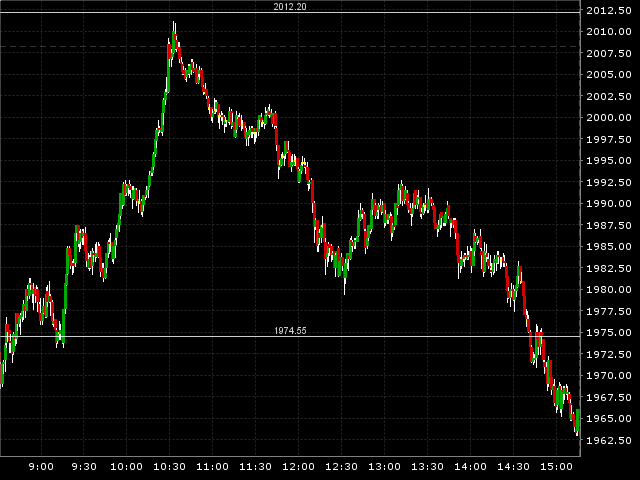 Here are today's bands. We have hit the 1.5
SD
(87%) band in
O/N
already (yikes!!) so market should have some kind of a pull back in the open. The
O/N
inventory is basically long.
Click image for original size

Bruce, thanks for the videos. That helps explain things a bunch. I agree that we should be learning concepts and not looking for the trade itself.
that's great alladin..thanks for taking the time with that...here are the multiple sell zones I am using this morning...no buys for me even if I end up losing money...I am not the " reed in the window"...so flexibility on a big
gap
up is not my strong trait on days like these...2030 is the magnet for me...with first sell area at 35 - 35.75 and 38 area...then 42.50...video shows the bells I am watching...shorts want price to get out of
VA low
from 12-11 to win today
greenies - only two untouched - one at 21 area and one at 46 area...video for later ...late now..they will print one today !!

we want then to drive back out of value from 12- 11 and keep going.....we don't want consolidations inside the
VA low
of that day
reports at 10....for now I am working under the assumption that if we are under the 12-11
va low
and open print then the 2021 greenie will print but if we get above the open then we will be above value and the open so assumption will be for greenie up at 46 area.....waiting for reports now...the battle rages at the 12-11
va low
!! how cool is that ?????????
It does not look like the
gap
will be closed today:
gap
trading rules are in play.
I'm starting to think long now because of the following:
(1)
O/N
inventory was long and the
RTH
market did not care.
(2) Value is developing higher.
since support was tested first it becomes much more aggressive in my opinion to take shorts unless we can get back under 33 ...the stop in price at 29.50 may be a clue for us.....although we have zones above to short against I would do it smaller in general if u try it ...in the back of my mind is that 46 greenie if the bulls really take over..for me I also have to see 40 print and 42.50 if I try shorts again from up high here...even so it would be small
no..I never trade at this time...never do after market trading but will sometimes take trades around 9 a.m EST...but even then it would be small
Originally posted by NewKid

Bruce, are you trading for those greenies?