ES Wednesday 1-28-15
Here's how I see it and a still shot below for those who prefer not to hear me ramble
Click image for original size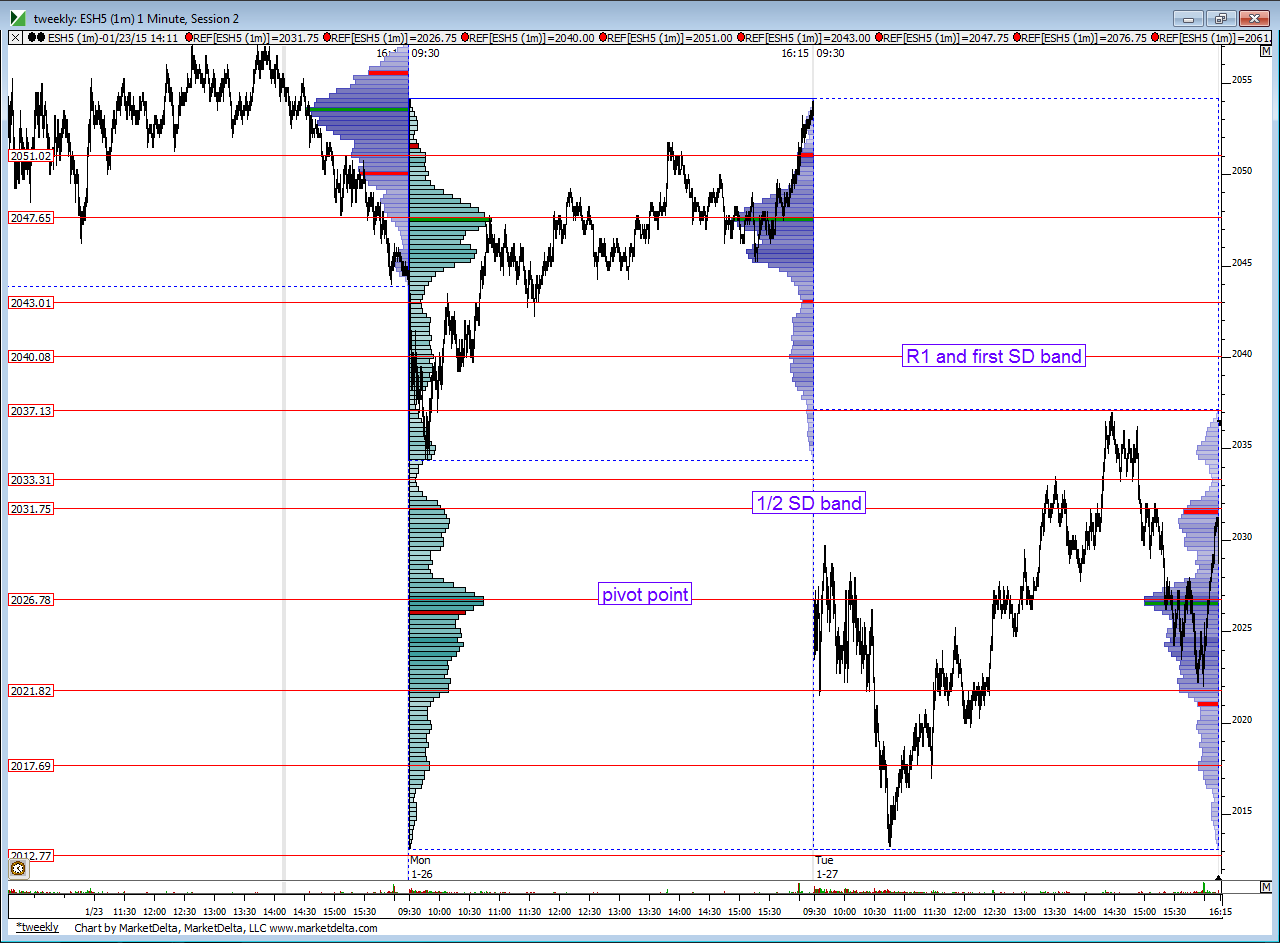 I know the chart looks busy but the good thing is that most lines are 3 or more points apart,....watch for midpoint test today...we may have to initiate that trade after 9 a.m incase we feel they may open it right at the midpoint...key greenies up at 38.75 - 40.75 and then down at 26.75......u can use one or two minute range breaks if u don't mind taking multiple tries to get one of those greenies...naturally this will depend where we open today
Bands for the day. We did not hit the
O/N
mid pt yesterday so look out for that today
Click image for original size

it would be nice if we can get down to 27-28 area first but that looks highly doubtful at this point....
sucks that they are opening so close to midpoint...my plan is to sell above 38...ideally in 38.50 - 40 area to expect a 36 retste
yeah, this was a bummer of an open
if lucky we will get back to 33 but I still don't see any real reason they won't drive it up again...hope not
have a limit order to buy back at 33.50 on this runner...then last will try for 26.50
revising last target up 2 whole points to 28.50.........
watching 32- 33.50 closely....this is a LTN on weekly so far this week
need that to turn into resistance and if it can I may revise my downside target lower ...depends what happens here now
one for the road...here is how the lines are playing out so far today ...I'm posting this so some can see what happens if you take trade off the highs of low bars when u hit support ....or sell the low of that high bar at the top....remember...we buy highs of low bars when we drop down to them from above......how many tries would you take at your lines becore you get just one to run ??? Notice at the 26.71 line you never get trade above the high of any of the low bars at that line .....!!! very cool !!
Click image for original size