ES Wednesday 2-4-2015
I have greenies at the following places

94.25/93.75
31.75/30.5
45.5
52.75
57
63.5
here is how my chart looks...most important to me is that we didn't tag the Overnight midpoint in Tuesdays day session trade...so I always focus more on that happening today...meaning we should tag last nights midpoint today.......here are the levels I am working off of ...the video that I will
add
to to this post will explain them for those interested....I know this chart is busy !! Also we didn't tag the
pivot point
yesterday ...so today I expect us to print the pivot and S1 or R1 ....I'm leaning more towards the S1 eventually today ...Green lines are greenies for me from my
Ib
data...35 area is also
pivot point
forgot to mention that !!
Click image for original size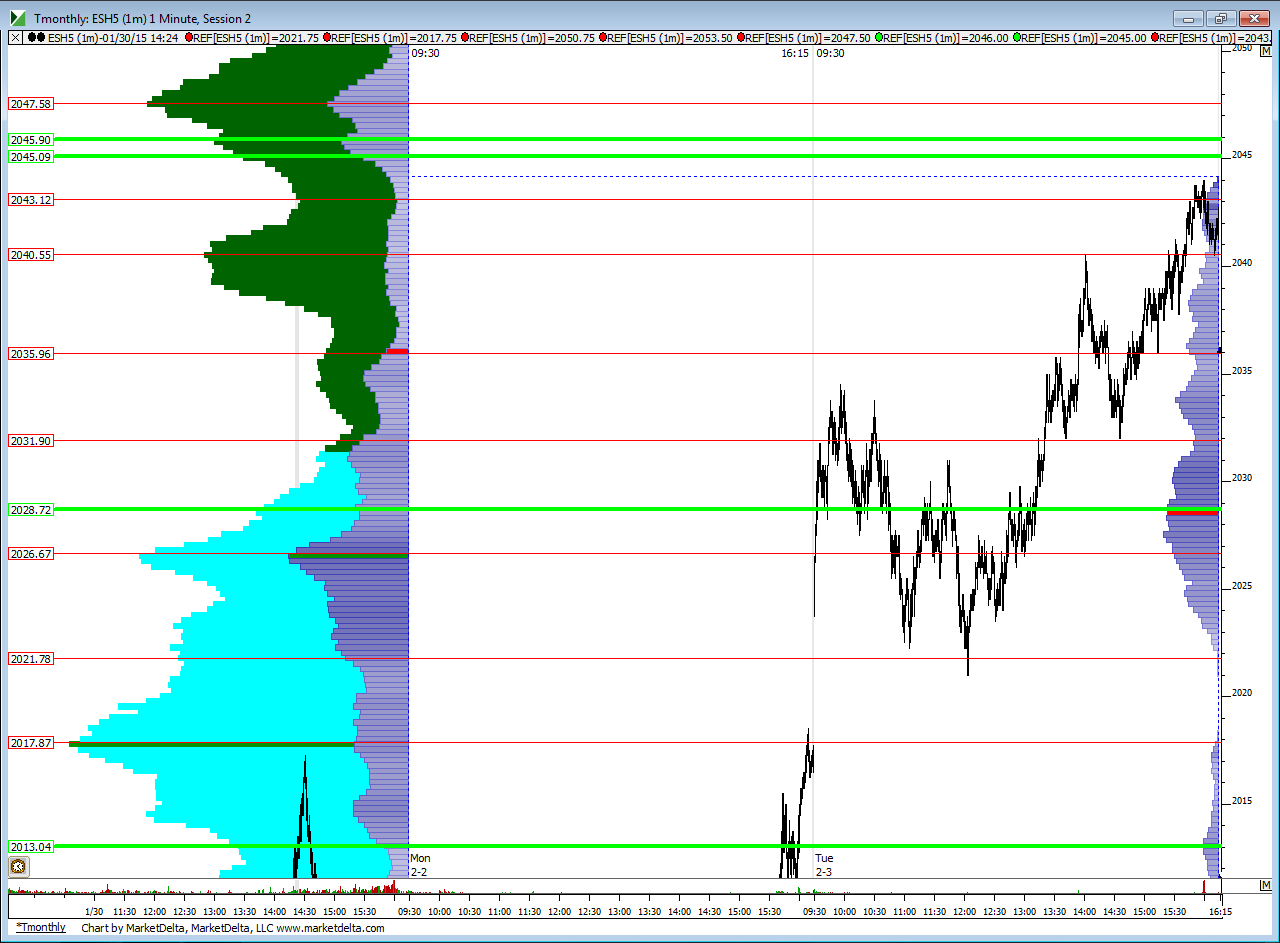 here is a video which cover the lines, some
MP
charts and some a brief internal of the market which leads me to thin that we should pop up after the open today
starting On long trade at 31.75 as I type...taking out that ledge......remember all inventory is now short and Pivot and overnight midpoint is above the market price I am buying at secondary buy point is down near that 28 area
I have
O/N
greenie at 39.75. The
O/N
inventory is short and YD we did not test the
O/N
mid-pt. So keeping an eye out for it.
pivot taken care of...now how about that midpoint
missed the entry at 32 and now on the sidelines. no shame in that
midpoint done......now all we need to figure out is....which grenie will it be ? but for me my finals are shooting for 39.50 and 43......I'd really like to see most time spent above YD value otherwise we run the chance of going for
O/N
low and greenie at 28 area....
trying to get that computer session high..( 7:30 - 9:15 a.m).up near 39.50 ....not giving it up easy...I know it will be that or
O/N
low that will print ....
very sluggish so far. if they wanted to go higher, it should have happened by now... lets see if we fall back into YD's
VA
weekly R1 too at 36.25. too much confluence results in big magnet?

it has been quite a battle today. i expect it to break eventually in one direction or another. sure wish i knew which!