ES Tuesday 2-10-15
Hope everything's all right NewKid
Here something to chew on
I sure hope this drag and drop worked
I really don't know what I've done...I guess if you click on that filename it will come up, it did for me.

Come Back, NewKid, it's so much easier when you do it...
here's how I have the lines....I think 55.75 is our dividing line to let us know if we are going to get On midpoint but I am just using the lines....we are set to open above last weeks
POC
on one minute of 2053 so that is often tested....so my plan is shorts side trades and then will watch to see reaction at key zone marked on chart if it can even drops that far
the R2 is also the one sd band today...so perhaps we are over cooked on upside...Greenies at 49 and up at 65 so u can try to figure out which one will print..ON midpoint sits at 49 greenies !!!
Trying small On shorts at 55.25 knowing that 58 might be the better idea.....watching that 53 close today
Click image for original size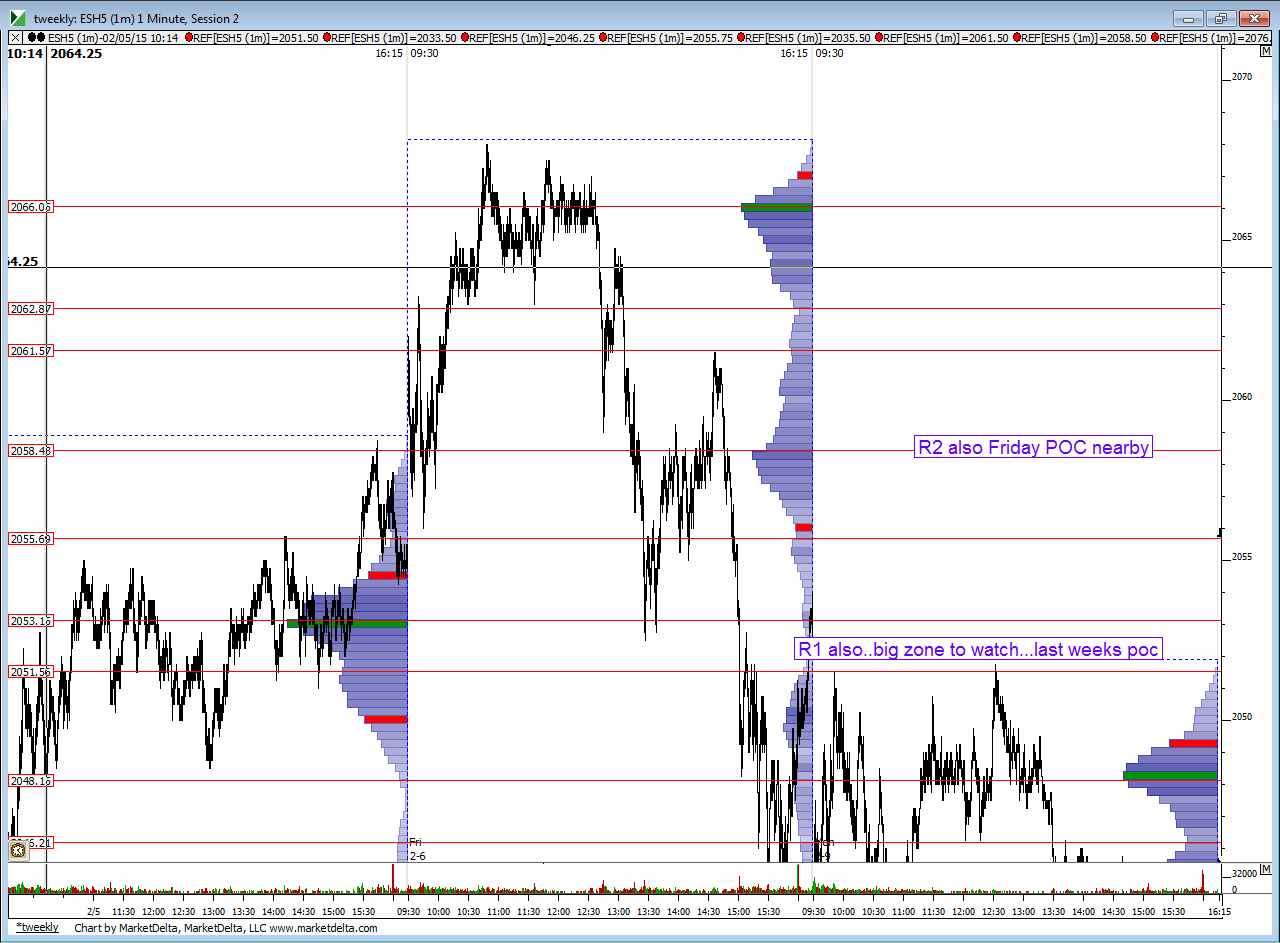 here is yesterday against last weeks trade
Click image for original size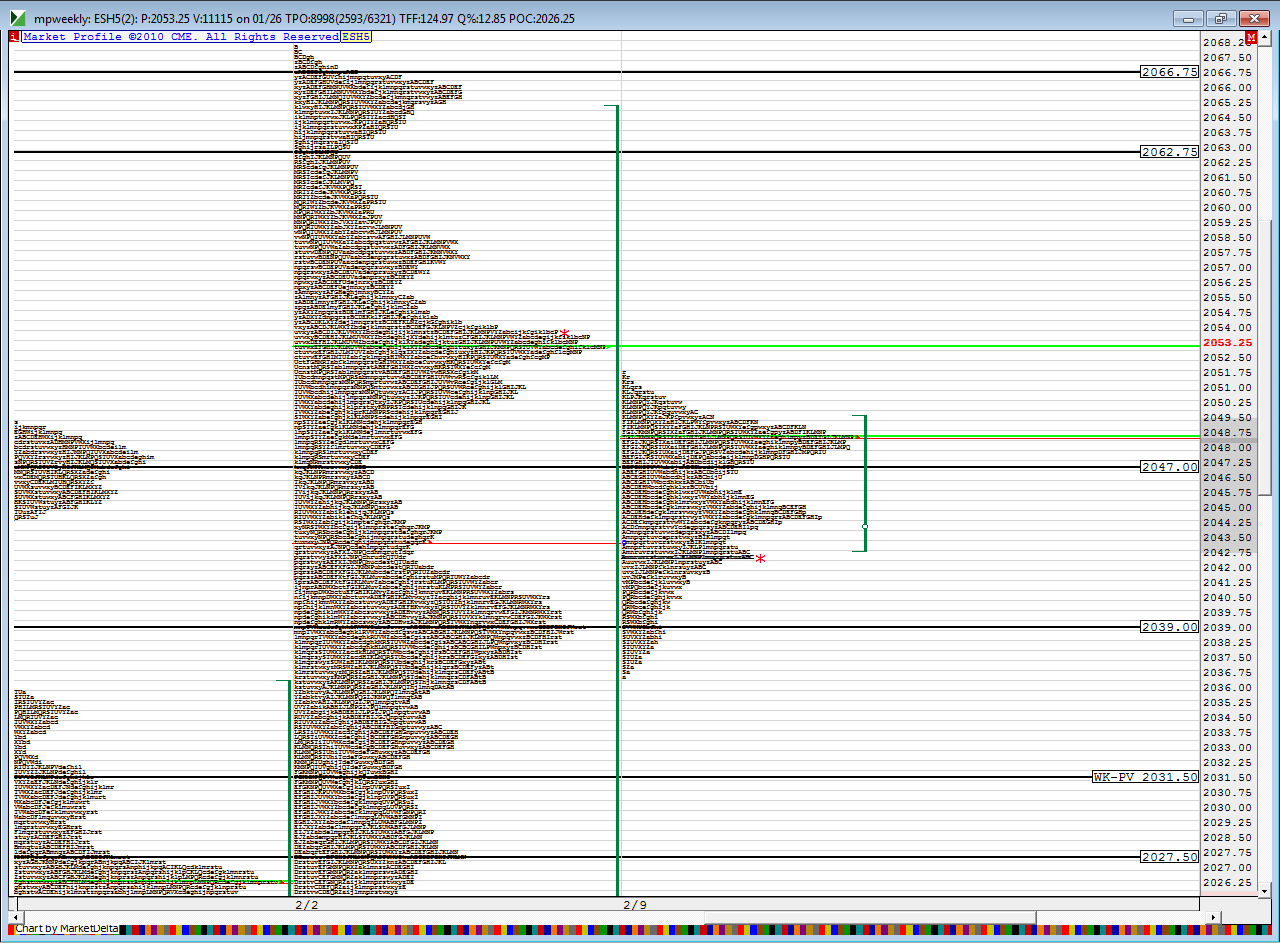 with friday's close and this ledge, it's probably better to use 53.75 as a target on any shorts from up here ...Friday's
VA low
is here too...can they hold inside Fridays
VA low
??
Click image for original size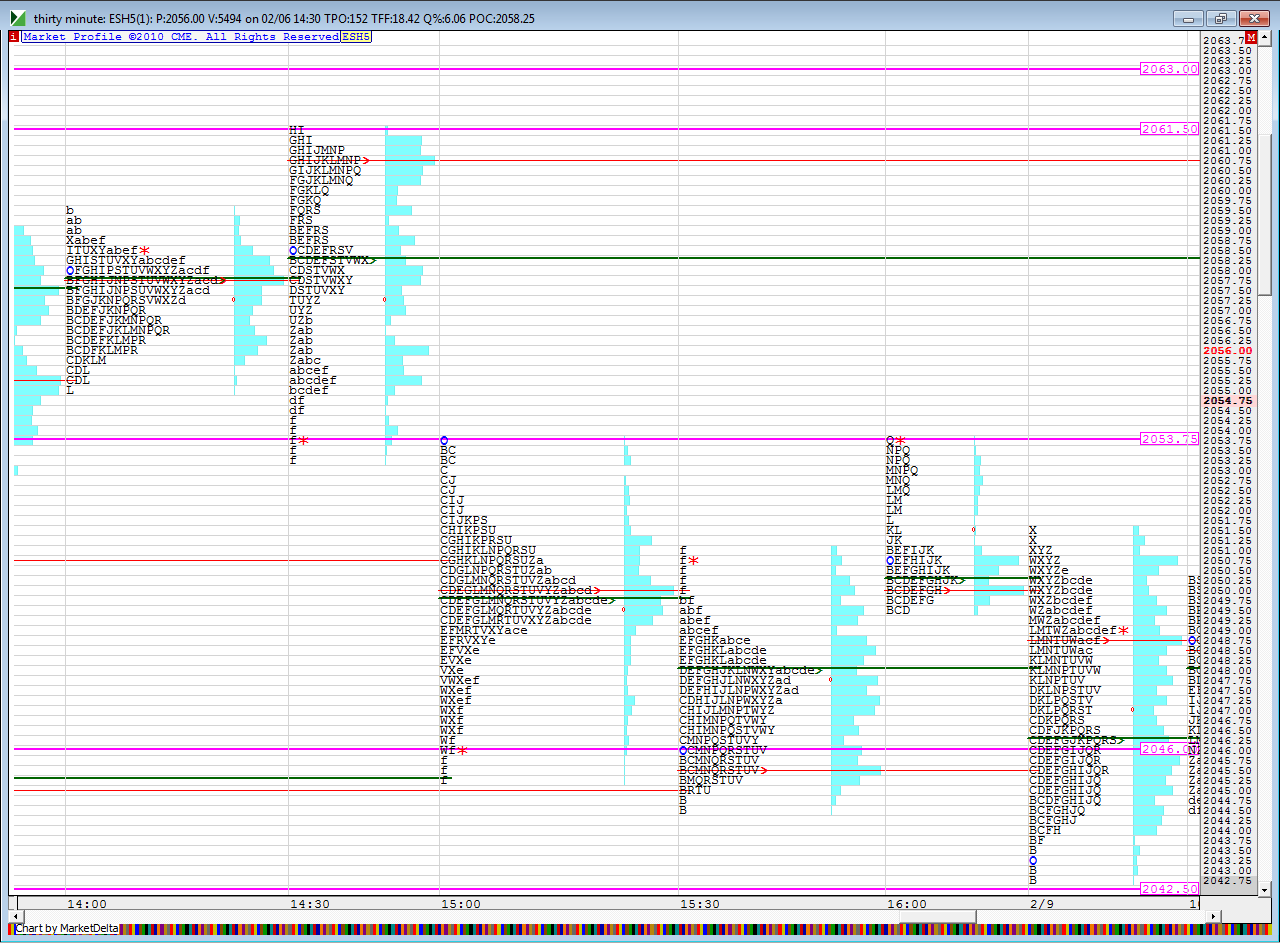 damn crosshairs getting in the way when I save a chart so ignore black line up at 64 !!
i am not around much today. kid is still sick. here is something to think about.
weekly
PP
is @ 2031.75 and R1 @ 2090. Which one will print this week?
I look at T&S straight and then filtered for blocks bigger than 80 contracts...unless my data feed is screwy (and it can be) all this action is just onseys twoseeys

overnight midpoint 49.75
open lower didn't seem very convincing...bounced off r1 ,yesterday's highish...long 53 out 52
bounce again of r1 ...long 52.50 a little more rope...out 50.50 when broke below

..Would you like fires with your order....


hoping that was last try to get back inside Friday
VA low
...looking for On midpoint to print soon.......I hope ....!!
coke earnings
Originally posted by PAUL9

does anyone know if there was a headline near 7am ET that jammed the market up?

damn...they read my mind....can't type fast enough...done at greenies and On midpoint......today I do something fun....MOLDING around my closet doors......no more Mud and sheetrock for me....I'm a fine carpenter now......good luck if ya stay in this today


but then I also have to shovel over 4 feet of snow that has accumulated on my back deck..........how do you spell pain ???

" S-H-O-V-E-L-L-I-N=G "

ok, my bitching session is over
oh man ..if this was earlier I would be very aggressive on shorts in order to try for the
POC
retest...we just blew through with
single prints
and up into key area....an LTN.....maybe they will give us a trade under low bar.....personally I would take only 3 small tries...and I mean small..this is way outta my time frame