ES Friday 2-20-15
Plan is still to get long in the 88.75 - 90 area and use 93 - 94.75 as ultimate magnet...( these are really nothing more than last years highs and last weeks highs).not much else to say today...secondary long zones will be at 86 and also at 83 - 84 but only with a good signal and smaller size.....longer we consolidate then the greater the chance we can have a true breakout and we don't want to be on the wrong side when it happens
I have greenies from YD at 90 and also 93.75...so I wouldn't be surprised to see both print today if we stay coiled up
it is safer to buy under 90 and sell above 96.50 and use targets inside all the slop from this week...here is weekly one minute so far...green bar is the one minute time
Value area
for the developing week
Long on the 90 in
O/N
and will try to get back to 92.25...
single prints
currently in
O/N
and YD
VA low
!!
Click image for original size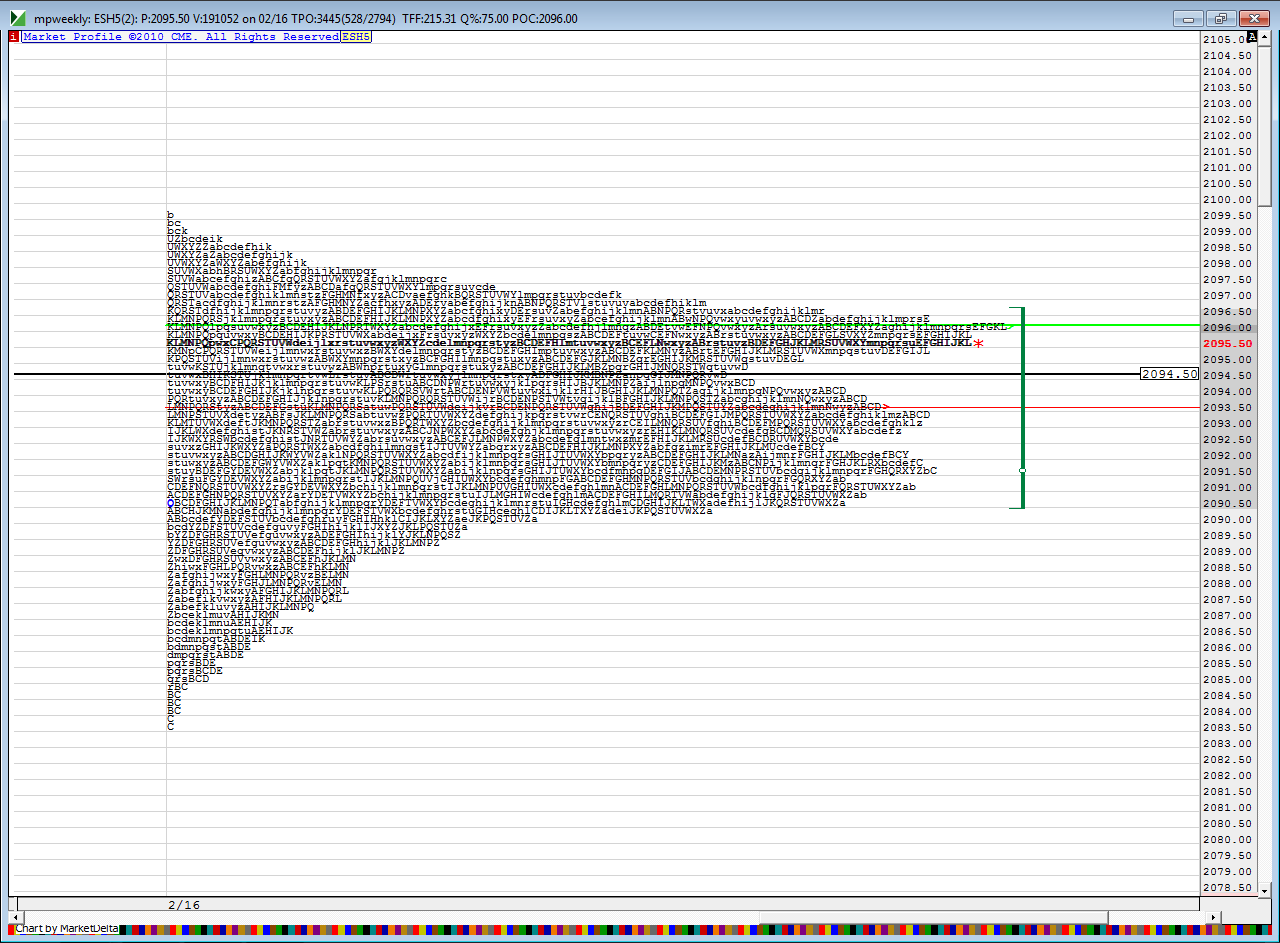 Great stuff guys thanks for sharing!!!
they sure are making it look like they want to come back to 89 area after the test of the
VA low
of YD again...trouble getting and staying inside value of YD WOULD BE BAD FOR BULLS
NOW
..OOOPPS..
Also interesting how many numbers converge. i calculated the
PP
around 2094, EURO
IB
low is 92.5, last weeks HI 94.75. Still looks to want to stay below that level. I'm done for the day, just watching and studying.
does anyone know if there was a headline near 12:30pm EST?

I can honestly say I never expected a move above 2100 today, I thought this thing had run out of momentum and needed some downside.
I have no idea Paul......maybe everyone is just expanding the weekly bracket highs and lows....I'm playing small trades to try and target back to singles at your 2100 but for some reason I think they may smoke me good on a friday and closing out the week with a loss is never fun......so keeping these late Friday trades real small just in case...trying above 2103 ( slightly above 1/2 sd band today and will try also if they can print into 06 - 08......this area is better but the latter it gets the less confidence I have in getting sells to work
if I can get a short to work from this 2106 - 2108 then I'm using 03.50 as target ..just ahead of mini bell with center at 2103....and will keep things tighter as we approach that previous high of 2105....will try three small tries and call it a week.....what a dull week...!
r2 is 2106 and change...lets see if it means anything up here....perhaps as a new magnet...working on third set of singles and defining a new zone for myself at 2108 - 2110...I've had one small loss so far...and will try again up here now if I can see some slow down...then I will use 2105.50 - 06 as target
weekly 1/2 sd band is 2110
a video to close out friday......looking forward to next week and am going to post my simpleroptions ( john Carter ) weekly options review...I should mention that 08.75 was daily one sd band for today...hence the alteration and additional zone for me