ES Friday 2-20-15
Plan is still to get long in the 88.75 - 90 area and use 93 - 94.75 as ultimate magnet...( these are really nothing more than last years highs and last weeks highs).not much else to say today...secondary long zones will be at 86 and also at 83 - 84 but only with a good signal and smaller size.....longer we consolidate then the greater the chance we can have a true breakout and we don't want to be on the wrong side when it happens
I have greenies from YD at 90 and also 93.75...so I wouldn't be surprised to see both print today if we stay coiled up
it is safer to buy under 90 and sell above 96.50 and use targets inside all the slop from this week...here is weekly one minute so far...green bar is the one minute time
Value area
for the developing week
Long on the 90 in
O/N
and will try to get back to 92.25...
single prints
currently in
O/N
and YD
VA low
!!
Click image for original size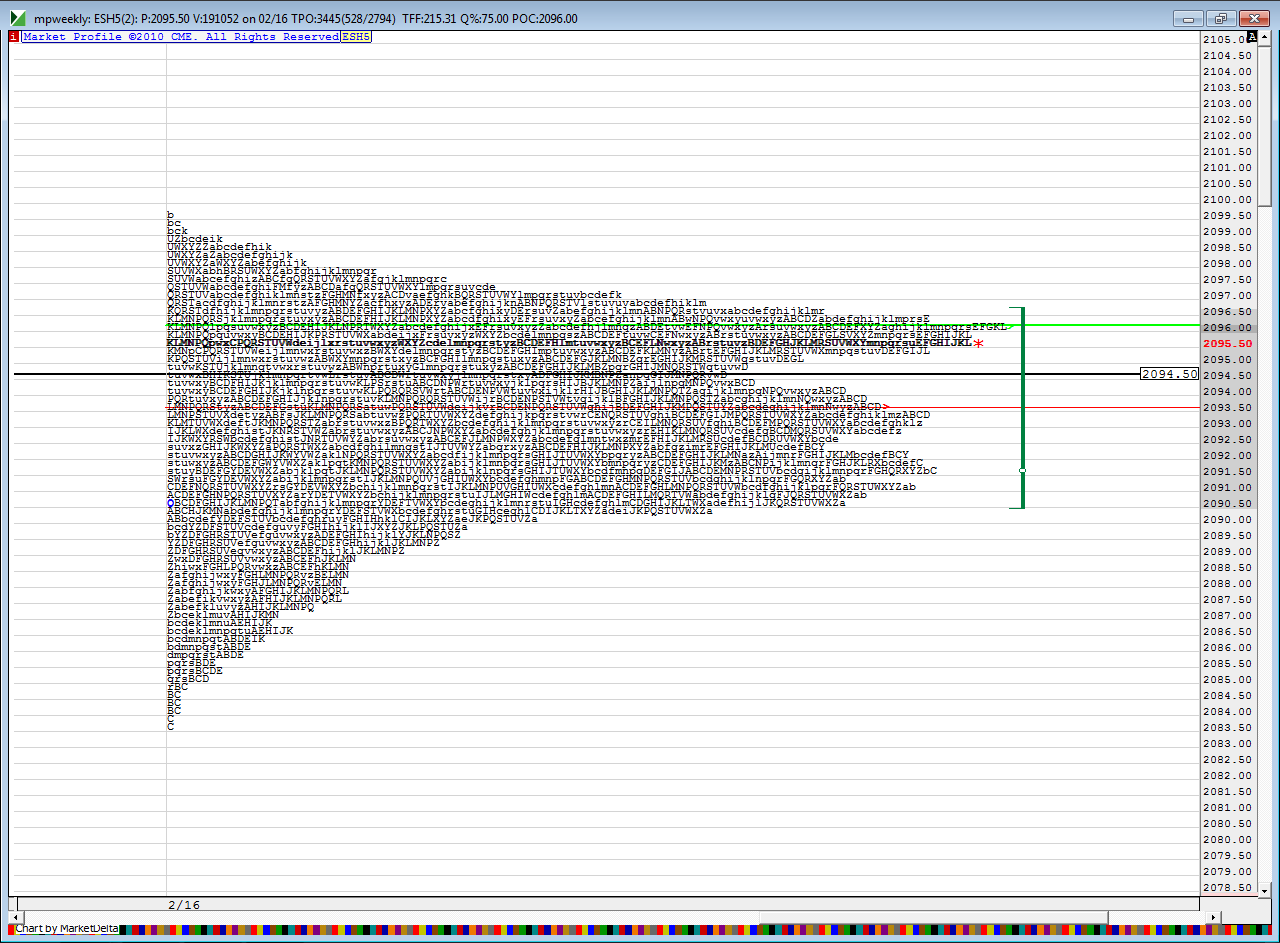 the past few days feel like the movie groundhog day ! i have nothing to
add
to what u said bruce...87-89 is support till broken and then we have thos mid 90s as magnet and 98.5-99.5 as resist...what ca we say really abt a 10-12 pt range in the week?
lots of tails came in at 83 and I have HTN at 81.50 so trying small longs under that 83... if we are wrong then I think they may have 78 on their radar this morning....so we need to keep this in context...this could be all these folks covering ahead of the weekend who don't want to be long any more.... we should be careful that this is a true breakout and use size accordingly...be concerned if u are a fader !!
runners trying for 87.50 but don't think I will get that......low time is there but not convinced that they won't monkey around near 84.50 some more
....a quick shot of the low time price and high time price from Tuesdays session and the reason I was trying longs down there...u can also see that evil High time price at 77..50 on this chart if we had been wrong ...made mistake above and said 78
Click image for original size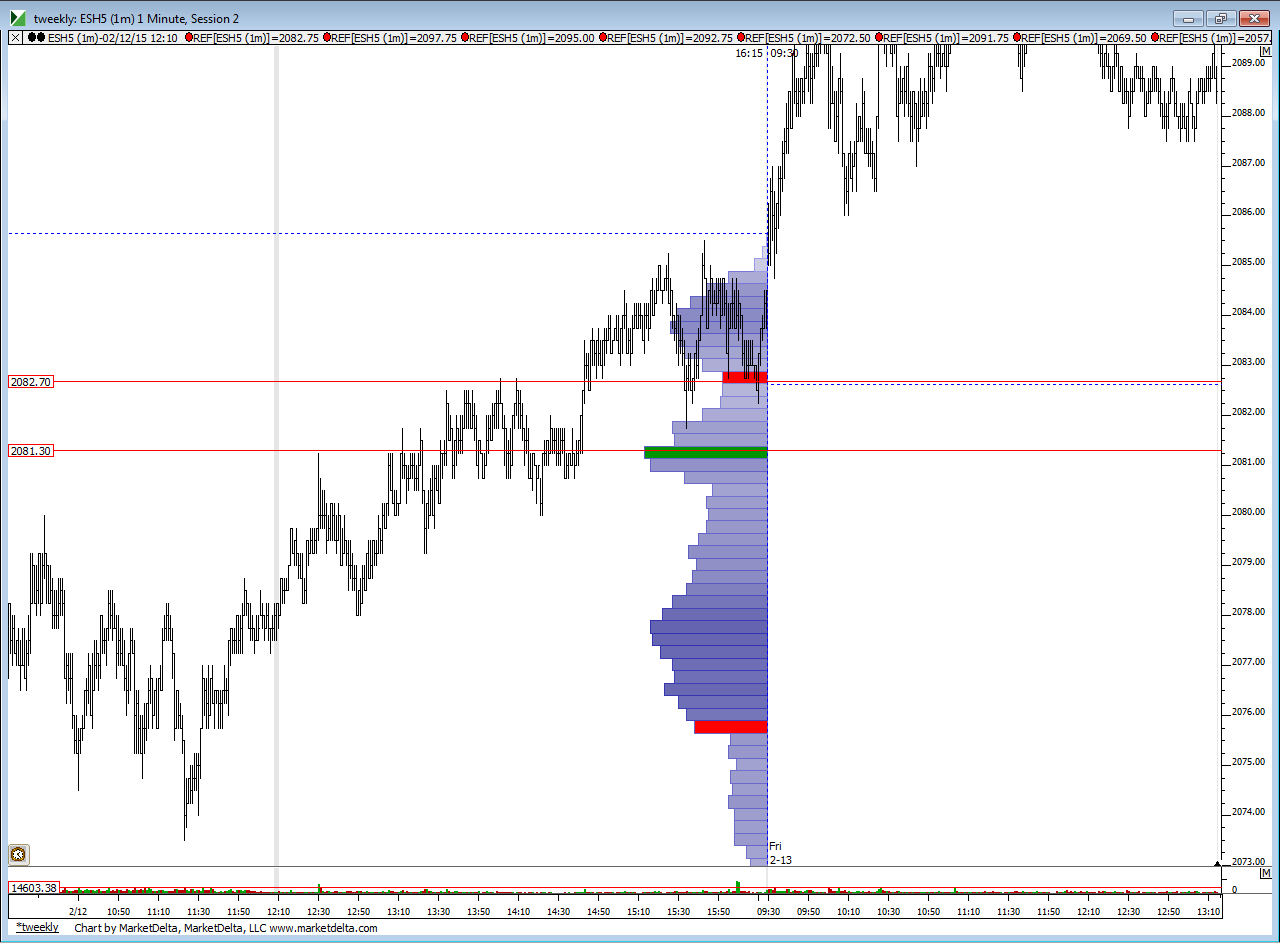 86 print is it for me...I'm concerned that sellers may step in in front of YD lows and drive back to 84.50.......probably won't but always better to get out sooner than later...hope all have a good weekend......
It is always interesting to see different styles trading around similar areas. I "always" go with the greater trend (30M) which was down. The 5M trend was also down. When the 1st 5M pierced the Euro
IB
low, I was setup at the low of that candle to go down to Bruce's 84 area.
Bruce
fades
, i trend. Always interesting. To the lurkers, find a style that works for you and master it.
Best of luck to all
excellent point Big Mike and critical to making it in the markets....a stupid question but what exactly is the "Euro low" ...what time is that ...to me there is the 7:30- 9:30 session and then there is the overall high and low of anything after the 4:15 close of the previous day
I mark the 1st hour European
IB
hi/low
on my charts and use it quite a bit. 2-3:00
AM
Chicago time.
Thought is, EURO
IB
set, market moved down, let's see what
RTH
traders want to do. Couldn't reverse the EURO sentiment so I go with the flow. This is when it opens outside that
IB
thanks...I used to keep track of 3 a.m open EST which goes well with your
Ib
opening price ( there was always a lot of volume there )and years ago somebody did a study of how often we return to that price.......can't find the data but it was high back then...just like I was !!!!!!!....thanks big mike.....
Originally posted by Big Mike

I mark the 1st hour European IB hi/low
on my charts and use it quite a bit. 2-3:00 AM Chicago time.

Thought is, EURO IB set, market moved down, let's see what RTH traders want to do. Couldn't reverse the EURO sentiment so I go with the flow. This is when it opens outside that IB

a video to close out friday......looking forward to next week and am going to post my simpleroptions ( john Carter ) weekly options review...I should mention that 08.75 was daily one sd band for today...hence the alteration and additional zone for me