ES Wednesday 8-19-15
Good morning to all. Tuesday was an
inside day
on the upper side of Monday. This could have been just digesting Monday's move and/or in anticipation of today's
FOMC
minutes. Look for a break out of 2101 or an approach to 2074.75. After an inside bar we should be on the lookout for a break out of the inside bar or a fake-out.
Greenies (past naked developing VPOCs): 2051.5, 2053.75, 2094.5, 2097, 2104.25, 2112.75, 2118.75 and 2123.5
Profile:
Tuesday had both it's
POC
and
VPOC
at 2093.75. The
POC
was fairly prominent and with the
VPOC
being there too, it increases the odds of it being revisited. We see that YD had both poor highs and poor lows with only 1
tick
of excess on both ends. We also see how the low came within a couple of
ticks
of the previous balance area high of 2089.75. Also the high came within 2
ticks
of 8/17's high which was 1
tick
shy of 8/10's high. Very mechanical selling and looks like folks with deep pockets who could be short term traders are selling there and looking for 2074.75 and/or 2056.75. This would mean that there are a lot of stops above these highs so look out for that.
Below is a weekly
MP
chart for
RTH
only sessions. Here again we see those poor highs mentioned earlier.
On the
split
profile we can see how the E period high (which is 2096.5), J,K and N period highs (2094.75/2095) are the lines in the sand. They are also YD's
RTH
mid-pt. So these are points at which sellers could come in and pause the market. These are the lines in sand for today with respect to YD.
The
O/N
inventory looks more short than long so look out for some likely short covering at the open. As of right now we would be opening outside YD's range so possible points where sellers could come in are YD's low (2090.25) and the lines in sand mentioned earlier.
FOMC
minutes are being released today at 2pm EST so markets could be muted before then so we could have a slow morning.
Good luck trading to all.
pretty much back to where we were this morning. this was a lot more chop than i expected before the
FOMC
minutes come out. we shall see what the minutes bring us
new kid where do you see chop? i dont see the chop.. put 22 and 50
ema
1 min chart you see nice downtrend starting at 2087 time 830 am.. till roughly noon ..depends on your stop if you held..but there was other times to get short like the 81.25.. i have roughly 1235pm change to uptrend..gave u time to get long..now it telling to go long at 75.50 and stop 73.75..hope this helps
take care
duck
for the record i didnt take 75.50 long
my comment for the chop was more geared towards the fact that we opened, went down and now are back up. not saying that there were no trading opportunities. just that the market is not going much of anywhere overall.
this is how the greenies are looking today. 2078.5 to 2073.5 and now back to 2078.5
Click image for original size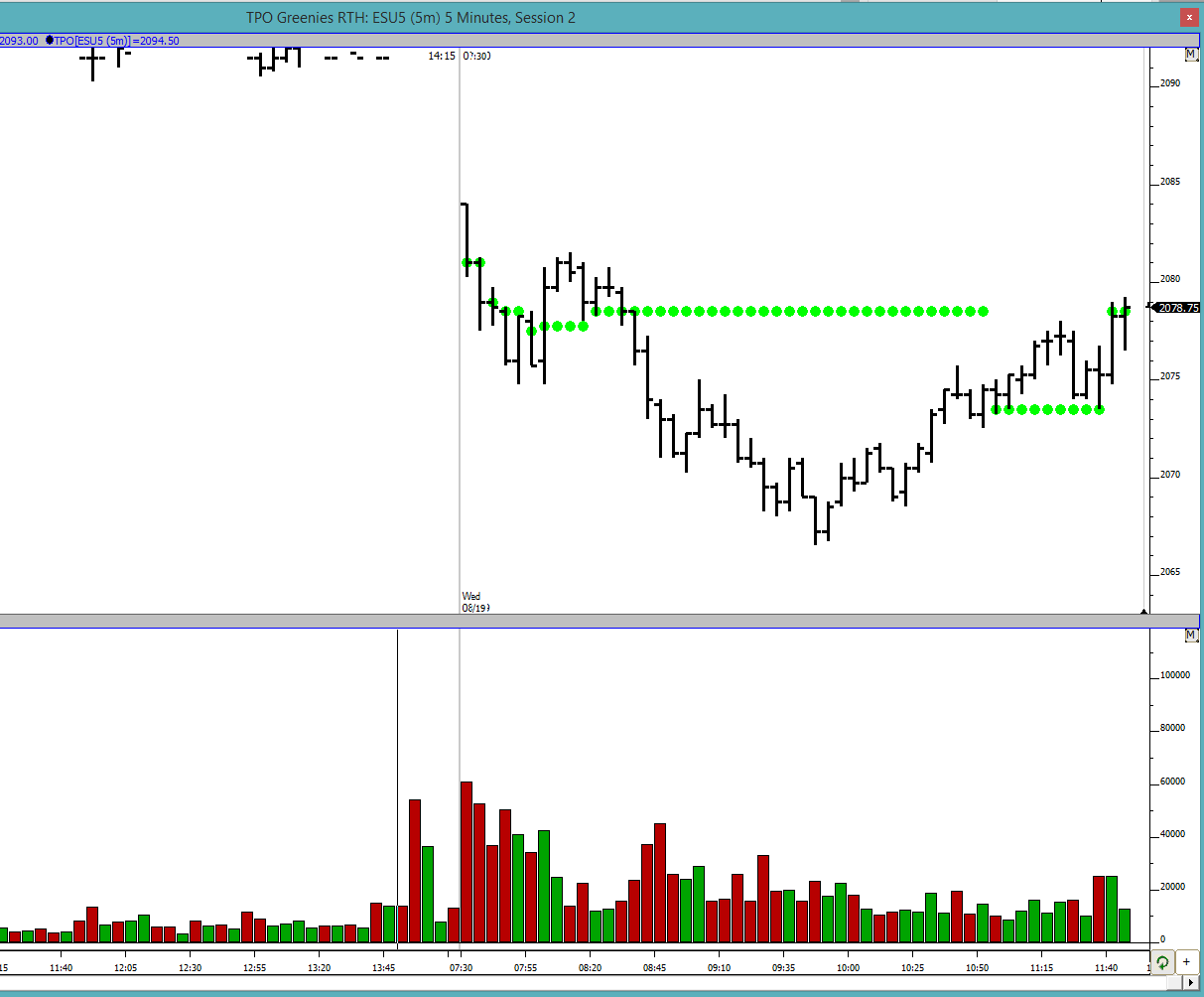 thanks nk i see your thinking.
I period high (current 30-min period) is the same as the OR low at 2082