ES Monday 5-16-16
My key lines today....selling above the magnet zone of 43 - 44...ideally in the 47 - 49...will expand this in a bit and some video ramble for those interested but for now my key chart...key concept will be that the weakness on Friday is expected to spill over early on Monday so selling in upper zones is ideal especially if it happens BEFORE we trade below the close of Friday in the day session..today's pivot is at 48.5 and perhaps Newkid if here can post the
single prints
which will go well with my zones
Click image for original size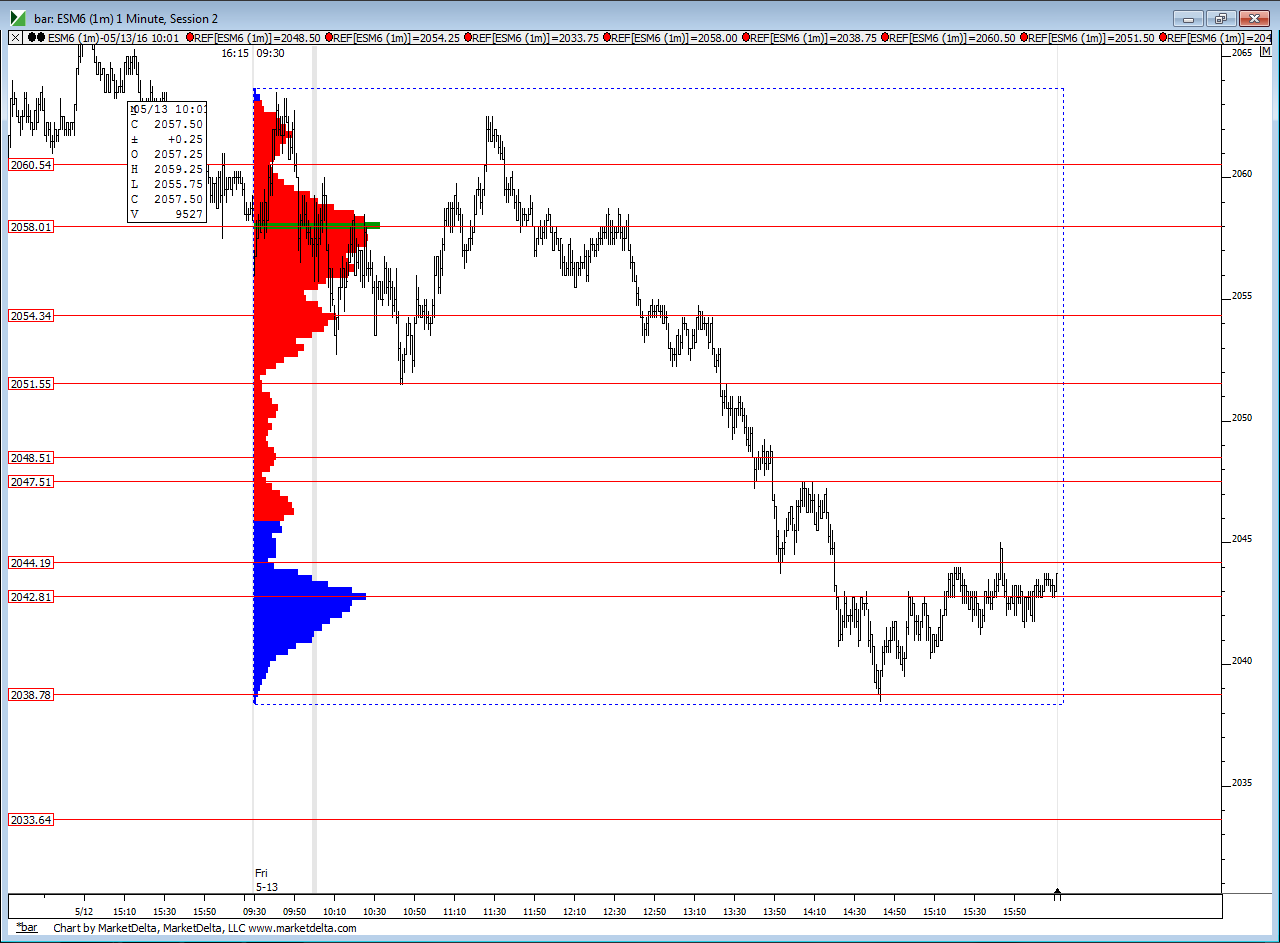 2051 and 2034 are SITYS lines for today
2062 and 2024 are weekly SITYS numbers
video to expand upon a few things...don't forget to watch for multiple
tpo
's at weekly
VA highs
and lows and also weekly ranges
the only good thing about having challenging days early on as a fader is there are great odds that tomorrow morning will be awesome !

now if only someone could tell this market that we want to see the retest down back to 54 - 55.25 BEFORE they tag 60.50
slight improvement to cost basis now to 58.25 but I'm outside my window so overall campaign is smaller....consolidating above last weeks high time zone is obviously not good for us shorts in general...60. 75 will most likely see me take the final loss of the day.....
this is always tough because the area I'd want to get out for a loss is also an area I would enter on another short.....tricky stuff sometimes..probably best to exit and try again up here
well I took the loss at 59.75 instead of waiting and this sets me up to sell ( i know I said it was my last trade) in the last zone I have from friday and goes with my weekly chart on video at 2060.50 - 62...this is a great example of losing discipline and why I should always attend my overtraders anonymous meetings !! this is where I start telling myself stuff like..."wow,
one time framing
can't last forever, two sets of singles , volume is tapering off as we go higher etc...."...the problem is I know I only need one 3- 4 point drop to make up for the last two crappy campaigns that had smaller losses or went nowhere.....so I'm trying to justify breaking my discipline....best thing that could happen is that this zone fails too and they go out of Fridays highs and keep going.... I will have lost more $$$ but i will hopefully have ingrained more of a lesson about discipline inside myself ....if I lose here then maybe, just maybe it will reinforce the need to stay disciplined......
getting rewarded for breaking discipline is actually a very bad thing ...so the shorts up here are targeting 58.50 and I'm on them at 61.25.......
retracements from swing highs to lows are only 2- 3 points today so something to keep in mind with targets....may want to pull them tighter until we get a 4 - 5 point retrace down....if it even comes
3 sets of singles on the charts...low probability of keeping all those...but from how high does market need to go before sellers come in ? the
VA high
of friday at 63.50.....?? hope not .... doesn't anyone have their crystal ball working today ? mine is quite broken !
revising target to 58.75 which was a ledge from friday and ahead of that high time node
that's the biggest swing down today and took back the single and back to Friday High time...so out heavy and have hard stop in case they can go more but as usual no good place for stop but that is ok.....consider myself done and paid for overtime ( not really though...see below) and also paid for breaking discipline ....but i will reread my post and try to learn......some mental things and bad habits are very hard to break,....i would much rather have been done in the first 90 minutes and have been satisfied.....today we doubled our time watching the market to 3 freaking hours but I didn't double my daily income target....so does it make sense ? No...not really..... I'm getting outta here to build my kids swing set...for some reason my wife felt the need to upgrade our previous swing set because my oldest is 14 and when he swings on it almost tips over...so she bought this industrial strength 10 foot "Monster" that looks daunting for my technical building skills......but heck, I built a shed from a kit years ago...LOL...anyone remember that one....???ha !!!

we'll get em good tomorrow...c ya
one last thing...if you watch the video you would have known that the one
SD
band up today was 2060 for confluence....the earlier those bands can hit then the more usable they are....since we trend usually later in the day I find the bands not as accurate when I go back and look at the days action ...I'm not trading later in the day but I always go back and look at where we close in relation to the bands....
so today we have 84 % chance of closing under 2060 ! good luck and don't trade any of these ideas blindly