ES Monday 5-16-16
My key lines today....selling above the magnet zone of 43 - 44...ideally in the 47 - 49...will expand this in a bit and some video ramble for those interested but for now my key chart...key concept will be that the weakness on Friday is expected to spill over early on Monday so selling in upper zones is ideal especially if it happens BEFORE we trade below the close of Friday in the day session..today's pivot is at 48.5 and perhaps Newkid if here can post the
single prints
which will go well with my zones
Click image for original size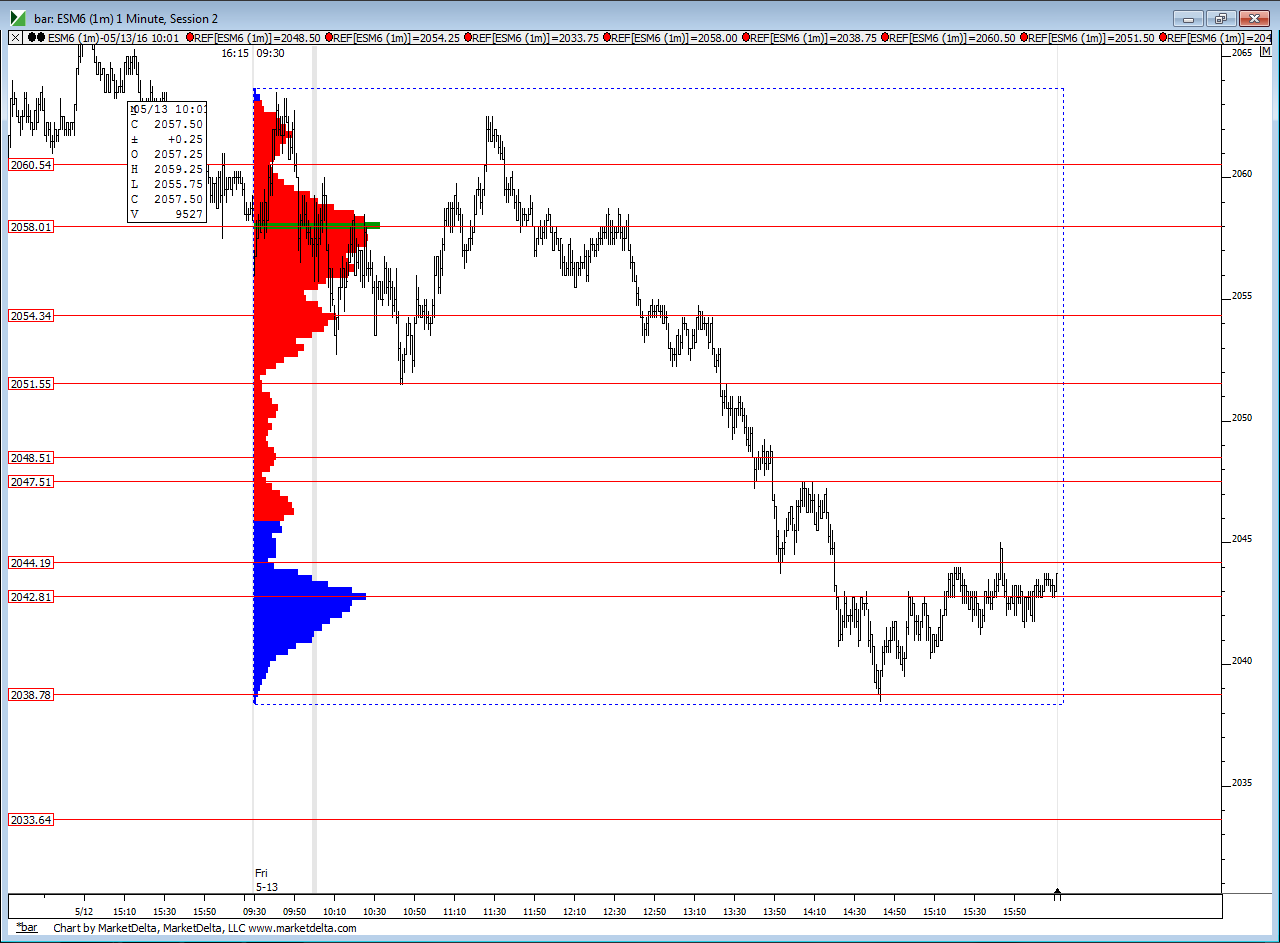 2051 and 2034 are SITYS lines for today
2062 and 2024 are weekly SITYS numbers
video to expand upon a few things...don't forget to watch for multiple
tpo
's at weekly
VA highs
and lows and also weekly ranges
coming out heavy at 48.75...a bit unsettled this
AM
and don't want to start with two losses...so need to clean up first loss and make get a small win here to clean up my brain...will try to hold two for further but don't have a great feel up here
so far prices have found acceptance above 49 so that is not good for us shorts... funny thing is i had a small win in
O/N
on a long and then i switched to shorting and hurting now..
flat at 50.25.....will try one more short but need to see us get back under that On high and consolidate...otherwise I will try the 53 - 54 area
sold 53 print...Ideally don't want this to push above 55.50 and if it happens fast i will lose quickly...keeping this small...I would rather leave the day with a small win then be aggressive and run the risk of having this campaign be a loser
53.75 is the weekly pivot and we have
price action
in the 53 - 55 zone...revising plan a bit and will average in at this zone if given the oportunity..
coming out on all but two at 51.25...didn't get a chance to
add
and 51.50 is a line ( see first post)...I 'll see if I can get back to On high and next zone
putting my stop at 52.50 on last..I'd prefer to see this stay under the 51.50 line now but can't control the market and I have no great place for my stops on these
stopped out...only trade left for me would be a push to 54.50 - 55.50 to look for sells once more...otherwise I have no plans to trade..gonna have to be satisfied with these meager and small trades today.......if we get back under the
O/N
high I may also look for trades again but it may be late in the day and I don't plan to watch this much more
FWIW only two sets of
TPO
's at last weeks
VA low
...so if you get the short then expect more trade back to that
VA low
at 49.25 !!!
I think the best place too have a shot at that is at that 54 - 55 spot but don't expect any quick drop down back to the 49.25...damn I think they are gonna suck me back in....should probably walk away as I am a bit off today it seems...
one last thing...if you watch the video you would have known that the one
SD
band up today was 2060 for confluence....the earlier those bands can hit then the more usable they are....since we trend usually later in the day I find the bands not as accurate when I go back and look at the days action ...I'm not trading later in the day but I always go back and look at where we close in relation to the bands....
so today we have 84 % chance of closing under 2060 ! good luck and don't trade any of these ideas blindly