ES Wednesday 6-21-17
I don't know if I have ever seen 4 midpoint failures so my preference will be to trade towards that ..key areas are 2432 , 2436 and then I am using two areas close by and those are 2439 and 2441 ( will actually use a zone between 2441 and last weeks highs)...anything over 2438 is almost an automatic small sell to me in overnight trade. We have closing
vwap
, the
vpoc
and the pivot all in the 39 - 41 area...a few screen shots for today
Click image for original size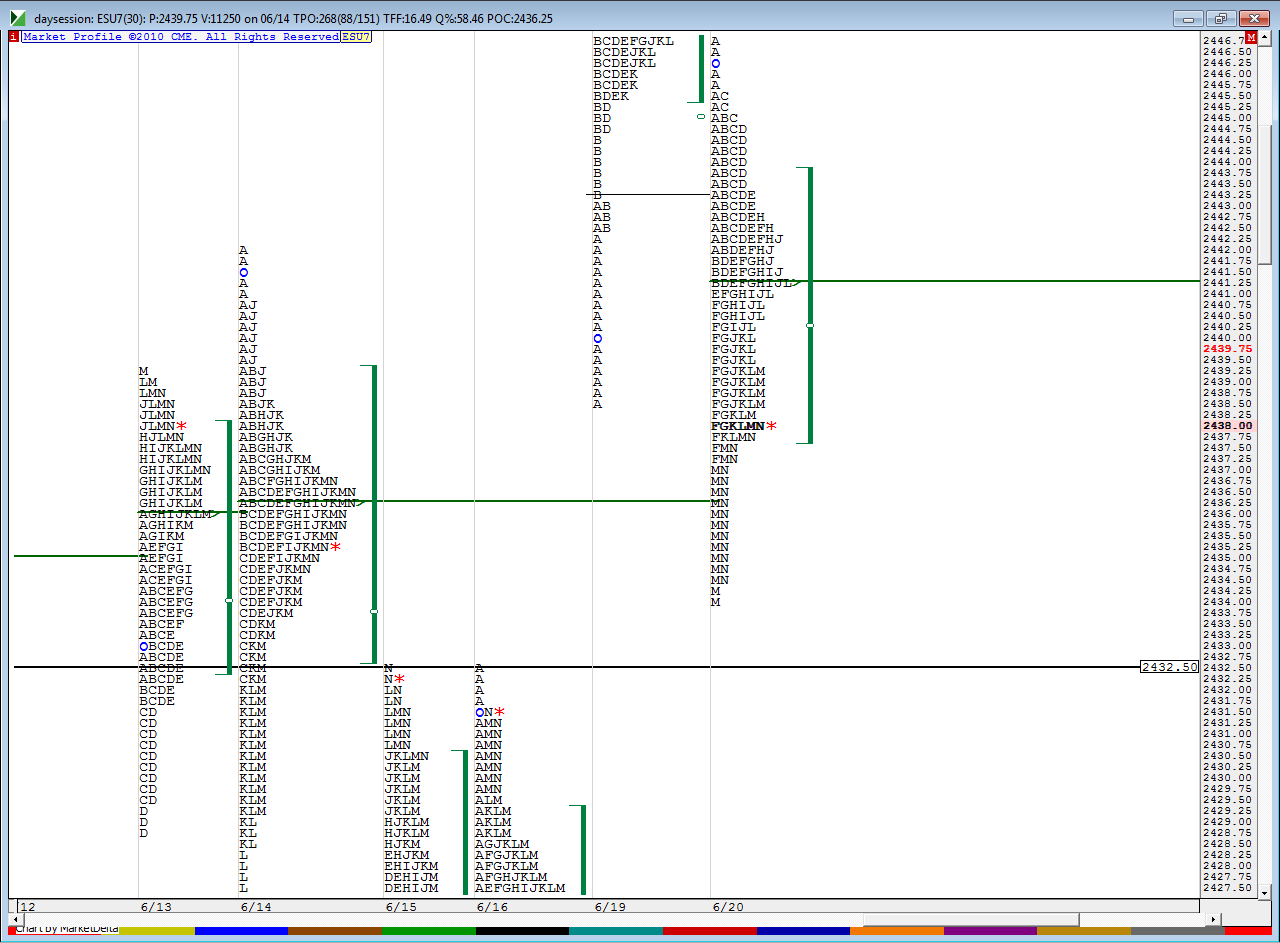 Click image for original size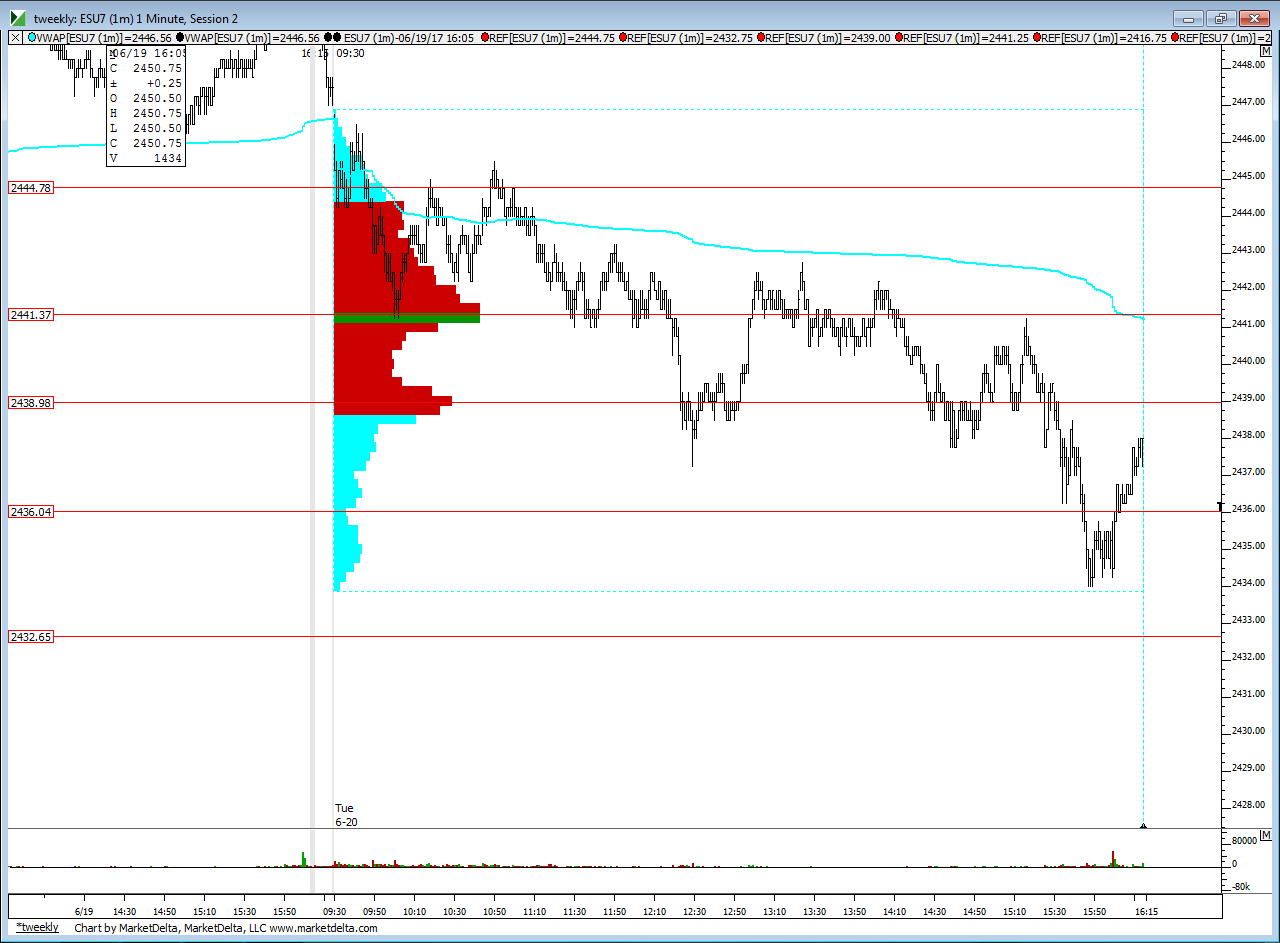 Click image for original size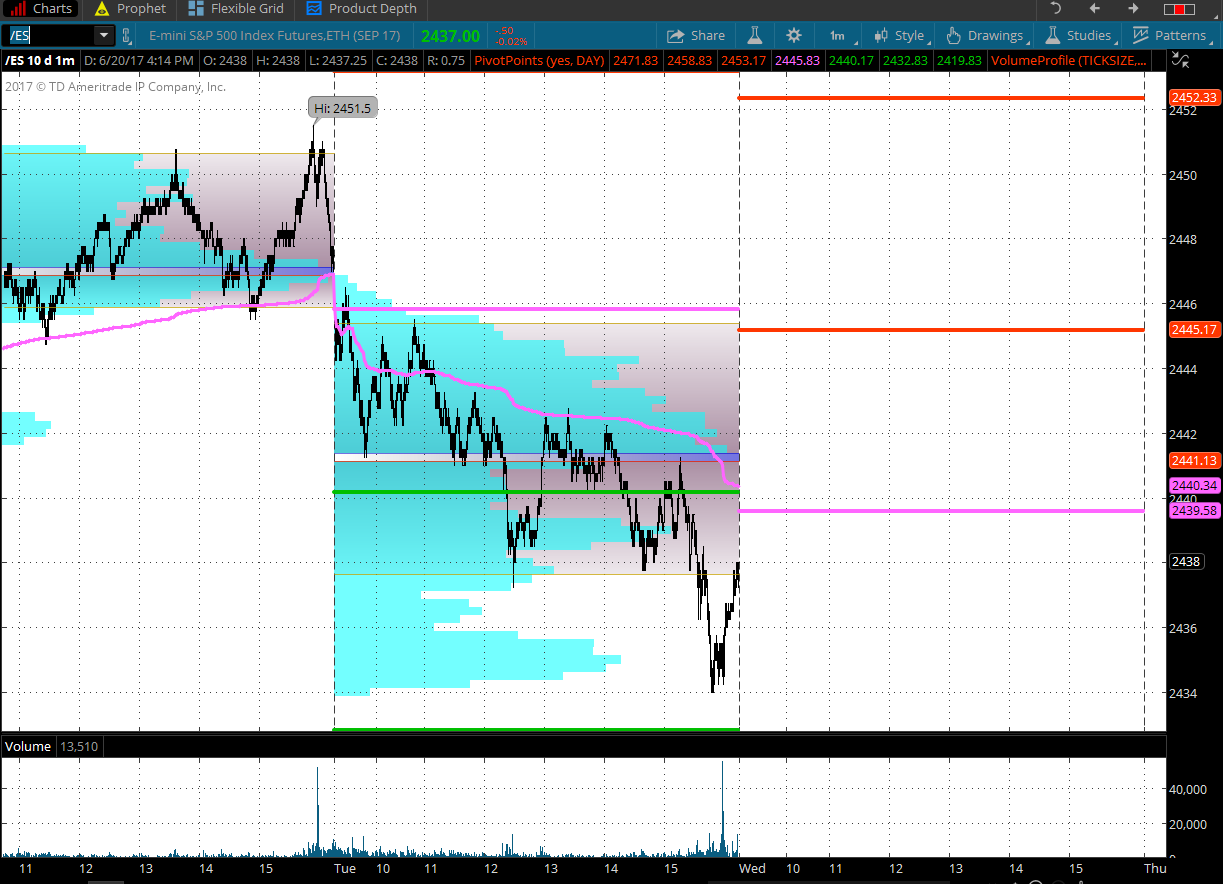 Floor numbers for today are the pivot at 39.50 , R1 up at 45 and s2 down at 32 which could be a key area....wednesday option sellers still don't want this down 16 points off Fridays 4 pm close...any sells over 2438 should use 36 as a first target regardless of that midpoint
current overnight
POC
and midpoint sit at 33.50 which is real close to YD's low of 2434 !!....last WEEKS
VA high
is 2433.50
*I got this late to the press as I was typing this while I had my order in.. I have pulled off 1st position at 35.50 area bc of the swift move
We had an up day on Monday and down day yesterday, I am shorting at 38 as well Bruce; coincides with
O/N
High and Yesterday closing price. I like 35 for the first area to pull off contracts and next target under 34, Yesterdays
RTH
Low
runners trying to hang on for midpoint...only problem is we know a floor trader number will hit and pivot is at 39.50 so they could just as easily run it back up to that
so far target of 35 knocked out.. I am not expecting a trend down but I like 34 area Bruce was referencing...
why I have my lines where they are and the challenge us shorts face on runners

the Ym being stuck at it's S1 level is not helping our runners so far
36 is the
POC
from 6-14 trade and we did go through it yesterday but left double prints and it happened at the end of the day...I think traders are still trying to figure out what to do with the 2436
can this get any slower..? only one tic excess on the lows but I'm still not convinced...this
low volume
could have anyone just push around trade but at least we seem to be trying to keep it under that 36.....Ym is trying to stay under YD's lows....
it needs to happen soon... ( the midpoint test ) or I'm just getting out ....so far a previous days range, a floor number and an overnight range have not been broken...so lots of probabilities still in play...we can't expect this 36 to work magic forever and keeping turning price back down...I'm growing impatient and suspicious
this market seems to be holding under last weeks
VA high
......as long as we stay outside and under the 34 - 36 now ( remember at one time 2436 was last weeks
POC
but it flipped down to 2427) Then it seems logical that we drop down to test the
POC
from last week which is 2427