ES Thursday 6-22-17
Whenever we close near the center of the days range the floor numbers go well with the center , high and low...so coming into today have the Pivot at 2433- 2434 , The R1 up at 39.5 and s1 down at 27.5. Midpoint of the WEEK is also up at 39.5 for confluence in case it gets back up there too . Weekly
poc
should flip down today to somewhere in between 2432 and 2435 ...it currently rest up at 2441. I am not planning to do much today but will try small buys off two zones and those are 2429 - 2430 ( look at my chart) and also 2425 - 2427.50)...that is last weeks
poc
, todays S1 and a key
ratchet
of 25 . I will also try small sells in the 2436 - 2437 zone.
The key for me today is that I expect that we may see at least two sets of tpo's print at 2432 -2433 to build that out so I am looking for ways back to that magnet.
keeping this simple today and will not be trading much. My biggest concern with trading the 2429 - 2430 zone is that the Overnight low matches yesterdays
RTH
low to the tic so they may need to drive down to that. Here is how I have marked off yesterdays key areas
Click image for original size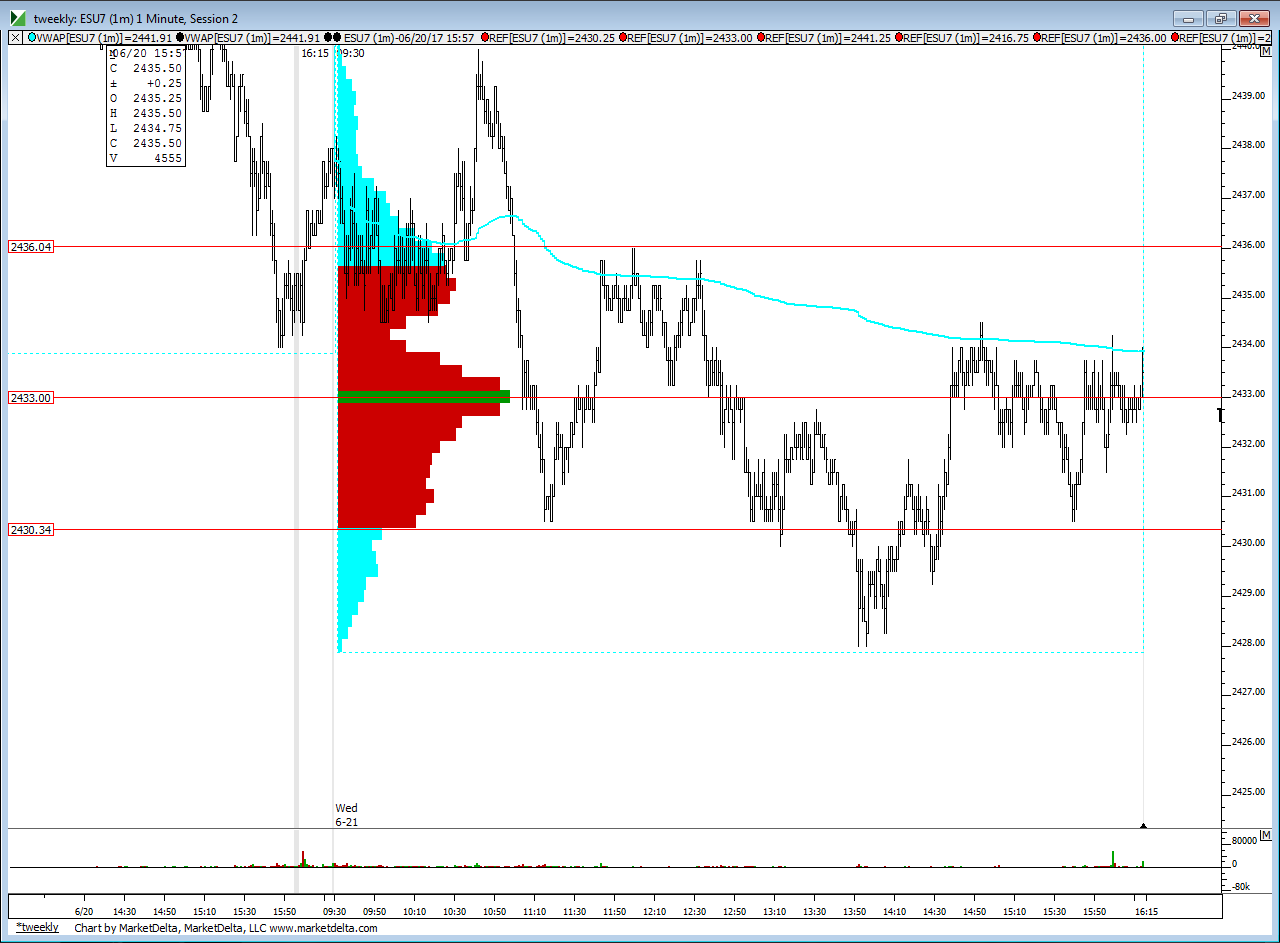 Ditto Bruce, The market opened right in balance, with the volume
POC
of 33, the pivot at 33.75 and close to yesterday's close (32.75)... Looking for the
VA High
and Low today to take trades at 36 area for shorts and 30.50 area for longs. 28 is an interesting reference point as it made both yesterday's and ONL's. That would be potential continuation if we get down there.
the bigger buyers would want to get this up and out of the 2432 area....those were the highs from 6-15 and 6 - 16...and forms a bracket ..but I am watching how long we stay under that...the longer we stay under that now then the increased chance we will push down into 2427 so we need to be flexible here and not be very aggressive on
fades
off the 2430 just in case....and also don't be a pig on exits.....as for me I am taking an all on/ all off approach ...so no runners today...just getting out at target...this may need to shake out a bit
I have pulled off first position at 33, will move stops to BE and looking for 35.50..
weekly
POC
has flipped to 2432.50...now the question is : Will traders recognize value as being lower and go for the sell off to 27 or is this implying that too much time is being spent down here without enough reward and we get that pop up in price....? My guess is that they will try for that 2427 so I am staying off long side now....I may try to sell under 2430 if I like what I see and it comes down again.....so far they are accepting price under the bracket highs I mentioned in post above...so accepting under a bracket high will try to target it's
poc
and midpoint
folks im all out at 31.. Bruce I imagine you rode the elevator up 2x on the 30.50 area so far??
only one tic of excess on YD's lows so not usually a great longer term low ...I'm done for today unless we come back to that 2430 again...otherwise if Buyers want to take this over then they can have it ...only one trade today for me ...here is how the lines from yesterday are doing on today's chart...
Click image for original size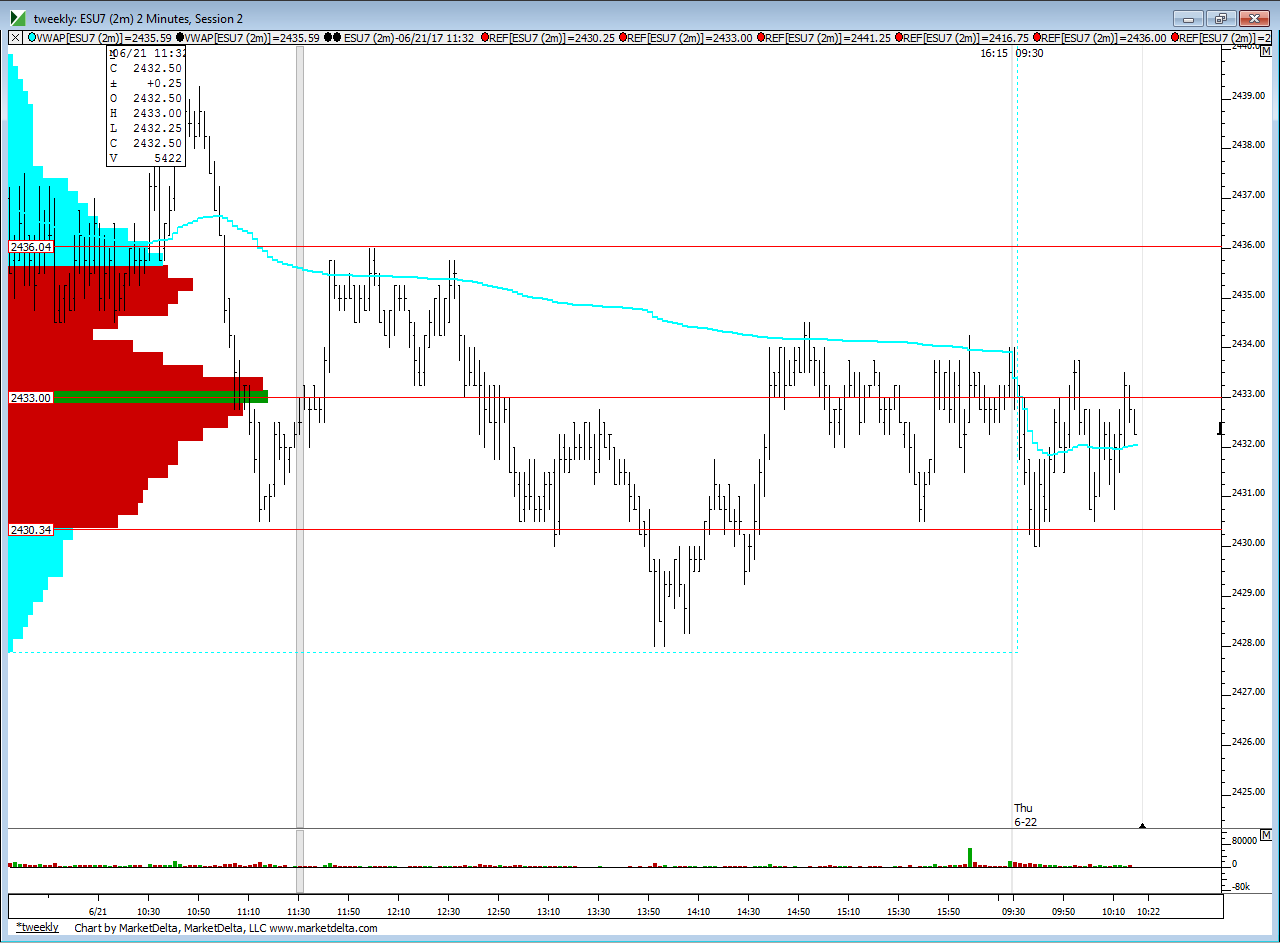 only once...I keep thinking that the 2430 is gonna give way and break down to 2427........I usually like the first try at a line.....after that I get more cautious...I prefer the sell side but I am the worlds worst breakout trader...so if the break comes at 2430 it will probably be difficult to me to find a lower risk area to climb on board
Originally posted by Avid

folks im all out at 31.. Bruce I imagine you rode the elevator up 2x on the 30.50 area so far??

just exited one runner I was holding at 2434.25....that was official breakout point and
single prints
....no ammo ...so if they try to go for poor lows I will not have options or futures working...too close to end of day for me...