ES Thursday 6-29-17
Late in posting today....only thing I am trying is longs now off 26-28 area to see if I can get back to 30 and maybe higher ...lots of
single prints
on todays charts and this
low volume
is seeing price manipulated... 32 is
single print
from yesterday that they may need to spend more time at ....todays high matched yesterdays high to the tic and we also blew through the
POC
of time way up at 37.75..so in my world we have some magnets up above ....I am keeping my eye on failure too as if they keep selling we will push down to 2424.50 ......2430.50 is today breakdown point....so my long zones will be 26 - 28 and also adding in the 24.50
Im getting in late too, was just about to post my analysis when I saw you started this thread. We have yesterday's low at 25.50 and got there pretty quickly. I missed this nice move down, but am monitoring for advancement off today's lows so far. Most of the 28 to30 move has taken place so I very well may sit this out
came out very heavy at 2430 and also 31.75 as 32 is that
single print
from YD.......holding one runner to try for 33.75 and that is it for me
buying 5 days before the holiday is the seasonal tendency...I'm selling puts and if we can firm up around this 20 area then they should go to retest the 24 line......weekly s1 is 2424 and s2 is 2415...ok....now i really am done posting and will be back sometime after the 4th....have a safe and enjoyable holiday..I owe emails and will get to those too
these are he options I just sold....I know I said that I usually only go with 10 contracts on puts but these particular ones are almost 2 strikes
out of the money
, have one week to expiration , we have a bullish holiday period coming and we are down 1. 5 percent on Naz and almost 1 percent of the spx when I put these on,
Click image for original size

my plan will be to take the loss if spx tags 2390 at some point during the trade
the battle now down here is at 2415- 2417.....and if the
one time framing
is going to stop ( and it most likely will ) it should happen from there...the rain has made me babble more then I intended today...weekly price has gotten way ahead of current weekly value!!!! We are currently 10 points below the weekly
Va low
that is developing...2410 - 2412.50 is next area if this one gives way and I will be taking longs in
ES
as day trades in order to see if I can get a 2415 retest
weekly profile charts and why I am taking about the areas above and the 12.50 long trade etc
Click image for original size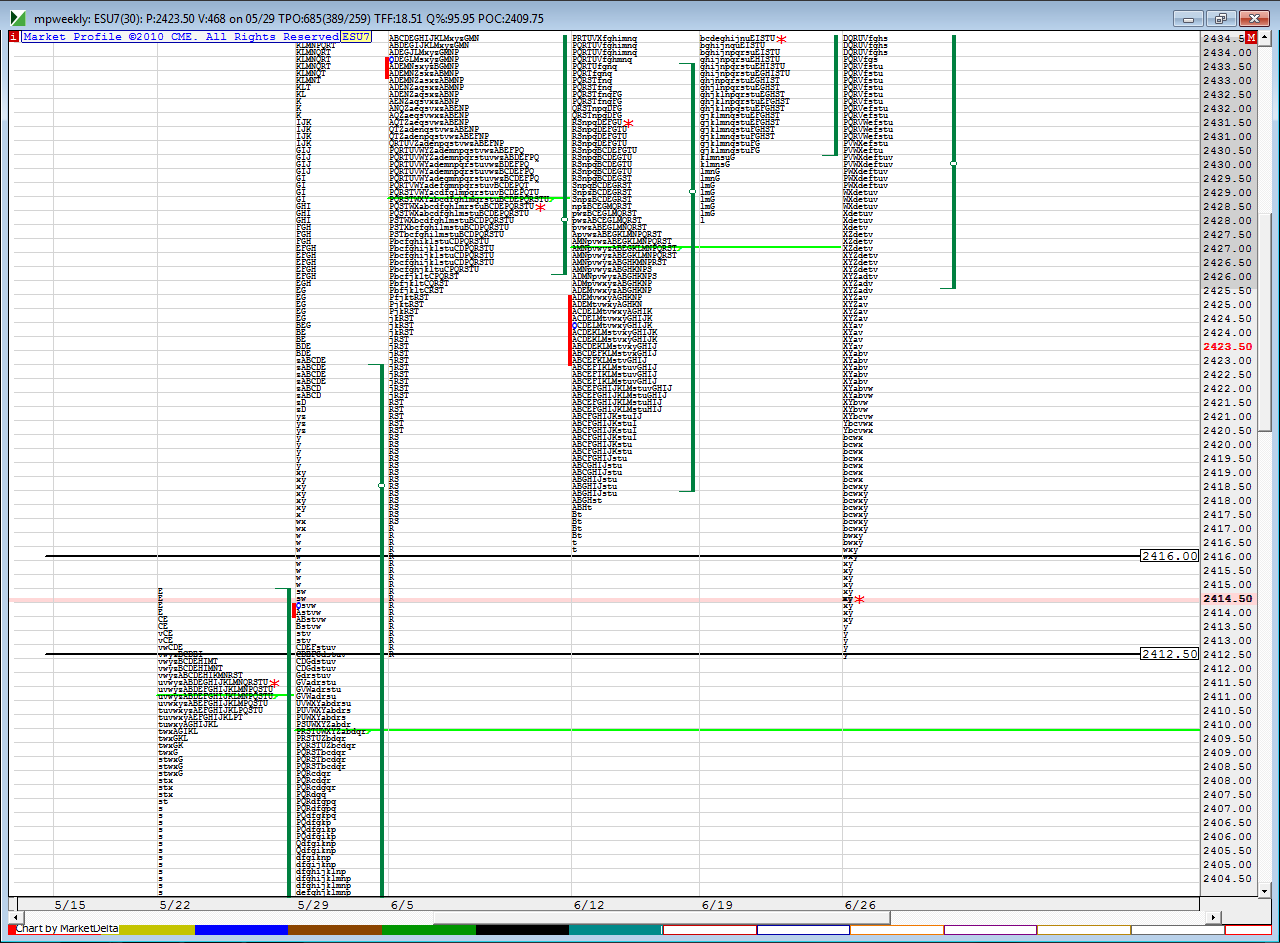 cool little trades in here...trying long trade from 7.50 -08.50 (
va high
from 5 -31) to see if I can get back to 2412......I know if horribly wrong then they will try to push to
POC
from 5-31 trade at 2404.50 so this is small and I am not being aggressive....
single prints
up at 2412 now and still no stop of
one time framing
.....vendors and paper traders may come out of the woodwork telling you how you should have been short from the opening print etc today...don't believe them ....that's just fantasy and not real people trading
cautious at the 2410 and if u have multiples and got a good fill I would take something off at that swing low...a weekly
POC
is also there and they may need to monkey around with that a bit...I'm in at 07.75
Va high
...we'll see ...might still just drop like a rock...puts sold getting crushed but gonna stick to the plan
took a 2.5 point loss and trying again from 03.75....need this to come back to 09
my one measly runner came off at 2416...this was a killer trade.. and that was a prior weekly low...not boasting but just excited as I didn't go into the holiday getting crushed...Hoping to make a video sometime within the next few days of the reasons behind all that babble and posts areas...and also cover high and low time area concept as I noticed a question in yesterdays thread...puts sold have a modest profit and will see what days end brings to decide
to hold them or not