ES Wednesday 8-30-17
A primer, how I set up my areas and my final solution to my
SD
bands.....and why we need to watch 2444- 2445 today........I will be adding a second video
vid 2
with more ramble
a hard copy of the lines I feel are most important....especially that 44 area...that is critical today...I'd like to see that area fail and go down to daily pivot today
Click image for original size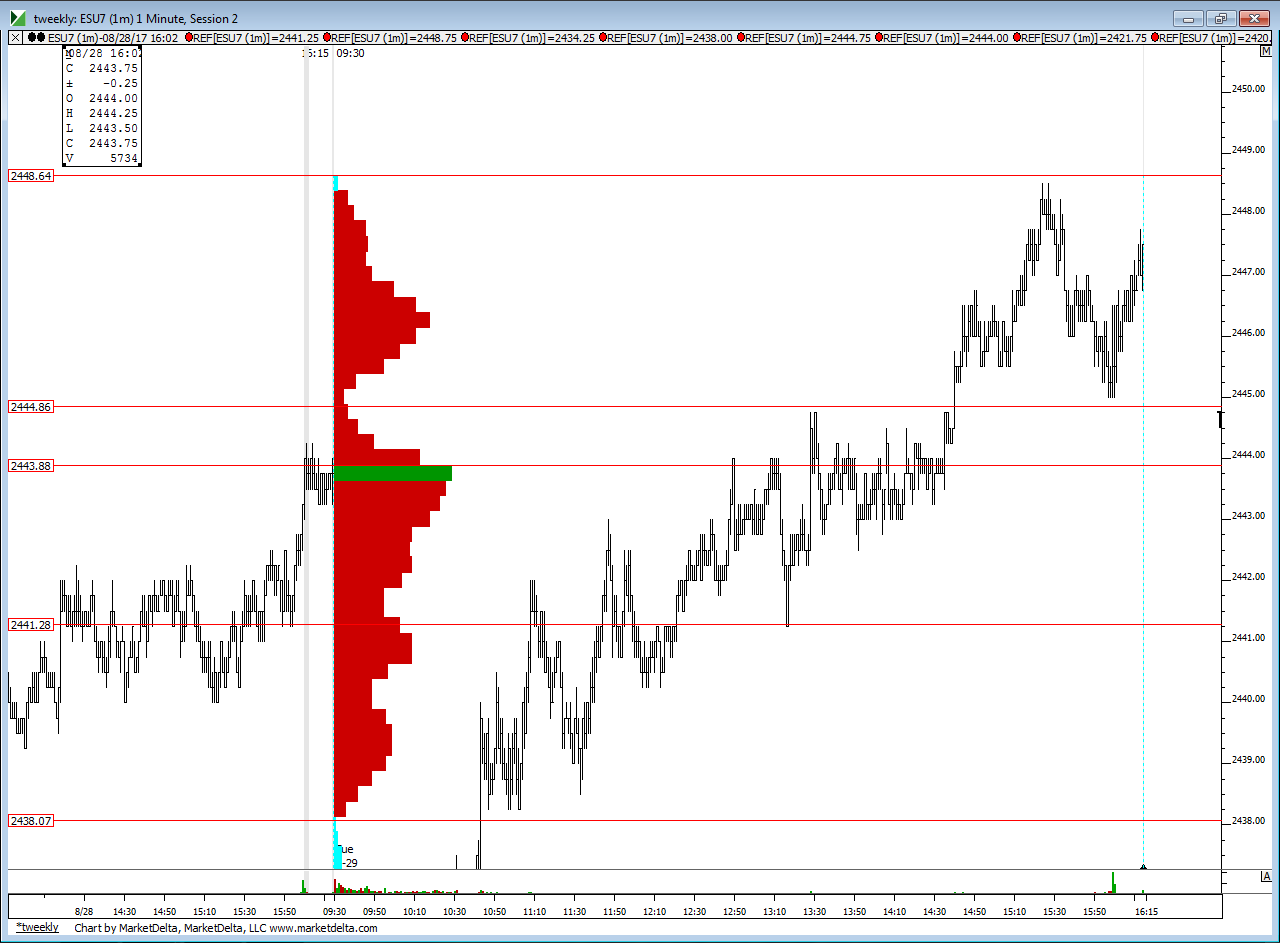 I wonder Bruce if 2458 to 2460 area is a spot to sell those calls? The break down point from 8/17
And with that 2458.25 (
single print
from 8/17) reached, I have no idea what is next.
Tomorrow is the last trading day of August 2017, and monthly
one-time-framing
higher did not cease.
Thanks Bruce, for all the time and energy you put into your daily videos and charts.
nice call aladin....I couldn't find anything at the one
SD
area but am looking one last time at 58.50 for a retest of 55.50 ...then calling it a day...trade to 61 ends this all for me......completely muffed it today
too late for me....I sold the 2450 calls that expire Friday but luckily bought the 2455 for protection to limit losses
Originally posted by sharks57

I wonder Bruce if 2458 to 2460 area is a spot to sell those calls? The break down point from 8/17

I'll get em tomorrow....I hope !! Last day for trading this week for me is on Thursday
Originally posted by sharks57

Nothing like getting slapped around, Usually, you are doing the slapping Bruce.

pulled the plug one tic in front of that R1 retest...leaving two runners on and retest of 58.50 will stop these out.......would need a big sell off ( and be able to hold - which are both doubtful) to make this day positive......but at least I got
one good trade
today....LOL....went 1 for 5 ....selling now would be nice as my sold options could use a boost to take back some losses...will go for 52.75 on one runner and leave the other for who knows where ??? I don't know....