ES Wednesday 8-30-17
A primer, how I set up my areas and my final solution to my
SD
bands.....and why we need to watch 2444- 2445 today........I will be adding a second video
vid 2
with more ramble
a hard copy of the lines I feel are most important....especially that 44 area...that is critical today...I'd like to see that area fail and go down to daily pivot today
Click image for original size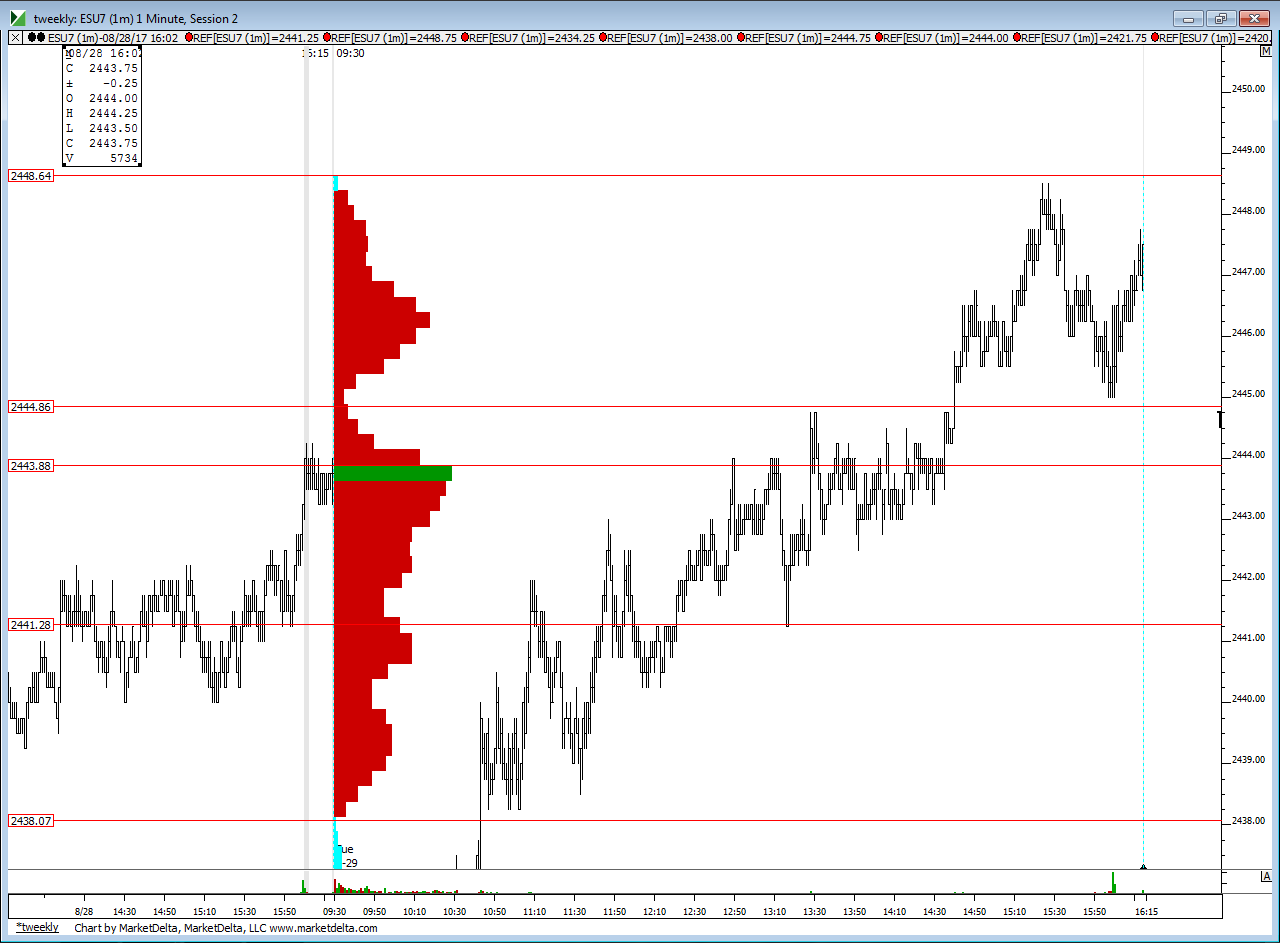 I'm debating if I should trade at 62 - 64 zone if this one fails...so close to my 61 exit if it comes....that would be one
SD
up and near R2...so tempting
Bruce,
Do you only trade weekly options for the current week only or do you go out any further?
I think it is interesting how they blew through those 53 - 54 highs on cash and haven't come back for the retest....so at least so far it looks like the breakout is working but
$ticks
have only a high of plus 750 or so and the distribution is much less then yesterday.......I'll have to access those calls at days end.....$
tick
seems to trying to put in lower highs now but that can goof me up
I have some other spx options as a hedge in case we get a big drop but usually I like to stay with the week ( but sometimes start on wednesday or Thursday of the previous) the Bittman that Big Mike and I have mentioned works well over time I think....go here for that and you can get the slides and watch the presentation by clicking on the blue words "slides" and " full video".......
http://alta5.com/blog/bittman/
let me know if u have trouble finding that stuff
Originally posted by sharks57

Bruce,
Do you only trade weekly options for the current week only or do you go out any further?

exiting at 58.75....plan to try once more and that will be it but I'm going to be patient... I need to see a good time and sales signal or get up into that 62 - 64...otherwise this day will be done for me...I'd like to see the volume pick up too....
at 1:30 we had that nice volume spike at 2458 but so far all price is doing is wandering around it....
Thanks for the advice Bruce and the Links
I've had 4 losers today....no winning trades...just an FWIW......small losses for the most part.....the first two were bigger but next two were small to scratches
pulled the plug one tic in front of that R1 retest...leaving two runners on and retest of 58.50 will stop these out.......would need a big sell off ( and be able to hold - which are both doubtful) to make this day positive......but at least I got
one good trade
today....LOL....went 1 for 5 ....selling now would be nice as my sold options could use a boost to take back some losses...will go for 52.75 on one runner and leave the other for who knows where ??? I don't know....