Crude tops up to $ 84.05 per barrel
Crude tops up to $ 84.05 per barrel
Crude Oil topped up to $ 84.05 per barrel in New York, with the thought that Turkey might try to extinguish Kurdish fighters by invading northern Iraq. (Iraq has the world's 3rd largest oil reserves). There is always a reason for crude-oil to go bullish.

Crude Oil rose to $ 88.20 a barrel for the first time in New York History , with the idea that Turkey might assault Kurdish Militants in Northern Iraq, and further disrupt Oil shipments. The Trukish Prime Minister says tomorrow the Turkish Parliament will decide on a military campaign , into Iraq. Oil into the Mediterranean Sea via Turkey has been stopped for a great length of the Iraqi
war
since 2003 due to attacks on oil-pipelines in that region. Should we see $ 100 per barrel oil in the near future?
Here's the monthly chart for the
QM
to put things in perspective.
Click image for original size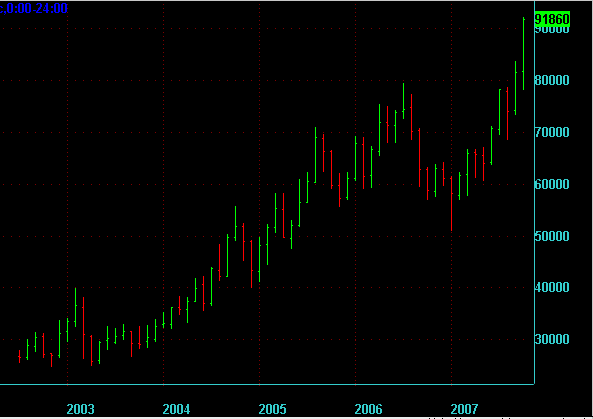 NYMEX CRUDE
OIL
TOUCHED $ 94.45
O/N
10-30-7!
Upcoming Reports & Publications/COMPLIMENTS OF: The Energy Information Administration (EIA) : EIA.DOE.
GOV
:
http://www.eia.doe.gov/calendar/reports.html
((The Energy Information Administration (EIA), created by Congress in 1977, is a statistical agency of the U.S. Department of Energy. Their mission is to provide policy-independent data, forecasts, and analyses to promote sound policy making, efficient markets, and public understanding regarding energy and its interaction with the economy and the environment. ))
LIBRARY COMPLIMENTS OF OPEC:
http://www.opec.org/library
((The Organization of the Petroleum Exporting Countries (OPEC) is a permanent, intergovernmental Organization, created at the Baghdad Conference on September 10–14, 1960.))
Nymex Crude Oil Futures Still Climbing - Yesterday,
--------------------------------------------------------------------------------

Nymex Crude Oil was caught recording a new high of $96.24 on 11-1-7 , before dropping to $95.92 a barrel. Some analysts are saying they do not see any reason for crude-oil to not cross into the $ 100 per barrel zone, after (OPEC) the Organization of Petroleum Exporting Countries resisted cries for more oil production. OPEC in turn was quoted saying that the climbing market situation is due to market speculation, and political issues around the globe.
Heard on Jay Leno recently: "When President Bush was told that oil might hit $100/barrel he asked: 'How much is it without the barrel?'."
Nice one daytrading.
Keeping it simple...in trading there are high prices and low prices...commodities prices go high or low but in due time revert to the mean....and yes don't listen to the news...stupid news.
So now crude is high...imho...I think end of Jan 07 is was $55 on the futures...however I waiting for this to form a
NSC
after a new high..and when the next prognosticators say we may see $150 or $200 oil...then I'm going to load up on some put options.
Everybody can still keep reading the news about oil going to $200 but I remember 1978...when they said the same old nonsense...all the gurus etc...and I know where it all went...same with gold, silver etc. Oh and yeah, that time they also said it was different....this time the excuse is China, India...Gann,
Elliott Wave
, who knows. Well I got my own wheel..its called common CENTS...but I digress.
US dollar and US index real low too...look to load up on some call options...It aint going to zero..and if the US goes to the toilet...you can kiss China, Indian and the rest of those darling economies...without the US they are peasants and poor...
Yes, I seen the same old story the flavors were the Arabs in the 1970's, Japanese in the 80's. In the 50's, 60's flavor was South America ( pre 1973), 90's was the US..and 2000 ( well 2004 onwards) has been China and India...stock markets there are parabolic...
Hey Shanghai mkt was only 100 a decade ago and 2-4 years ago was 1,000 now 5,000..same with the
BSE
...close to 18,000 when 5 years ago or so was less than half this.......any puts you can buy on these mkt in North America???
Anyone Remember Nikkei in 1980/81..was 1,000 on the index..by 1989 it was 39,000 and in 1988/89 all the gurus were telling you to load up....you all know what happened....hey it was common CENTS..
Best bets...Oil puts, US index call, Cdn dollar puts. Within a year or 2 if you know how to play it cheap...you can make a killling........I'm going to be there..
Remember most news if not all when comes to trading is stupid news. See the r (interest rates) go to 3.5/3.00 by end of 2008 if not before...
So remember Oil puts, US index calls, CDn dollar puts...in a year and definetly 2 yrs..u will thank me...remember you have to be in the game to make money...
And yes US elections are coming next year....
Your welcome daytrading....but I think you knew all that and more!!
In my belief when keeping it simple it is easier to make money trading, rather than making it complicated. With patience and keeping it simple I make money.
I lost a lot of money when I made it complicated and my trading screen looked like I worked at NASA or the NSA...it looked like I had a Phd in grahics!! But, I was not making any money...things that make you go Hmmm.
Hey when the worlds most successful investor-Buffet- tells you that to make it rich is to keep it simple and have patience(Time)...well that is for investing, but there is a lesson here for daytraders too- Trade less often, wait for those juicy so low risk high profit trades and then be greedy on the exit!!! There are at least 5 of them every week which give you maximum pts...6-12 pts each on ER and prob the same on
ES
.
Your choice, marked up screen or simple 1-2-3. I choose simple.
2009....hey oil is now $65.00 a barrel and the analysts are saying there is a glut of it..China and India don't need as much..there economies are slowing down. These experts are calling for oil to go to $50 by mid 2010 if not lower?!
2009- The U.S. dollar has been on a tear lately...and the stock market is reflecting it. The currency analysts are saying the safe haven is the dollar and not gold? What? The U.S. dollar is the new star ( REally).
2009- well it could'nt last forever...the Cdn dollar is now at 90.50 cents and the rapid decline in the last 6 months was needed to prevent a
depression
in the Cdn economy so say all the experts!!. Lets ask the Currency specialists at Royal Bank of Canada or CIBC world Market........NOT
Before I take any trading advice or buy a course etc. I ask myself a question? Does this guy who I think I'm going to purchase this service make any money from trading? And then I think of the movie Spinal Tap...1981. If he is a real rock star and not a fake like in the movie...I purchase the service or product.
Things that make you go hmmm.
This Week In Crude-oil=
On Wednesday 11-7-2007, Nymex Crude-oil Hit An Intraday High Of $98.62, And Closed At $96.37.

Today, Friday 11-9-7 Nymex December Crude Oil Settled At $ 96.32 Per Barrel At 2:55 In New York. Lets see next week! Cheers!



Crude oil is the most well known commodity from the energy sector and is the world's most actively traded commodity. Light, sweet crude oil is preferred by refiners because of its low sulfur content and relatively high yields of high value products.