Out of Steam?
Out of steam? Thats what I'm counting on, Short from around 1278.75 looking for 1250is levels. I've got some major resistance 1279-1282 plus the market hiting some old tops from 07/09.....
quote:

---

Originally posted by BruceM

started shorts at 61.75..not perfect but high tick and high volume into the plus 4 area.......and begining resistance zone


---
Good call....
LOL. I was just thinking a while ago how the market 70-80% of the time does a 10-15min fake move first thing in the morning, then reverse's. But trending days like yesterday that was not the case. Also I have noticed this hook quite a few times on the 5-min....
l l Looks like a V takes 15-30min max to setup, short the bottom of the V, long if it crosses the top.
l l We had one set up today, monday, and tuesday. And you can place your stop at the other end of the
l V. The stops are usally perrty tight the long on monday SL was only about 8
ticks
. The one the 23rd was a bit larger.
That last post got cut up perrty bad, I tried to draw a chart with "L's" I'll post some charts in a few...
here is a chart with that
gap
I'm trying to get on runners at 53.75////also note the big push up into the key 63 - 65 zone....high
ticks
..not shown..plus 4 - 5.5 area off open print...
Click image for original size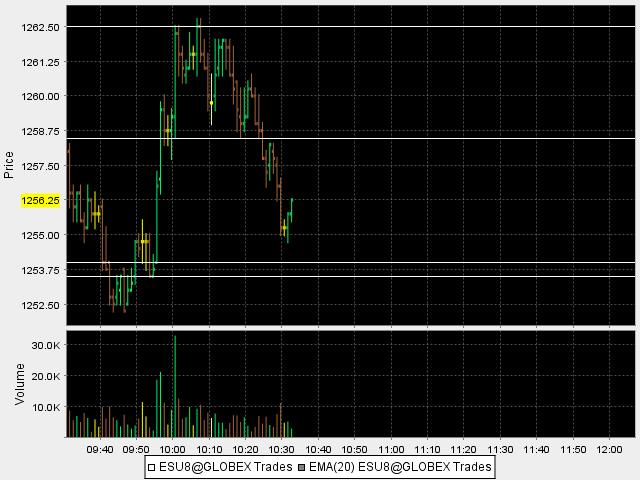 I had to re short at 58.75 for a try at that
gap
fill.53.75..somebody was real interested in that to push price away so fast..hoping longs getting faked out but perhaps this time it's me...
Looks like you got your
gap
fill and new lows, good call bruce. I have been watching this
market profile
, I am doing it by hand on an Excel worksheet, I don't know if it works like this every day but on range bound days like today you could buy at the unfair price and sell at the avg price many times I have been combing this with some of my
S/R
#'s and its perrty nice. Thanks Bruce and DT, I owe yall one.
You don't owe me one Joe. We all share what we can and steal from each other..lol...
MP
is great stuff and naturally some days are better than others....get Daltons book if you think it is an area that interests you.....
Here is what my chart looked like.....the horizontal line at the top are simply the high volume one minute bar high and low....that 58.75 was awesome...the other horizontal lines are that nasty little
gap
..I'm just posting it for reference...enjoy the weekend..
Click image for original size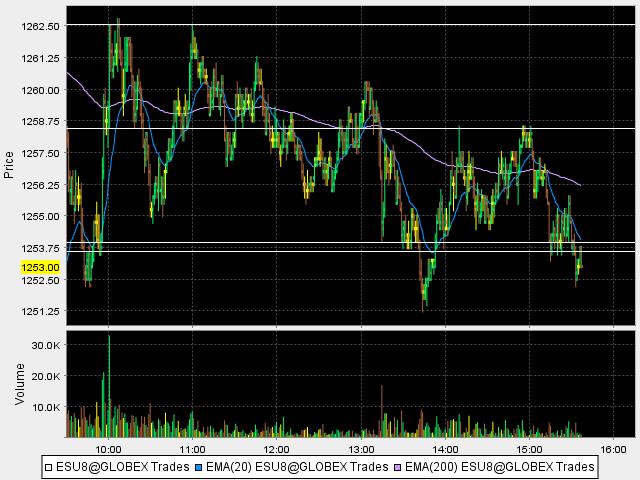 I ran the
MP
for 7/25. The
single prints
I found are 1262.75 & 1251.75. Would you guys confirm?
Redsixspeed,
No singles for 7/25..Looking for singles in between doubles or greater and not at the tail ends. Look up 7/24...1270.25 is a
single print
which havn't been filled yet, and 1257.5 which was filled yesterday.
What a great run i love this "bear" market...51.5
ES
pts in a day and a 1/2. Markets hit a bumb @ 1313.5 right above the Wpivot and 1315 Is major Sq of nine, and 1307 is a monthly pivot with a very nice
doji
and weaking
MP
today, filling in singles from today at the 12:00 bar and 11:30 bar. After going long for so long its tuff to pull the trigger at times and step in front of the bull train, but once again proved worth it.