Game Plan for 7/28
Click image for original size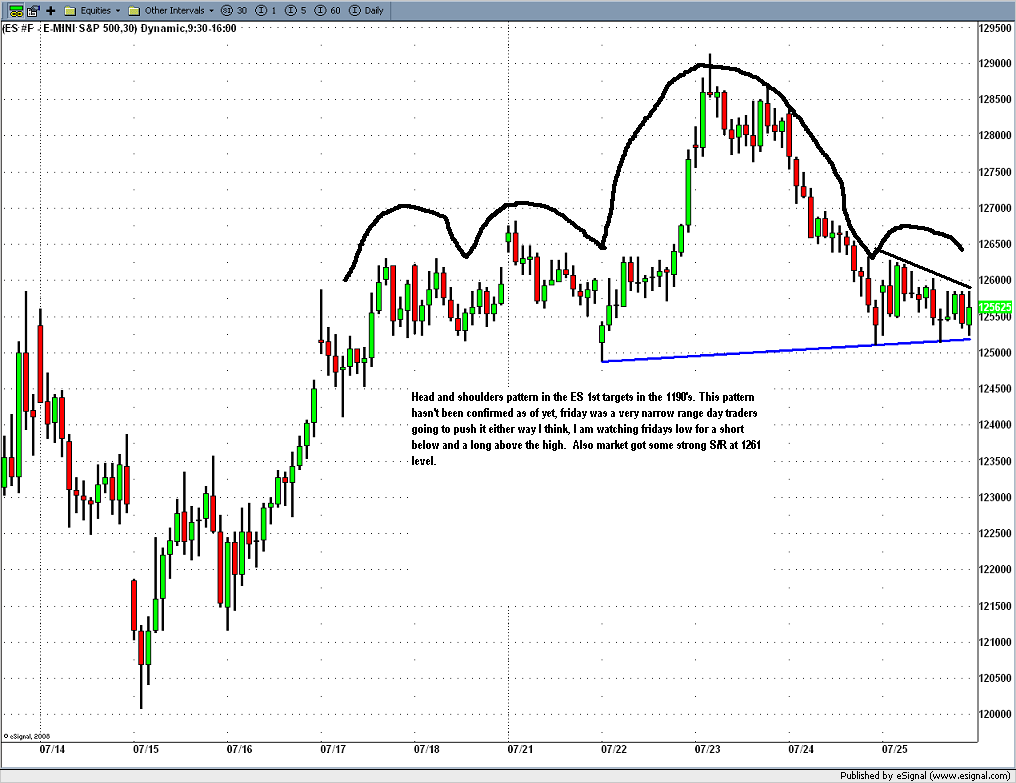 I look for the bear to continue I have some marjor S&R numbers all around 1261 and 1270. But will take either side, I fell tommorow will be a tight day or trending day should be able to tell early on. I am felling like another trending down day like thursday. As I type the markets are only a few
ticks
from of fridays low
Hey Joe, these comments are based basically on your P&F chart. This looks like we broke a down trend line so the possibility exists that we may trade higher on a 1-2-3 setup. Just some food for thought as we can find patterns that suit our bias sometimes. Your
head and shoulders
obviously works well for the downside.
Gotta run...showtime!!
There's some
single prints
@ 1253.25 today. Now market below last tuesday's low.
Getting out of this short @ 1243.....Reason for exit is the 30min appears to be setting up an up move. I wish I could have caught that 1260 high this A.M I had a ton of Resistance up there. I would sit it out, but I had some errons to run figure that cost me 10 points ohh well.

Bruce,

Thanks for the exort but I would have went long had we traded up thus changing my bias "in theroy..lol"
well done Joe....I went long at 42.25...I'm still watching my key from friday at 58.75..then we have the 65 and the 1285-87....
Good luck Bruce....If we make it back up to 1250.5-1251 I am showing some strong resistance there it needs to get a lot of momentum to get thru it, but for the time being were getting oversold at some nice support 1243, Sq of 9, and some old lows, with some narrow range 30min bars, I would be tempted to join you @ 1245ish.
two sets of singles actually exist now and I'm hoping the second set gets filled in at the 46 area so I can tighten and take some off...only on extremely strong days ( today the Dow is leading) will you have multiple sets that don't get filled.....of course with that said we may just roll over and keep going and I will take a loss///lol


cool high volume on the one minute at the 42 area but is it enough to signify that the selling has stopped for a bit?new lows below 40 will not be a good thing for me...
I think you are wise for sitting this long out Joe. I don't have a good feeling for it. The problem I see at the 45 long is that it is closer to that set of singles so it's possible that they could come back and resell it there..The Nq just tested it's second set and is trying to sell off from there....the only thing this trade has for it is that high volume push and the dow as leader but it's leadership has yet to bring in buyers in the
NQ
or
S&P
..still time to resolve to upside but it will be a challeng
cool..always good to have many different types of participants near our numbers....I'm watching those singles in the
NQ
get tested now from yesterday ..certainly don't want to see a 30 minute close below them but this market is weak and
NQ
/naz is the leader today