Game Plan for 7/28
Click image for original size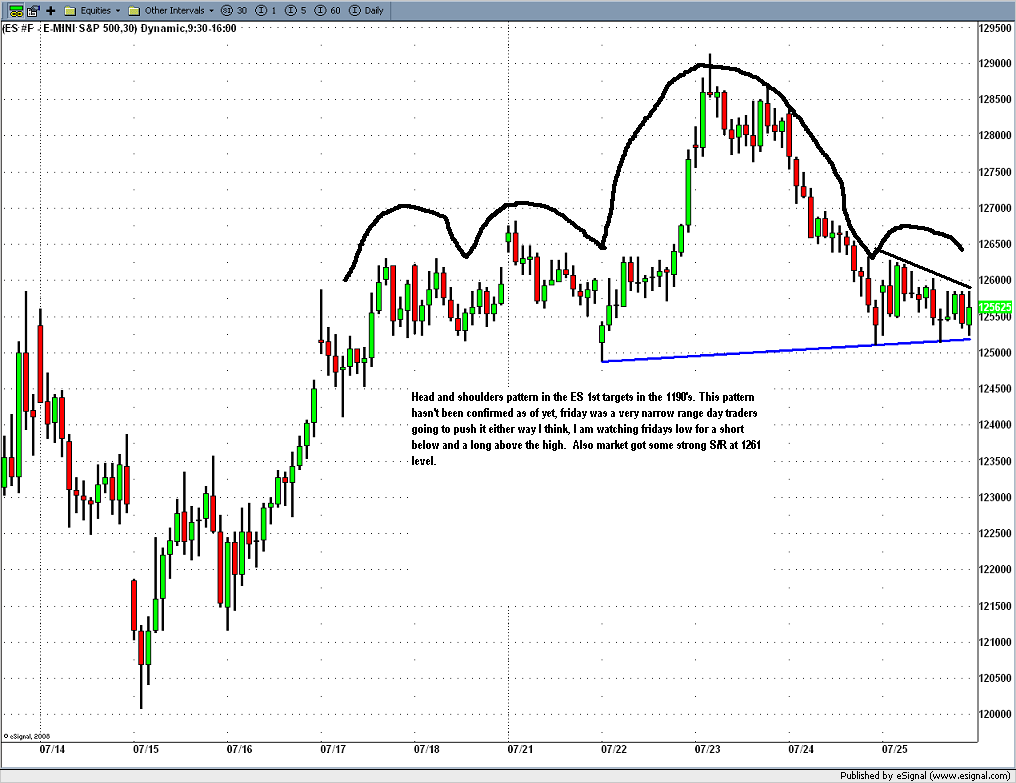 I look for the bear to continue I have some marjor S&R numbers all around 1261 and 1270. But will take either side, I fell tommorow will be a tight day or trending day should be able to tell early on. I am felling like another trending down day like thursday. As I type the markets are only a few
ticks
from of fridays low
this is a good place to start
http://enthios.com/?page_id=172
I would suggest that you may want to
add
a volume qualifier to get better results. For example : Is the
naked POC
formed at 15 % of the days total volume
Joe: I'll get to your ?? in a bit...party time in 4 minutes
why did you have the 79 area joe ? I was watching the weekly R1 level at 80.92 and the 8 - 10 point move off the open print in the 79 area...then I had calculated 1.5 times the weekly range so far based on Mon and tuesday.( a
market profile
thing)..so we had 30 points so far ( Monday and tuesday ) so I added half that amount to Tuesdays
RTH
high..got me up into the 78 area..and then after all that I got shook out of the trade on the first try...lol....next time was a goodie...I'm now flat on final at 65.75...low
tick
and volume spike is enough for me....good luck on the fill....
JOE: I haven't met anyone who looks at all the previous days value areas but the
POC
seems to be the key price to watch from previous days. Many will use composite profiles ( longer term ) and then run Value areas based on multiple days so they know when they are in or out of value numbers from that composite. I haven't been able to crack the code on that.
There is a poster here AlleyB who knows his stuff when it comes to
MP
especially on longer term stuff...should you be looking to dabble in longer term stuff then I would seek him out. You seem to have an excellent grasp on the market so I'm not sure how motivated you are to explore
MP
beyond the basics.
Bruce,
1279 was one of my sq of nine numbers and a prime VERY important number.
1272.75 was a untouched
VAH
from 7/24, and it was some major intraday
s/r
.
cool..always good to have many different types of participants near our numbers....I'm watching those singles in the
NQ
get tested now from yesterday ..certainly don't want to see a 30 minute close below them but this market is weak and
NQ
/naz is the leader today