An Area I Watch
The last 15min. candle of the
RTH
(3:45ET) I mark this candle and keep a record of prior candles. Today I have yesterday candle
Hi 1283.75 Lo 1279.50 and below that candle I have marked a prior candle Hi 1278.00 Lo 1271.50. I draw a line in the middle of the candle. A check of
price action
reveal how these areas act; also alot of supp/res can be found here (
poc
-pivots-ect.) Just my 2cents.
Click image for original size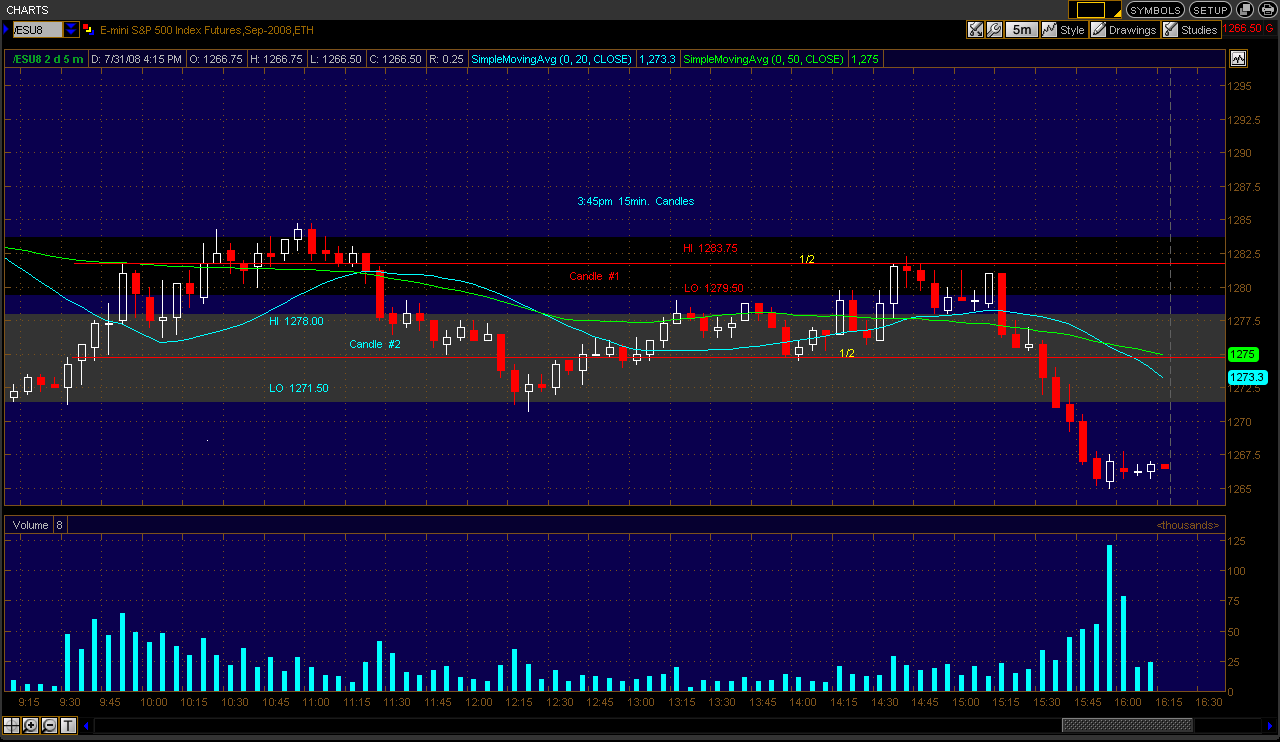 We still have those singles @ 1244 and than
naked POC
is one
tick
below fridays low, and that
naked POC
from last thursday. Just as a note Friday we didn't break opening range by mid morning so it was a classic day to buy at the extreams of the
VAH
and
VAL
areas and sell back at the avg price, which if detected early in the day can make for more profits than good treding days imo. I love those big fat bell shaped days, I used to wish I was fishing on the range bound days.
We still have that unfilled
gap
on the 30min
ES
day chart @ 1235.75 on 7/29 when it started this last upmove.
c'mon joe ..lol..help me out I'm long from 51.75......we gotta fill that upper part of the 'b' pattern...hopefully soon
I'm also hoping we don't get a 30 minute close below 1250..perhaps the Nq will help me out at it's high volume zone from friday and go fill it's
gap
from friday....
ES
still stuck at the minus 8 number....
quote:

---

Originally posted by CharterJoe

You need a 30min close above the monthly pivot @ 1254


---
Hey Redsixspeed,
I apologize to you for posting trades on this thread. I lost track of where I was ...LOL.....as this is about the 15 minute bars...
Have you ever watched the first 15 minutes of the real time session ? Many do and use it as an opening range for bigger moves. Crabel has written about it and I think Clayburg etc...
A buddy of mine says that the first 15 minutes break ( high or low) will signify the first 60 minute range high or low over 70% of the time.
In other words a break of the 15 minute high or low will establish one side of the
initial balance
over 70 % of the time ( unverified ) he also keeps track of the midrange.
Fridays 15 minute range close kept the market in check today ( so far)and we also had the weekly pivot there...very cool
Hey Bruce; No problem with posting trades here. I lost connection for a period of time. I have read Crabel system but haven't studied it enough to use it.
MP
is great!!