ES 09-10-08
fixed Sq 9
1297
1279
1261
1243
1225
1208
1191
1174

Dated Sq 9
1283
1267.5
1247
1232
1212
1198

I'll post $PREM buy and sell programs in the A.M.
Prestwick, I've been looking for a bav solution that doesn't cost an arm and a leg, if possible can you post a screen shot of what you are referring to? Thanks!
Pop - I tried to post a screen shot of the BAV into here yesterday and couldn't figure out how to do it. If you give me an email address I can send you one that way. Big $ is now -32250 contracts.
Prestwick's explanation:
On the bottom of the chart you can see the BAV study. The brown line is small money and the white line is big money's cummulative position so far which I have labeled with the current value. You can see bigs bought off of the bottom but it has been a weak buy so far. Watch for the ledge buy and sell levels as they tend to protect those levels.
Click image for original size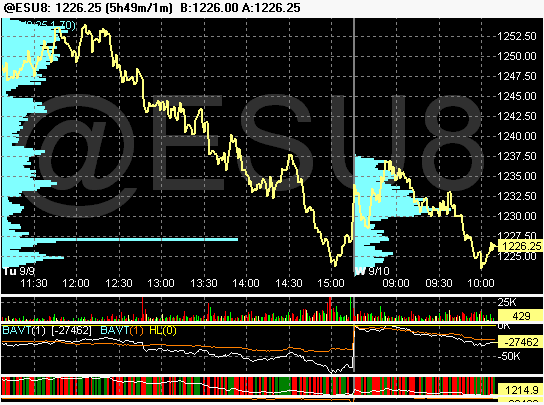 quote:

---

Originally posted by BruceM

Dt any suggestions on how to get all the GEMs from each day ( when applicable ) to a place where some of your readers will find it...?

Someone searching for ideas on the $tick for example will probably not think to look through all these daytrading posts...

---
Bruce - I echo your sentiment. I've been doing some research on that and there seems to be 2 things that we need to do to accomplish that. One is tagging: e.g. tag someone's post with the words
$tick
and
ES
for example. The other other is voting for the post: thumbs up/down. That way you can look at all the posts tagged with
$tick
in order of popularity.
It won't be available for some months but I'm working with the guys who are working on the new software for the forum and eventual I hope that those ideas will make their way in here.