ES 09-25-08
here comes avg. plus 5. one min. price proj. around 1205 area? my tech. only half way to oversold.Interesting point Congress is now meeting behind closed doors on bailoutBen and
PPT
Paulsons deal. Just the hope that a deal happens and the dow shoots up over 200 points.Adeal is possible at any time. So be very care ful shorting this market. WHen a deal is announced (some time this weekend?) this market could be a rocket ship up!
OK,Karen , tex, Increase pop will set u up after the close today(thx POP)Ihave to leave for work about 4, but if u e- mail me pop the time ill be happy to oblige
In case anyone is interested, the BAV is indicating that big $ is really buying in to this move up today. This chart shows several days of action. Big $ is the white line and the degree to which big $ is net + or - is significantly larger than prior days. Also, small $ is net negative for te day and when that happens big $ usually wins. FWIW bigs are net +63000 now.
Click image for original size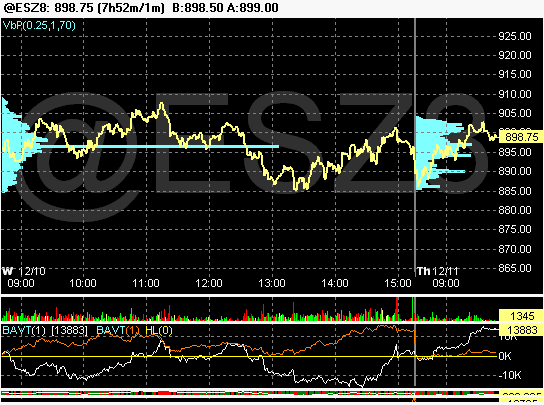 Margie, our calls are looking really good, and in my opinion, you aint seen nothing yet!
Kool - you are right. Check out right before the close yesterday. They bought a net +20k contracts off of the low and into the close and have accumulated ever since. Notice today how they let the market come in without their net selling and then spiked it?
thanks pekelo.
great info and i would like to share with u guyz.
1. Dow breaks above 50 in the first 10 mins. If we are up 70-80 points by 9:45, we have a good chance the day being an ADU. Usually there is a top around 9:45 and another around 10. This is the best time to get short.
2. Dow is pulling back 20-30 pts into 11 am. It doesn't have to be exactly 11 am, +/- 10 mins. 2nd best time to get long for the day after closing the shorts from 10 am.
To catch the bottom of the pullback the best is to use W %R. The Dow usually doesn't drop below 50+....
3. Hold longs until the midday top between 12-12:30. To time the turns I use BBs...In the classic version, the Dow should be up 100-130 pts. Switch to short.
4. Pullback of 30-40 pts, bottoming between 1-2 pm. Again, timing it with BB ...Get long until almost to the close...
5.
HOD
is usually between 3:30-45, with a little pullback at the end. It could run up into the close, though. Dow is up 120-150 or whatever, depends on how strong the rally was.