ES 12-29-08
GM
Traders
Daily
PP
: 867.75
Weekly
PP
: 871
POC
: 867.50
60m: 877.50, 905 / 849.75
globex
gaps
: 862.75, 861.75, 861.50
weird how it is stalling here,,,, must be gearing towards a chopfest in the last 30?

i stopped trading near the close because how weird it gets these days in the last half hour.
VO
i thought 2.618 off your abc pattern was 869 and change which we havent reached yet??
it is einstein...she is talking about the db...even though this is a 144T the numbers still the same
Click image for original size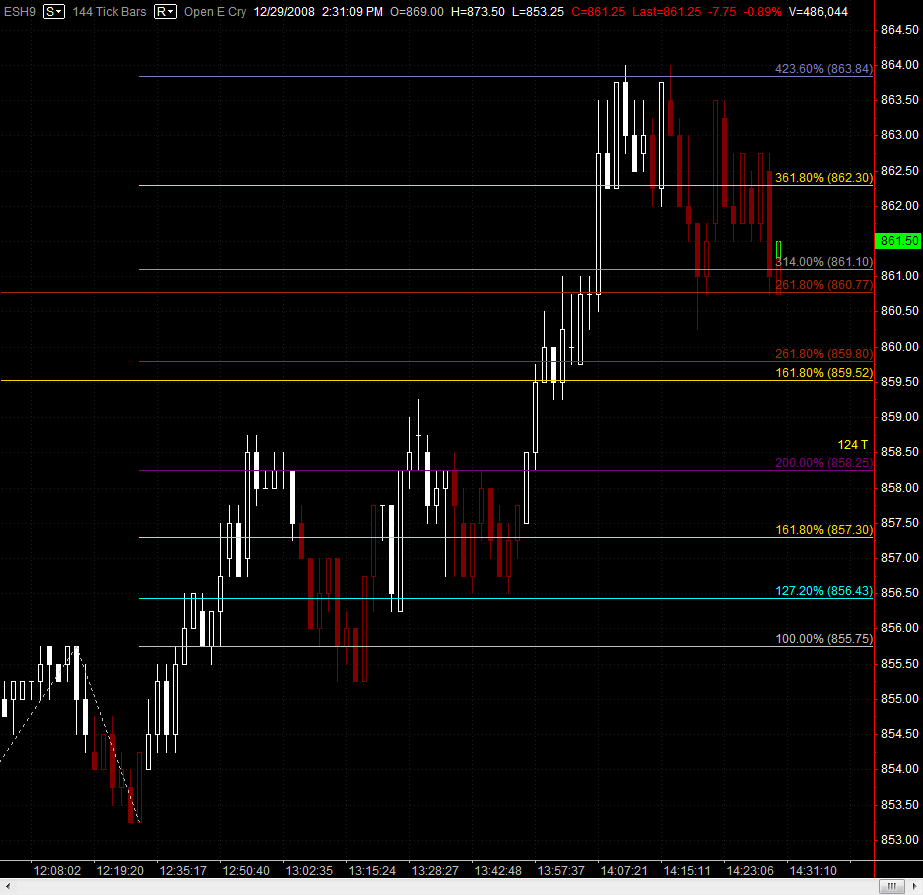 quote:

---

Originally posted by VOwater

hey pop...are you still with OEC?


---
Yes but I switched to
AMP
as my
IB
because in my opinion OEC are kind of a-holes on the customer support tip, it's apparent as soon as you speak with someone there that they want to get you off the phone asap.
lol yeah he has a team of api folk, whatever that is?!? and wants to make some sort of computer model i guess, but when i joined my pivots in Aug my mission was simply to pass along what i know for others to improve on , like you have friend! i get money from work, and trading! i have no real desire to become a vendor! i would rather go down in historyb as a mastor scalper who learned the outer edge of the mathematical structure of the 'random' market! ANd made it public!
AHAHAHA! Its funny you say that pop because I had an issue that I live chatted with some chick pre-market and she told me to call in after the main tech guy got there because she was in a trade!