CHARTS 12-31-08
Thank you Kool for your charts, posts & info, I've spent some time reading about cycles,waves & trinagles etc, I found this code/study for
Esignal
that I think will b helpful in learning what you &
VO
are doing. The study counts the bars, draws a realtime trendline with the amount of retracment in a display to the right of the forming trendline. I've only had this formula a couple of days, I'm playing with different time frames,different bar counts,
tick
-ch, vol-ch.. Any suggestion or comments on this chart are appreciated. Thanks again Kool &
VO
Click image for original size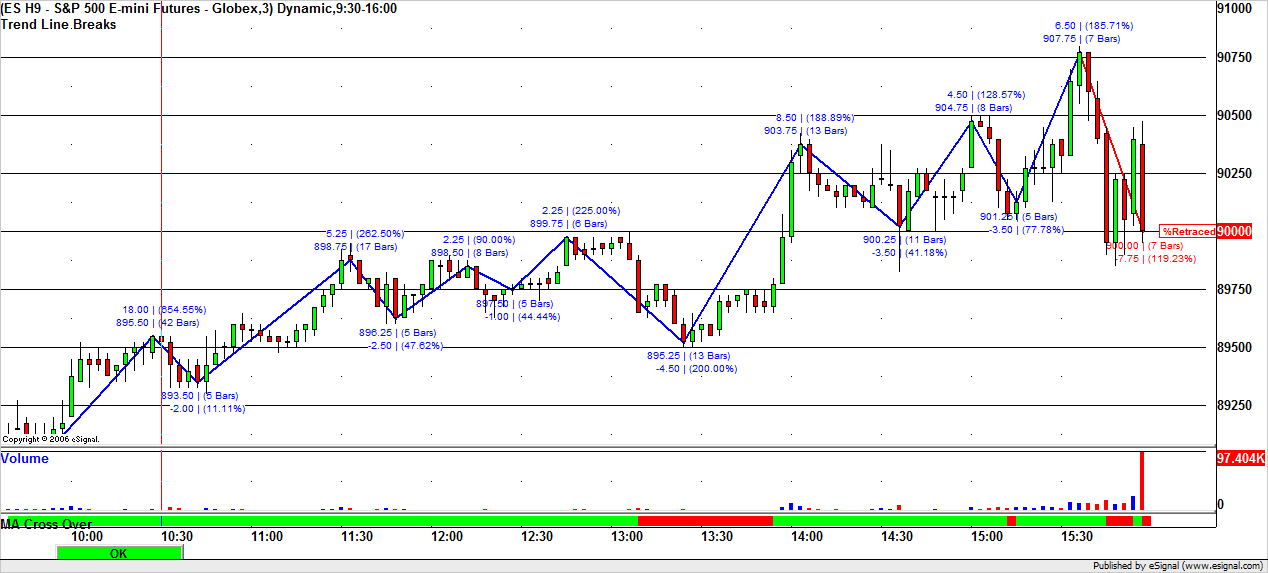 Click image for original size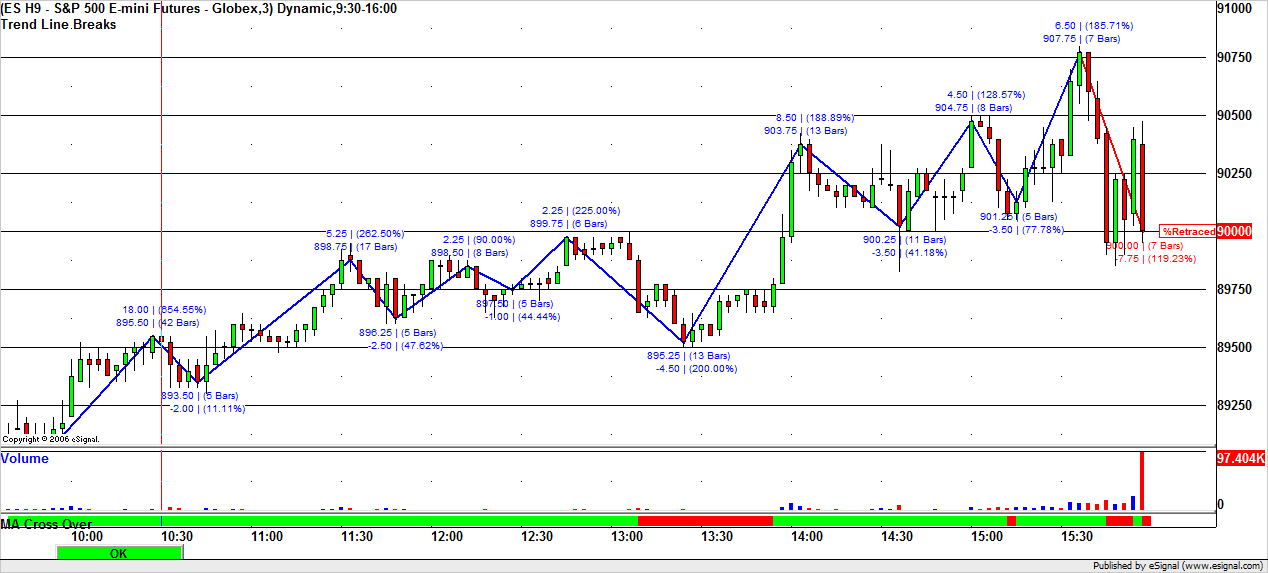 staylor this is easylanguage code (Multicharts/
TS
) for the zigzag pattern and it also has fib levels that auto plot...I also have a pattern recognition code (gartley, butterfly, bat, crab) that I have turned off for post. I look at this chart only occasionally throughout the day.
Click image for original size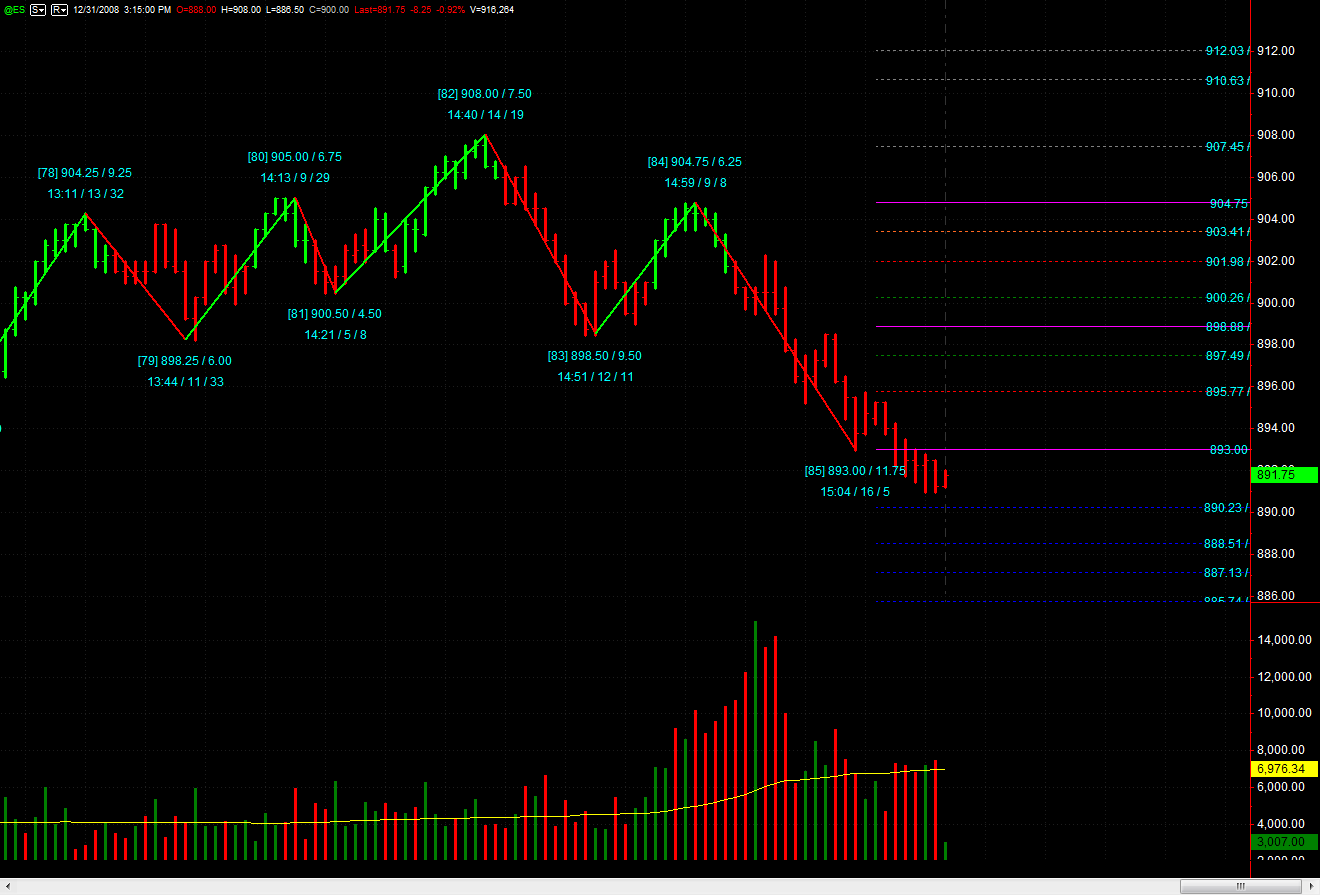 Koolio what the hell are you doing posting charts...I thought you had a big date tonight!
quote:

---

Originally posted by einstein

Happy New Year Kool and the gang! Kool,still a little confused on why you are using the high of 904.75 and low of 899.50. It seems to me that the down thrust initiates at the high of the up candle (15:40) at 908 and continues down for 2 more bars until u get a signif retrace at the 15:55 candle ie the low of the second big red candle at 898.50. This would give a projection down to 883.5 at the 1.618% level. If I am way off please correct me. Just trying to be more precise and accurate on these price projections. Thanks as always. E.


---
your exactly correct, sir! i think i showed that on another chart. my intention here was to show the possibility of a potential bounce at the 891 level before we get there! The initial thrust always gives the valid projection, but remember my theory that every bar potentially has its own story to tell.