Question for AK1
Noticed your trade method today. Could you elaborate a little more? What kind of stop do you use and what targets do you set. How long have you been trading this and roughly how profitable is it? Thanks.
On todays
ES
Thread I have posted SL and profit targets. This is a tech. that follows the trend and doesn't need calculations/ patterns etc etc. You might agree that this tech. can be taught to a 10 yr old. One of my children actually sits and trades if I have to be away for a short short while. Ofcourse at that point I use only brackted order of 1:1. Also please feel free to contribute what ever you feel that may better the method. My Email is
[email protected]
I started day trading 3 years back and haven't worked for anyone since that time.
ak1, I noticed on that trade that the
macd
lines do cross, but they don't cross above the zero line. What are you considering a cross?
ak1 thanks for sharing your setup. Perhaps you should start your own thread otherwise this will just get lost in space eventually. Maybe BruceM can change the topic name for you. Just a suggestion.
Also, just to clarify- you are defining a "cross" when the
macd
and the
macd
ma
actually cross the zero line. What about when the
macd
crosses above/below its
ma
? Do you trade those in the direction of cross as well or do you ignore those?
BruceM is my guru and he put me on the right track, so what ever he says is fine with me
VO
. You, KB and him want to build an army of day traders and my dream is to build a generation. That is why this tech. can easily be taught to children.
The win loss ratio is 4:1 einstein. The
MACD
I use is a common one that is available on all charting software including yahoo finance. The trigger line is the fast
moving average
line on
MACD
.
AK1.
Thanks for explaining your trade set up.
I have tried to set up my charts to the way that you explained in the 14-01-09
ES
Forum.
How did I go?
Would you be able to explain a little please in regards to the Bollinger targets. Do you have the Bolls set to close, High, Low...?
How do you go using a 1min chart to trade and a 4min for exiting?
Please note. The time on my charts are Australian. The trade outlined would have been at 1:26am Central Time(Chicago)
regards
Click image for original size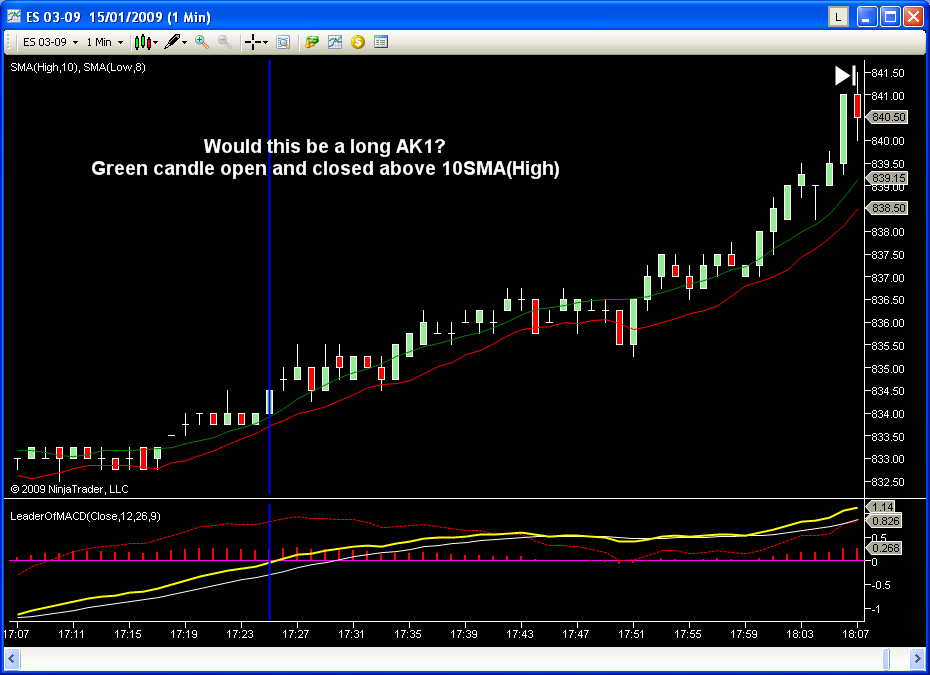 Click image for original size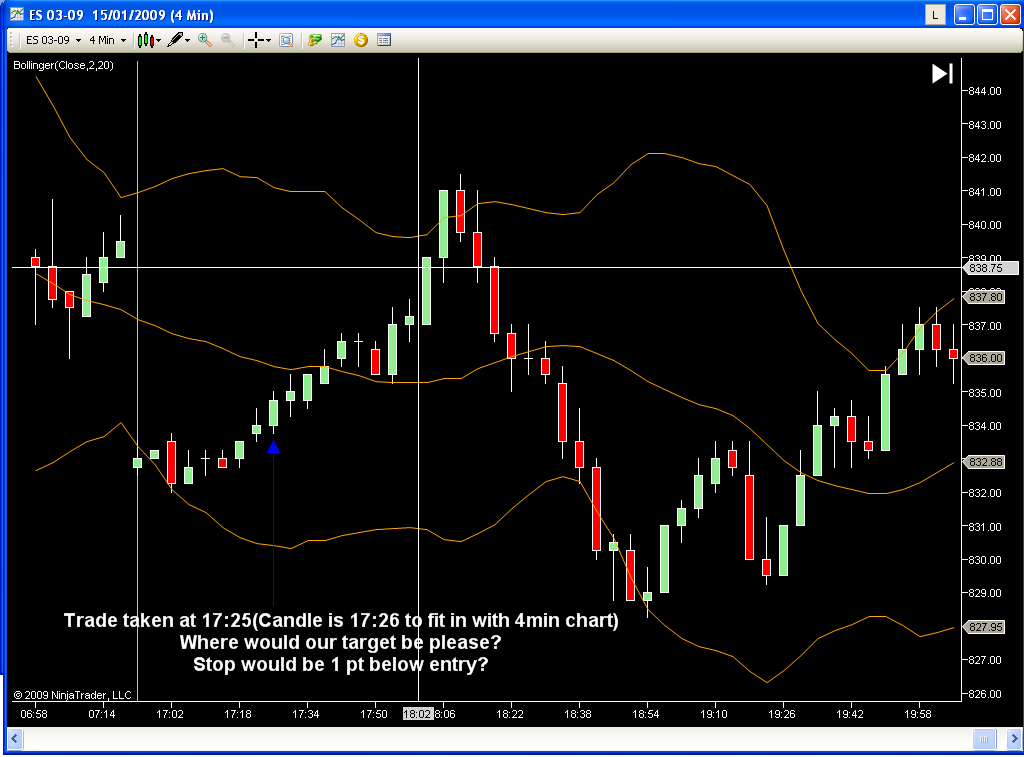 In the first chart I would enter 834.75. That is on
tick
below the close of candle after the
Doji
(17:27). The target would be 839 on the 4 min chart (Second chart)8:06 candle I think