intra-day V.W.A.P. (VWAP)
intra-day V.W.A.P. (VWAP)
so glad you started this Joe...here is what I was watching today....
It's the dynamic
Vwap
as the Blue Line....then the Red lines are + - one standard deviation, green are + - 2 sd's and the light blue are 3 sd's out.....I have to give credit to Jperl over at Traders labaratory for the inspiration on this....
This is what I used in the merged profiles thread when I said we gotta watch that 712.50 area as the
Vwap
and
single prints
where there...lots to do with this...sure wish I had more time to play with it.......the lines will carry over into tomorrow and overnight....so first
SD
band is at 715.50...2nd at 21.75 etc....I assume this almost mimics a
Volume profile
but I'm no math expert on this.....better brains can set me straight
Click image for original size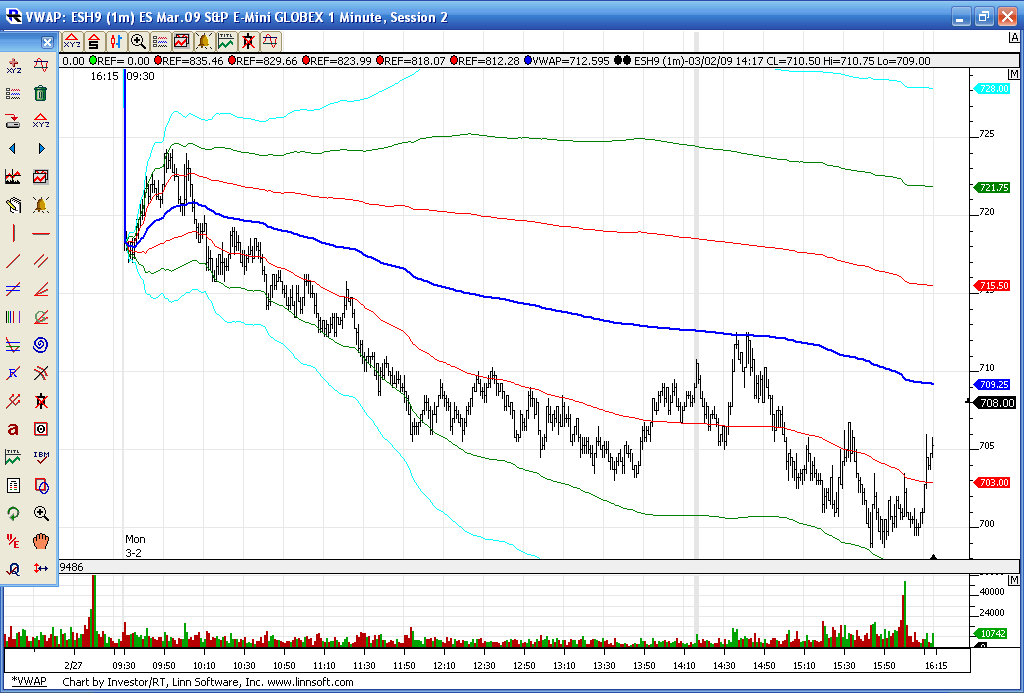 I should explain the chart above better...its a simple concept wait for the new probe (break out) to accept the new price, and that is done through bulges or lots of volume, or spending an extended time at the new prices. If the breakout is rejected there will be no bulge. This concept works well with
market profile
.
here is how my
Vwap
ended today...horizontal solid green , red and Cyan are yesterdays
SD
levels...solid horizontal blue line is yesterdays
Vwap
....but this method lets me see how far extended we are above or below value without having to keep my
MP
charts up......this is my Future....lol....
Mp
charts will probably be only used to see
single prints
down the road for me..
Now I can use
price action
entries without flipping charts around..
It should be noted that the overnight high was 715 which was right on one of yesterdays
Vwap
lines....
Click image for original size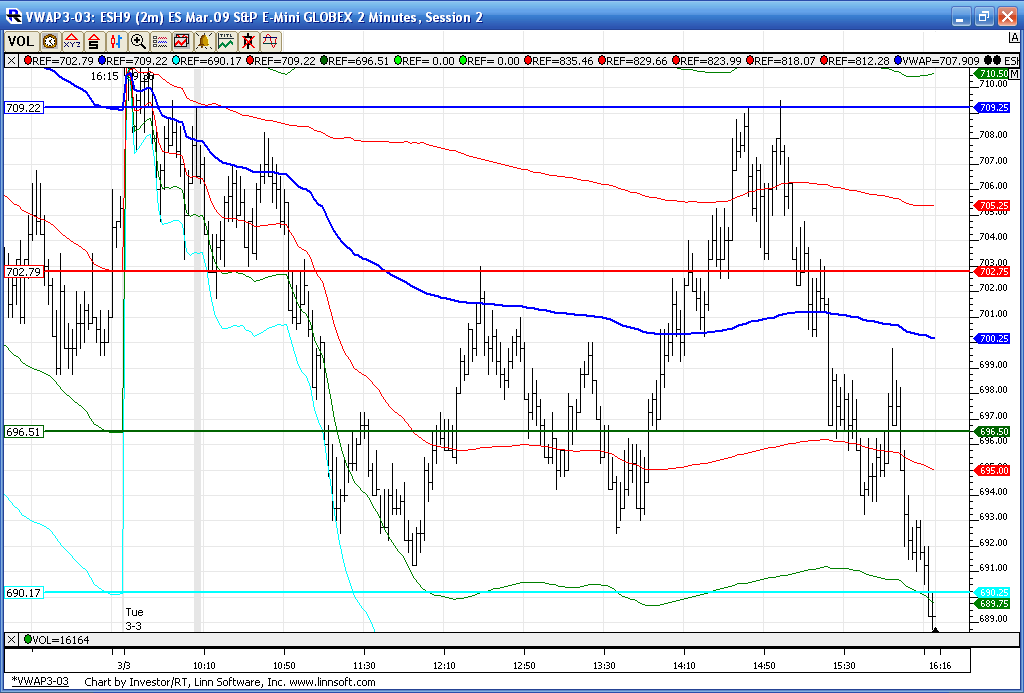 The
vwap
lines to watch in the overnight are 689.75, 695, 700.25, 705.25, 710.50 and two that I couldn't fit on that screen capture above 684.50 and 715.75..we'll watch going forward how these lines work...or don't.....
Bruce,
I found a
VWAP
oscillator std dev above/below
vwap
, check these out I am going to keep an eye on these and see how they do tommorrow
Click image for original size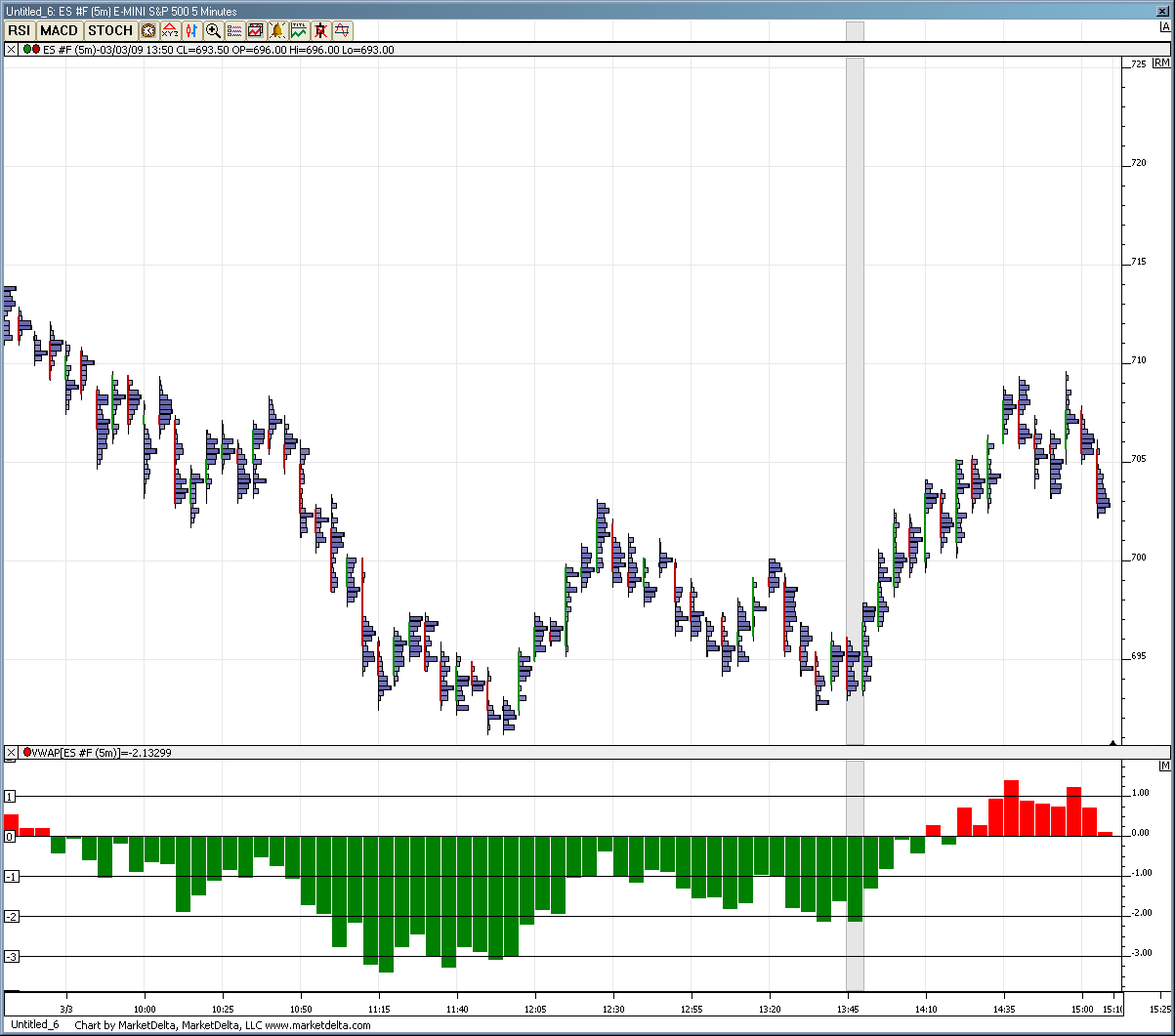 Click image for original size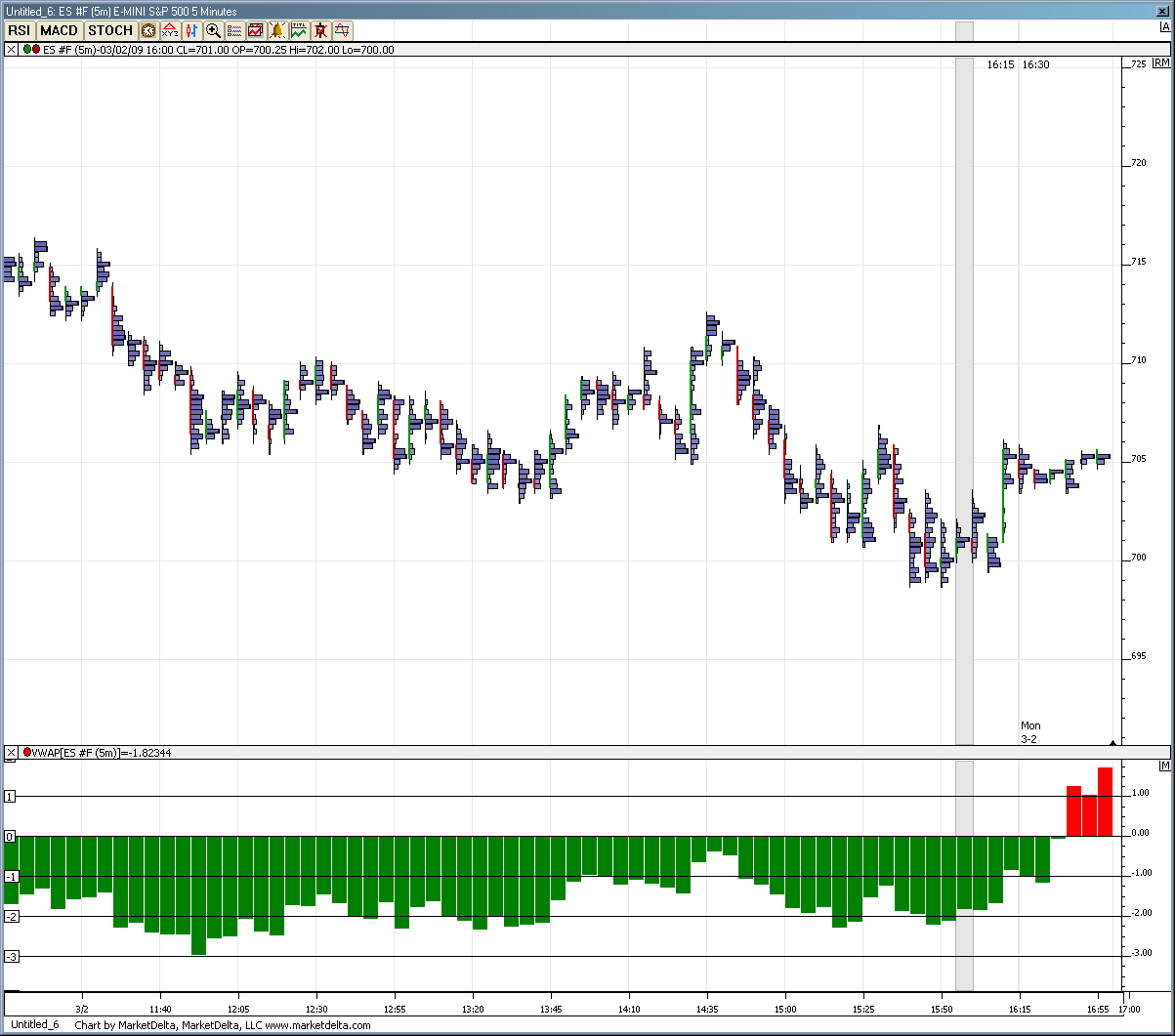 These are the last 2 days notice what happens when the oscillator makes a low or high then the next bar crosses that bar, results in a trend change.....
btw Bruce,
I found that the V.W.A.P. seems to work a lot better in the
globex
overnight trading. I'll post some charts later.
I'm not showing divergences on my bands...are u keeping it at 24 hr sessions? or is the histogram doing something different?
So far I like to track a new
vwap
for each day with yesterdays levels "snapped" on the current days chart
Bruce;

How long do you keep the prior levels snapped on your chart. It seems the
market never forgets a price?
I've just seen that the latest (just released) version of
eSignal
(10.4) includes
VWAP
. Have any of you tried it? From
eSignal's product news page
:
quote:

---

VWAP Calculator

Under the Tools menu is a new calculator that allows you to get a VWAP value when certain dates / times are specified. You can also apply size filters to include or exclude trades of a given size to estimate where certain trading groups are putting their money into the market. That is to say, you can determine what the VWAP would be if large block trades are removed or if only large block trades are used.

Alternatively, the Weekly VWAP could be generated with this tool, which is a nice way to see what the average price was for the week.

---