Anybody selling 789 - 790 ?
Anybody selling 789 - 790 ?
c'mon and join my
drawdown
.......interesting overnight....what's all this about? they have to test 80.50 for me
Covered
NQ
@ 1211
Here is a chart of what I am looking at in case anyone new is watching...I look for a number of
divergence
's on
MACD
55
ticks
, stochastics 144
ticks
, and the
RSI
has to be overbalnced on the 55
ticks
. Although this trade I didn't have a
macd
div. I did have a 144 div. and oversold
RSI
with a nice tight SAR on the 55tick chart. My stop was only 5ticks
Click image for original size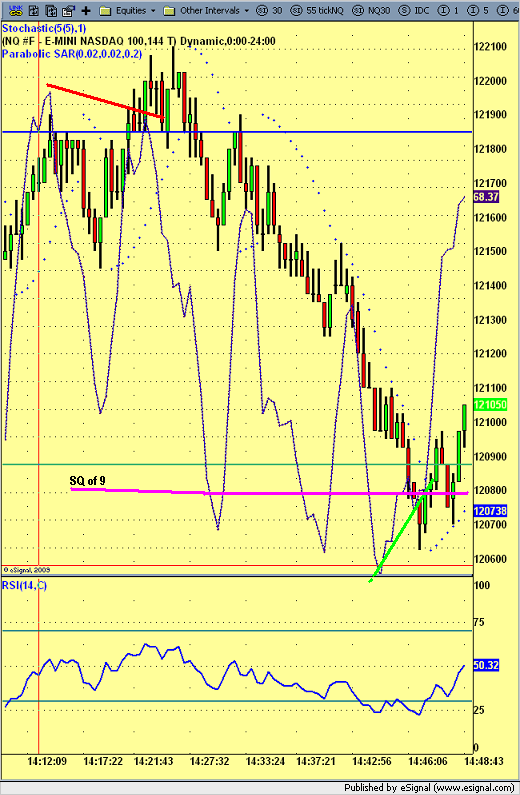 I don't mind posting charts, I have a photo journal I keep of all my trades, well most trades.
I am getting some almost oversold readings on the
RSI
30 min of 31.92 something so almost oversold. Covered all but 2 of those
ES
shorts. At 789...I am tired of holding overnight. Stop on rest @ 815
thanks for taking the time with the charts Joe. Sometimes I feel that very few people are here at the forum but it is very helpful to have an online "journal" of concepts and ideas so it's not a wasted effort.....
double
tpo
's on the lows for the
ES
and a hour high breakout in
YM
only....look at the great close cluster on 30 minute bars from yesterday...that is the key for today...goes well with our high volume numbers
bell shaped
volume profile
still.....but for how long...still looking to see the rallies until proven wrong...problem for me here is that a plus or minue 8- 10 point range will expand off open price......so better sells would be up in 25 - 29.....all markets breaking out of highs as I type so we need a change of trend signal
weekly R2 level at 826 probably helped us out a bit up here too.....sometimes we never know "WHY" an area is important on the chart but the Volume can't hide from us..I'm trying to hold this for those double
TPo
's on the lows........hard part of this trade is knowing that yesterday traded on both sides of the 60 minute range so I'm not sure if it is wise to expect it to happen today...we have the lowest range 15 minute bar near the
VWAP
so that is an obvious hurdle too as it was the close cluster and high volume from yesterday
MACD
, and Stochastics div. on the
NQ
I am short them @ 1272, watching the SAR for exit (55
tick
) took me out @ the SAR as I was typing 1268.5
Avg on the
ES
is now 826 thats the last time I am adding to "this" up market....I will
add
if it breaks down, if not I am just getting out.
No
NK
, It stalled to long for my liking so I bailed wends for 25 points instead. The market was a lot stronger than I thought it was, I was lucky to get that I was down 7k...