ES Apr 24, 09
We just started a 4 day cycle. They're buying the open at 8:40 and selling the close at 14:40 where they can. I notice seller's satisfaction at a corner to corner at 55 in want to test 36 but 42 should hold.

They're buying the dip.

I have a swing projection to 902 where time and price will square at exactly a throw over next Wed. the 29th at close 14:40.

Let's check it out.
double topped 55, ticked it and held the
tick
. They're going to try and test 36. I'm looking at 49 & 45 for support in indication if 42 or even 36 is possible. Really
low volume
at 42 though. A nice place to drive prices down for a good fill. We'll see
The standard deviation of volume over a 34 period is falling while
$VOLD
and prices are rising.
Click image for original size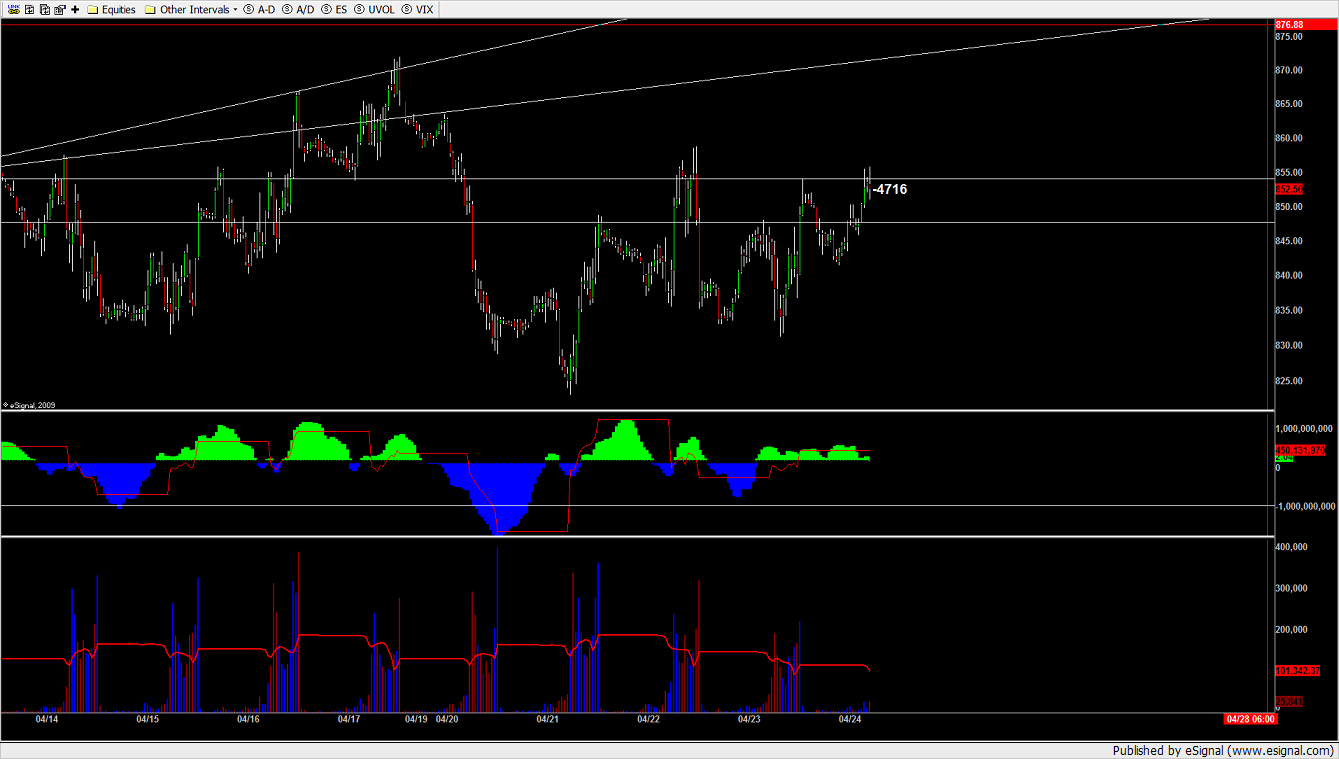 I'm long 5 1/2; I missed the doubled
tick
at 52 & the best volume at the time.
Morn' Joe
I think we just saved a crash.
All we know are two things: we're trading on top of bear price satisfaction before they broke to test, and bounced 3 points above it.
I can get pretty creative with my trend lines, and have received some flack here in the past for it, but below are my diamond and by hand Gann Fan.
I think it's more than probable we'll double top and base and turn right around and test 823, for two reasons: We just broke-out of an angle that's going to revert and sellers are satisfied everywhere.
I'm in the camp per longs trading above 67 for options and positions, but it's a fair guess to suggest we'll chop in weekend trading and they'll buy the open.
I don't have a target yet.
Click image for original size
Click image for original size