Contract Rollover
When does volume switch from one contract to another? The chart below shows the volume for the March and June 2005 contracts for the E-mini S&P500 between 09:00 and 10:00 EST. The volume for the old contract (
March
) dominates in the first 15 minutes and then again just before the open at 09:30 EST. Otherwise you can see that the volume in the new contract (
June
) have taken over. (The chart shows the 5 minute average volume for each minute. e.g. The volume on the 09:17 bar shows the average volume per minute from 09:15 to 09:19 inclusive.)
Click image for original size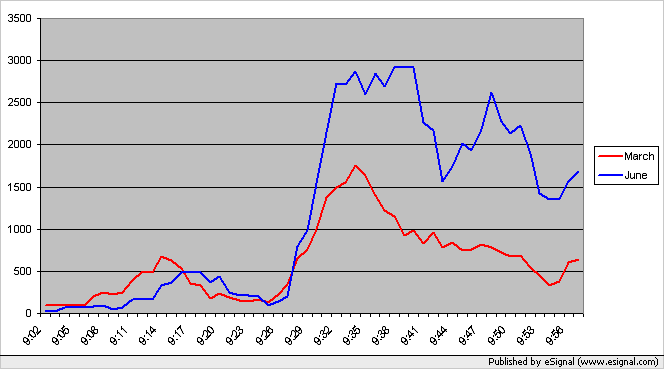 More information about
rollover
day can be found on this page:
Rollover Days
Exactly what happened to me this morning. I thought that charts were lagging J-Trader but I just forgot to change symbol on charts.
A reminder -
Rollover
Day is this coming
Thursday 8th June 2006
. Don't forget to change to change your symbols on
BOTH
your trading platform
AND
your charting platform.
How many days in advance should you change over to the new contract?
Thought I recalled reading a post saying 8 days.
Trading
ER2
so what will be the new symbol ER2V6?
Thanks
Correct,
rollover
is 8 days before expiration. I believe that expiration will be on the 15 September 2006 so
rollover
will be on 7 Sep 2006.
ER2
will change its symbol from U to Z so depending on your platform it will usually involving chaning the penultimate character. On
eSignal
, for example, you change from
AB U6
to
AB Z6
. What platform are you using? I predict that yours will be ER2Z6.
quote:

---

Originally posted by msc

Where can one find info on rollover dates for various contracts?

---
Not sure about that one. The E-minis and the futures on the
CME
and the index futures on the CBOT and a few others all use the 3rd Friday of each Quarter month for their expiration. This makes it fairly easy to calculate it off a calendar or in your head without having to look it up. So all expirations are in March, June, September, December and always the 3rd Friday.
Rollover
is 8 days before that. Very simple.
quote:

---

Originally posted by msc

Using neoticker with MBTrading feed may have to opt for better feed soon.

---
I don't know about NeoTicker or
MBTrading
but some platforms include features to make
Rollover
easier. For example,
eSignal
have the concept of a continuous contract which switches to the next contract automatically on
Rollover
Day. So to use a continuous contract in
eSignal
you would specify (from E-mini S&P500)
ES #F
instead of
ES U6
and then on the 7 Sep 2006 the
#F
will automatically switch itself to the
ES Z6
contract.
At
IB
I get the warning that it's
rollover
time. TWS asks me if I want to switch to the next contract.
This hints me to change te contracts in my charting- and tradingsoftware.
REMINDER - Rollover Day is this coming Thursday 7th September 2006.

Don't forget to change to change your symbols on BOTH your trading platform AND your charting platform.