Darvas Boxes
I have always loved Darvas boxes ( if you don't know what they are google it) They work like a charm if the market is trending. Some simple rules I am looking for on a Darvas Boxes is....
1) Trade a break in the direction of the 30 min trend, interpreted via a 10 period
EMA
.
2) Don't take the first down break if the previous box was a bullish break, and visa versa.
3) Stops are placed at the other end of the box, and moved as the box falls rises or falls.
There are IMHO better than SAR's at placing stops.
Click image for original size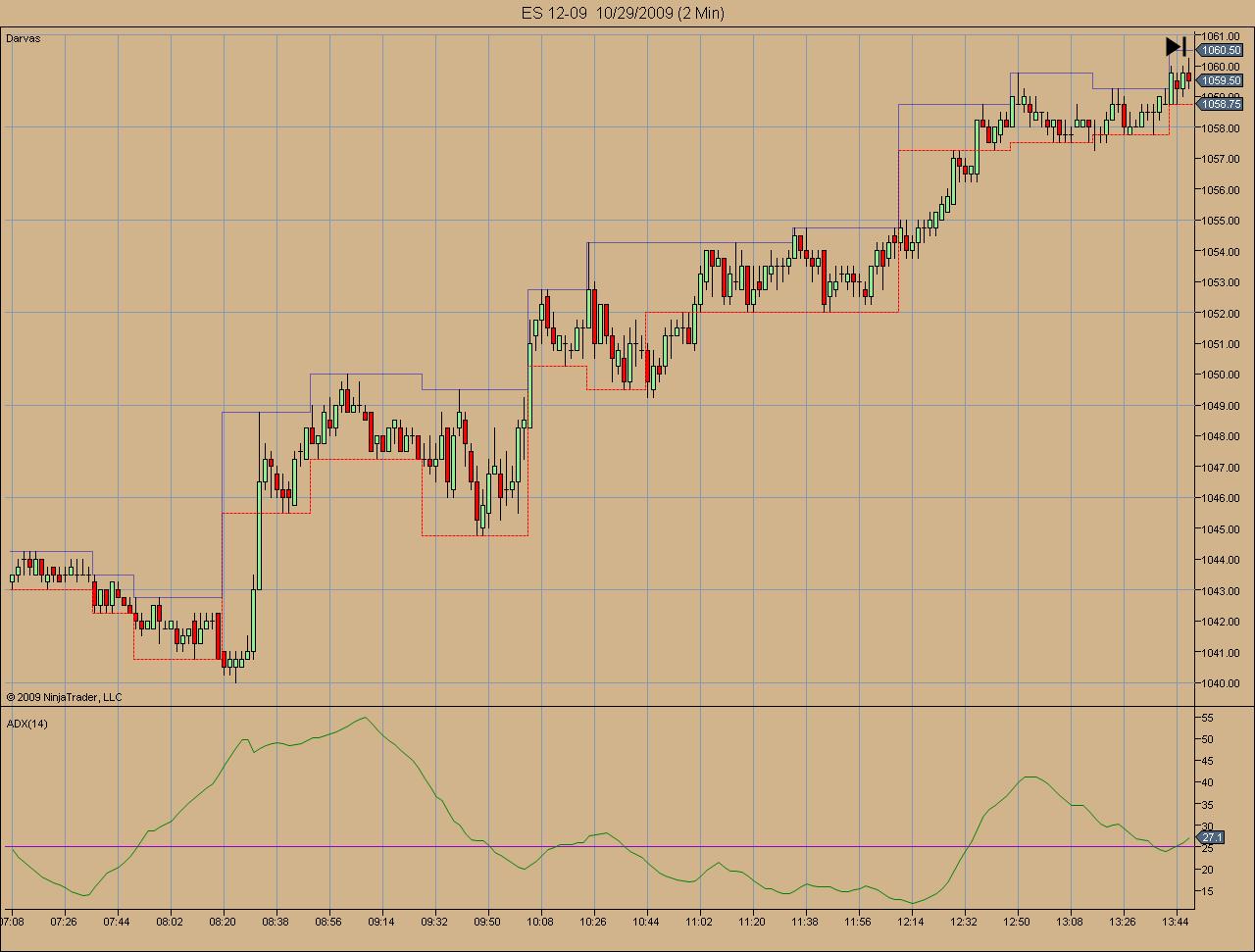 Wanted to post a chart of Darvas boxes on a daily Aud/Usd. I am devolving a strategy that is a longer term method with
FX
. I will post some real trades and charts in this thread in the coming weeks. It also works in scalping the
ES
but I would rather trade than post trades. So I will post some
FX
trades and some longer term rules in the coming weeks.
Click image for original size
I said I was going to post some trades in
FX
next week. But decided since most here follow the emini I will post a system based on Darvas on the
ES
Here is what I am looking for;
1) on a 15min (24hour) chart I am looking at Darvas boxes. If at any time I have 2 higher highs on the box I look for longs only on the 1 min. If I have 2 lower lows on the 15min I am only taking short set-ups on the 1min.
a.) A long set-up is when I have an okay from the 15min, and when the 1 min goes above the previous high of the last box. The stop is placed at the low of the last box.
b.) Stops for the long are placed at the low of the last box, stops are moved when the 1-min Darvas makes 2 consecutive highs. There are no targets only stop orders.
2) Some sort of scaling in and out
MM
should make this much more profitable because it will show frequently a 6-8 point winner only to stop the trader out at +3-4.
I have back tested this and seems to be very profitable I am going to paper trade it for at least a month and post the trades in here when things slow down around here. I think after I post a couple of trades you'll have a better idea of what I am speaking of. This Darvas method produced 38 points last week and more than 40 the week before. I am going to back test it some more later. Only problem is I hate baby sitting a set-up so If it works out good I'll automate it.
hey Joe good stuff;
BTW, if your still with
TOS
go to the market cast room @ 9:20am est / click on listen.
just giving a heads up
quote:

---

Originally posted by redsixspeed

hey Joe good stuff;

BTW, if your still with TOS go to the market cast room @ 9:20am est / click on listen.
just giving a heads up


---
I didn't read this till now, so I guess I missed it. This method seems to be doing well in the Euro futures (the
6E
) as well, had some major
ticks
todays today in that market. I am curious to what happens in a chop/slop kinda day.
Not going to post a chart on the Euro fx futures, but 7 trades produced +60 ($12.50 a
tick
)
ticks
in that market.
Joe: are you still using Darvas Boxes? There is a draw tool on
Ninja Trader
.