Darvas Boxes
I have always loved Darvas boxes ( if you don't know what they are google it) They work like a charm if the market is trending. Some simple rules I am looking for on a Darvas Boxes is....
1) Trade a break in the direction of the 30 min trend, interpreted via a 10 period
EMA
.
2) Don't take the first down break if the previous box was a bullish break, and visa versa.
3) Stops are placed at the other end of the box, and moved as the box falls rises or falls.
There are IMHO better than SAR's at placing stops.
Click image for original size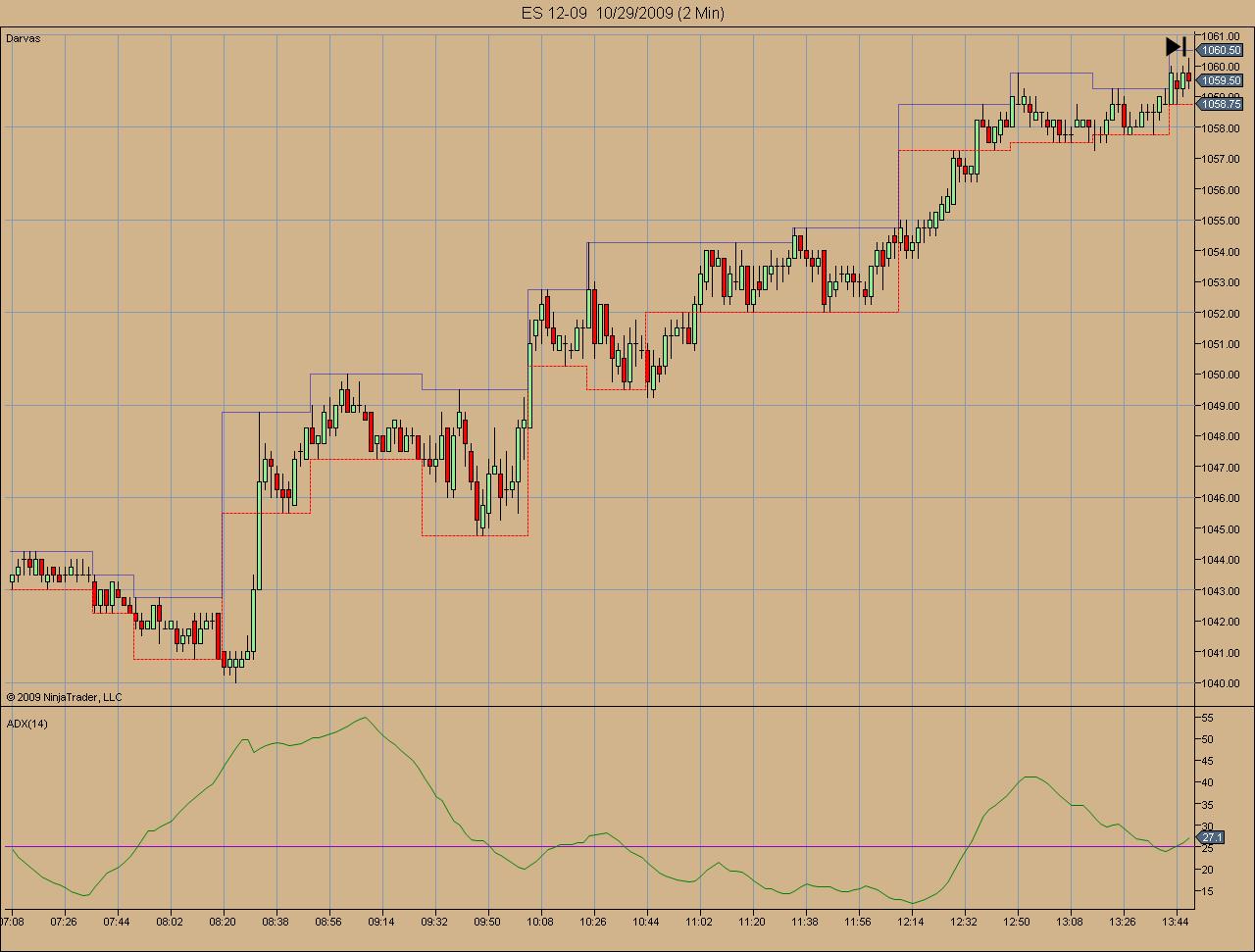 Thanks for sharing CJ!

I like to print off charts, when I'm learning and I have a black and white printer. After much effort I've given up trying to adjust the brown background chart you have.

Could you please post one with the example of the rules with a white background and smaller size?

Thanks in advance.
For U blue sure. The tan and blue back grounds are easy on my eye's since I have quite a few charts. I have found that after staring at black and white charts all day they make my head hurt.
Joe, Very eager to see your chart today. Looks like a rought day for this sytem so far unless Im not looking at the charts correctly
Actually it's been the best day this week "
SO
FAR" We are in neutral zone, both bullish and bearish signals on the 15 min I had not addressed this in my original set-up. But I have been taking both long and short set-ups on the smaller time frame.
Hi Joe, I like the concept but how do we remove some of the subjectivity of drawing the boxes? Thanks for this
Bruce,

The principle behind the boxes is that markets don't move straight up or down. Markets move up then pullback then up again. The high of the box is formed when the markets makes a high and pulls back three bars a low is formed when it makes a low and pulls off the low for 3 bars. In an up trending market you should have both highs and lows of the boxes moving up, and the sell boxes will chop around. I have found that filtering the signals with a larger time frame and only moving in that direction of the larger time frame takes away most of the noise or choppy false signal boxes.
Basically If the 15min frame is moving up I am only looking for longs. And if the 15min boxes are moving down I am only looking for shorts on the smaller 1min frame.
Joe: are you still using Darvas Boxes? There is a draw tool on
Ninja Trader
.