Darvas Boxes
I have always loved Darvas boxes ( if you don't know what they are google it) They work like a charm if the market is trending. Some simple rules I am looking for on a Darvas Boxes is....
1) Trade a break in the direction of the 30 min trend, interpreted via a 10 period
EMA
.
2) Don't take the first down break if the previous box was a bullish break, and visa versa.
3) Stops are placed at the other end of the box, and moved as the box falls rises or falls.
There are IMHO better than SAR's at placing stops.
Click image for original size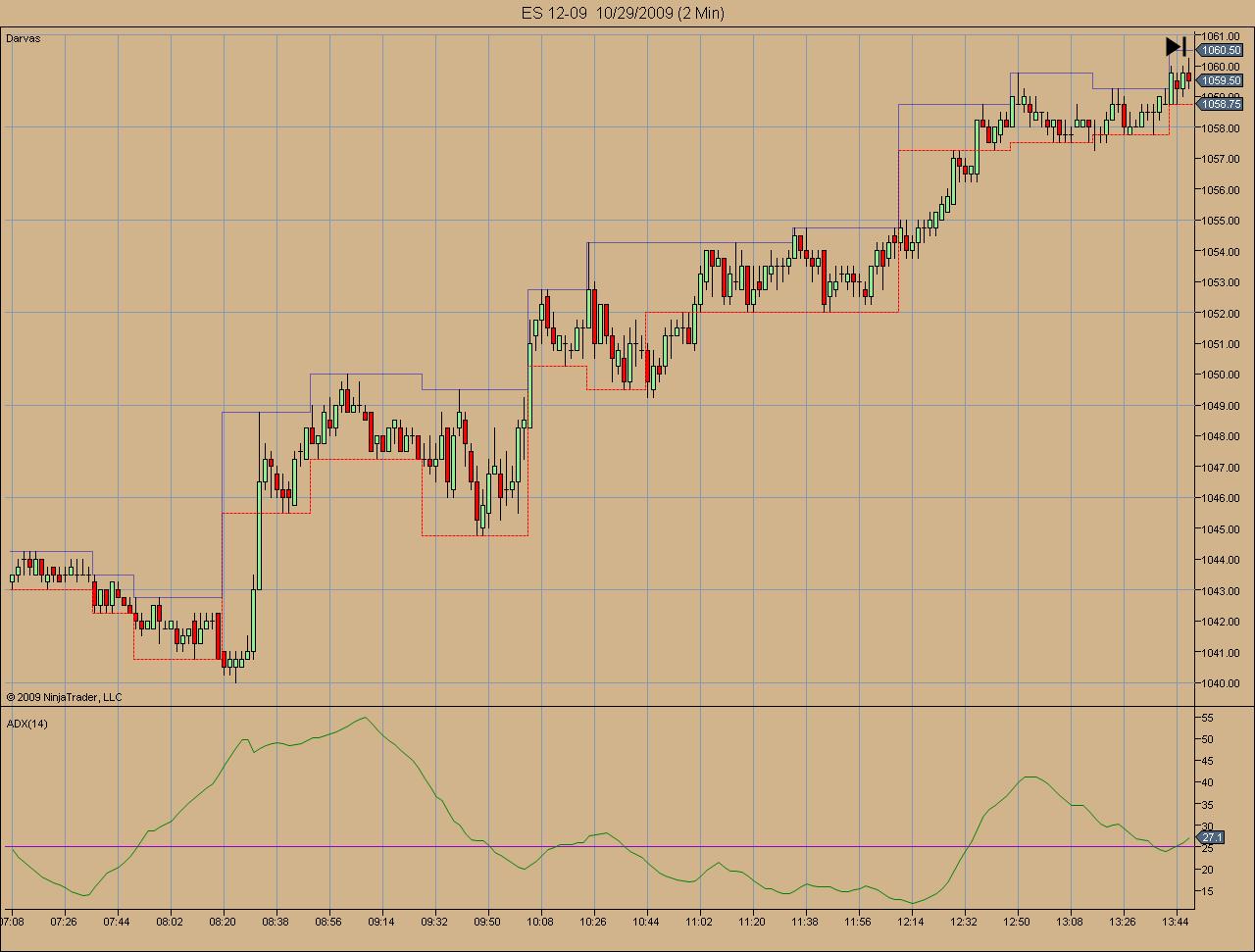 I cant upload the indicator but if you send me your email i will send you the eld. file for the darvas Box.
http://kurtosistrading.com/Downloads/DARVASBOX.ELD
Above is link to the indicator hope this helps.
One note it is like the indicator CJ uses. It is not the correct based on Darvas book. The indicator should provide the all boxes have a uniform height. Results are better if you have uniform boxes.
This style of darvas is more like ganns hi-lo than darvas original concepts. Perhaps someone could post a chart with the fixed boxes, I would love to see them???
I think I have explained the rules well enough to not post any more charts on the
ES
, but I am planning on showing some ex. in longer term
ES
,
CL
and
Forex
.
+5.5 in the ES today
For the first time since January the
EUR
/
USD
has taken out the previous 2 darvas low on the daily and I am targeting the weekly low of 1.4040 which is a little more than 600 pips away from here.
wondering if there could be an auto entry system built for
tradestation
using the darvas box method for scalping crude and es market
Joe: are you still using Darvas Boxes? There is a draw tool on
Ninja Trader
.