ES short term trading 4-27-10
ES short term trading 4-27-10
Well yesterday worked out almost as expected. Up early to 1215.75(1216.75), then down to 1210 area... but then the bulls couldnt push it up. We will likely see 1203.50 and possibly all the way to the 4.236 ratio.But after that we should push into the 1224 target zone (maybe tomorrow, maybe thurs.?)
Click image for original size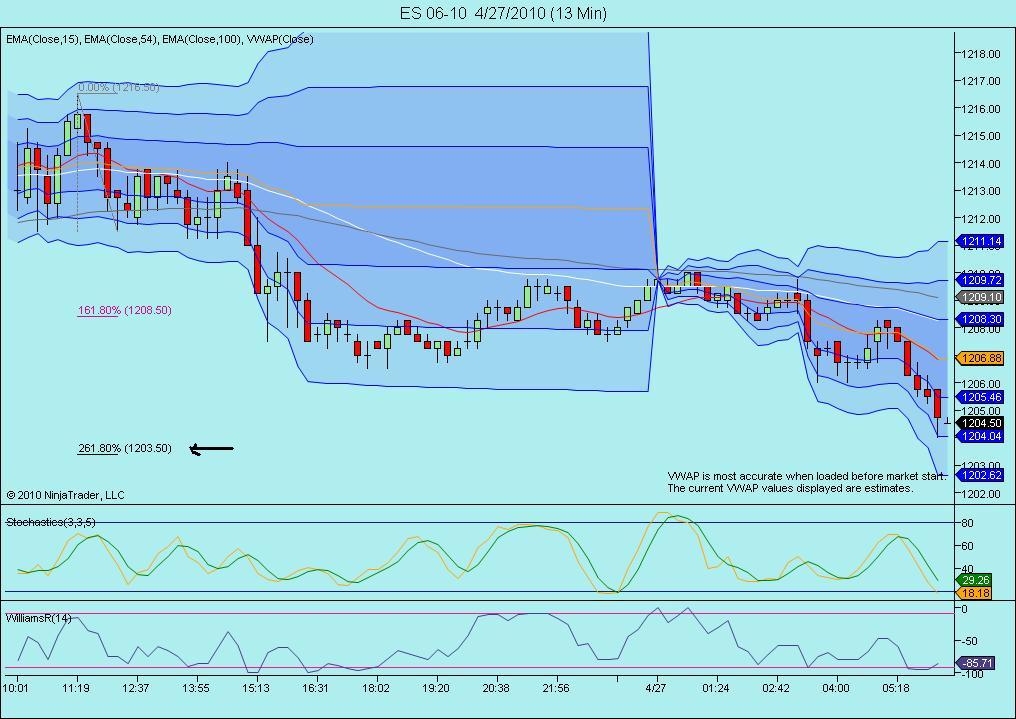 yesterday new highs were 674! A new rally high. That tells me that new price highs are coming. Un fortunately today could be another downer .. well have to see.Theres still plenty of time left for a final push up(a week to a week and a half?).
Lots of numbers in the 1200 - 1202 area today.....more important zone is that 1195 - 97 (but not convinced that it will be in play today)as that was the key rally point and volume thrust that made new highs last week....( little time was spent there which means they moved the market out of that area quickly with vertical volume)
Once again there is little time spent at 1205 - 1206 and that is also the current
O/N
midpoint so that seems like a good logical point for the market to test and the
YM
at 11137 needs to fill in.
Seesm like they are now using the overnight more and more so the trick seems to be to get on Board early for these low time areas to fill in so the 1202 is an area I'd like to pick at
O/N
longs
Bruce, regarding the
ON
areas......seems like the last few months is has been mute but back when we had more range on the daily, the
globex
typically had a 8-10 range and would generate some pretty good entries before reg open. it was almost like clock work that it would align in a good zone at 7:45E
Originally posted by ak1

Dear Friends as projected on on 23/04, 1201 is in sight. Go for the Pitbull Tech today

pretty amazing.
AK1, does an observation like this apply specifically to
RTH
test, or would a 1201 print in the
O/N
satisfy?
Koolblue, what is that indicator that you use for the big boy/little guy volume? I assume its looking at the size of the contracts filled. is it something like +100 lot = big guy, >100 = little guy?
Click image for original size

starting long at 1201.25 today...agressive and those not willing to
add
if/when we go to the 95 - 97 zone should wait until
RTH
opens
Lots of confluence in that 89 - 90 area...I hope it keeps going up in the ovenight for you Leo...