ES short term trading 4-27-10
ES short term trading 4-27-10
Well yesterday worked out almost as expected. Up early to 1215.75(1216.75), then down to 1210 area... but then the bulls couldnt push it up. We will likely see 1203.50 and possibly all the way to the 4.236 ratio.But after that we should push into the 1224 target zone (maybe tomorrow, maybe thurs.?)
Click image for original size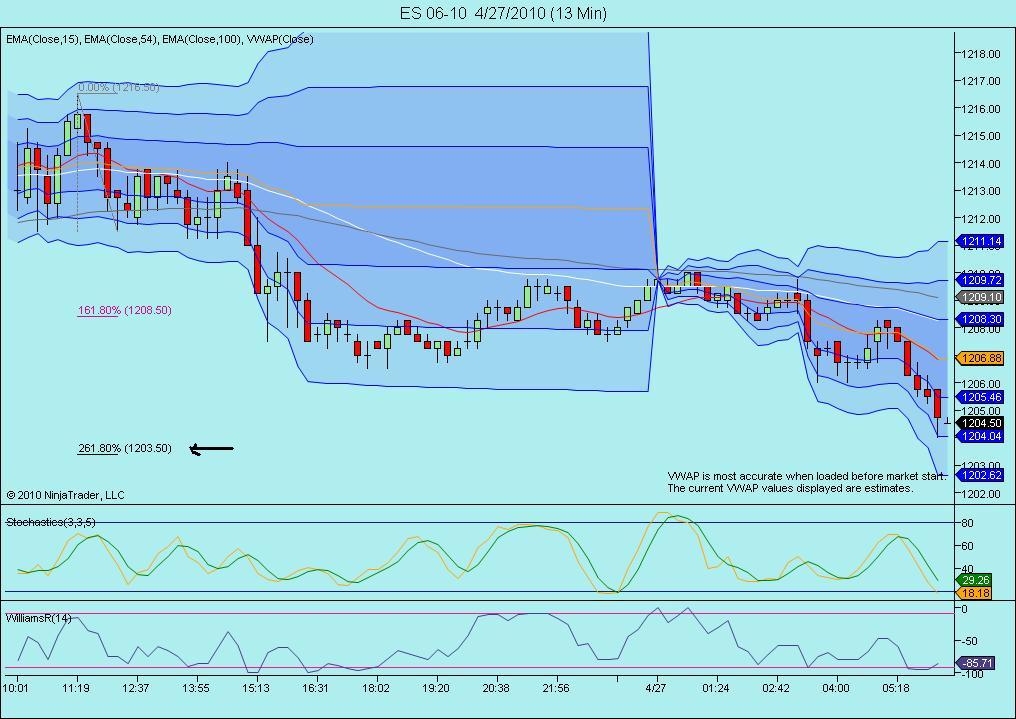 Almost Rich...that's one of the reasons I'm starting in the overnight but let me clear up something...I set up zones and will go in or out with market orders....so my sell on the "1205" print does not mean a fill price there....I don't want anyone to think I'm buying or selling .25 points off highs and lows consistently because I am not..
Originally posted by richd8980

Bruce nice call you got almost all of it

I haven't followed the
Overnight (ON)
prices in relation to the numbers we create off just the
RTH
session for too long although I've been aware of the obvious
O/N
Highs and lows for years.
I have a new found respect for the
O/N
and am working hard for new ways to capitalize on it. If you have any observations regarding the
O/N
or anything then please feel free to let us know about it and thanks for the input
Originally posted by TraderF

Bruce, regarding the O/N areas......seems like the last few months is has been mute but back when we had more range on the daily, the globex typically had a 8-10 range and would generate some pretty good entries before reg open. it was almost like clock work that it would align in a good zone at 7:45E

Lots of confluence in that 89 - 90 area...I hope it keeps going up in the ovenight for you Leo...