ES short term trading 4-27-10
ES short term trading 4-27-10
Well yesterday worked out almost as expected. Up early to 1215.75(1216.75), then down to 1210 area... but then the bulls couldnt push it up. We will likely see 1203.50 and possibly all the way to the 4.236 ratio.But after that we should push into the 1224 target zone (maybe tomorrow, maybe thurs.?)
Click image for original size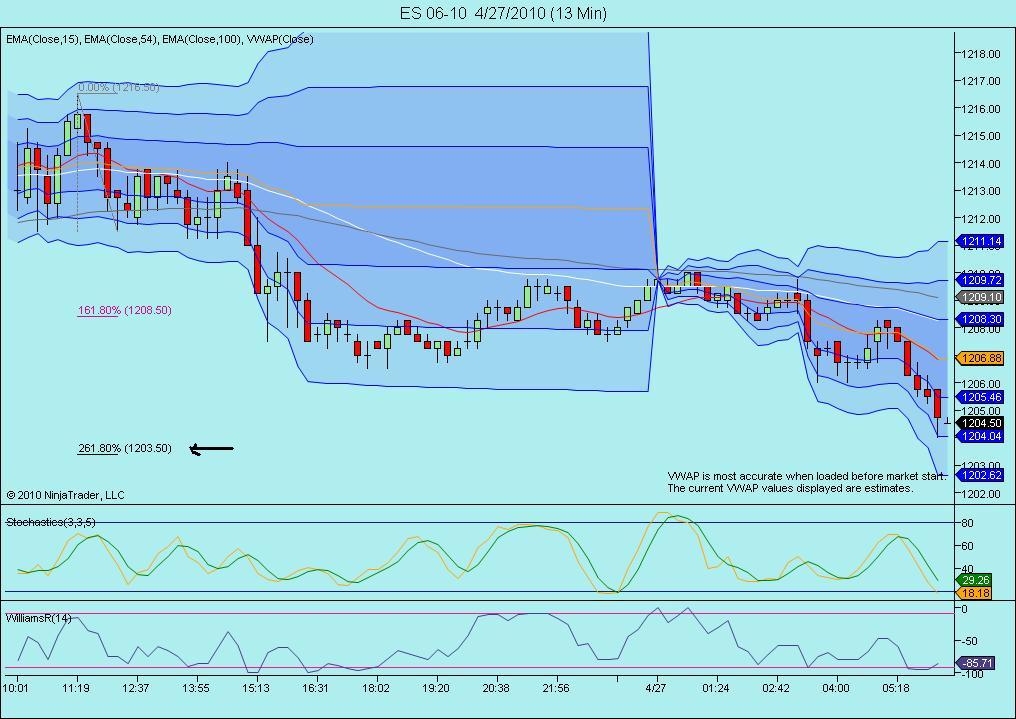 Originally posted by TraderF

Koolblue, what is that indicator that you use for the big boy/little guy volume? I assume its looking at the size of the contracts filled. is it something like +100 lot = big guy, >100 = little guy?



Click image for original size



100 lots (red)= equal the big boyz and the blue line is 50 contracts or below
TRYING A SMALL SHORT SCALP HERE
AT
1191.25. Its the minimum upside projection a i showed and the technical indicators are ripe for a pullback on the 5 min chart. Not quite there on the 13 min, but if we mish mash around here for a while they will be!
ugh! stopped at 1192.25 loss of one handle on one es.. still up 3.5 on the day.. Used a very tight stop because of the danger it wants that 1196 and change number.
koolblue,
1196 and change number (I assume you are referring to your 30min bar chart above) it's a tough call but it looks like a short-term magnet
Isn't there a Bruce M air bar (no overlap) on 5minute. I am looking at the big down bar that completed at 11:30am EDT. Open on that bar was 1196.50 right in line with your chart.
another price point in that area is 50% of today's
RTH
range, 1195.75.
IMHO, the dramatic drop probably will have to see today's Low retested either later today or in the
AH
or early tomorrow morning. The retest is nothing I can quantify, but after looking at charts for years and years it seems like big fast moves in a direction create a counter move and then a retest of the extreme pric point.(big moves up or down).
Watching 87.50 careffully, peak Time price..they'll go test 92.50 at least if it holds now
Im still looking for around 1174 tho not today of course. But i think there is a good chance for a decent move up (new highs?) afterward.
Lots of confluence in that 89 - 90 area...I hope it keeps going up in the ovenight for you Leo...