ES short term trading 7-8-10
ES short term trading 7-8-10
Though it would be interesting to start Thursday off by looking at the chart that I posted at the end of yesterday's session showing the 4
single prints
left behind.
Remember that today is a
MATD
.
Click image for original size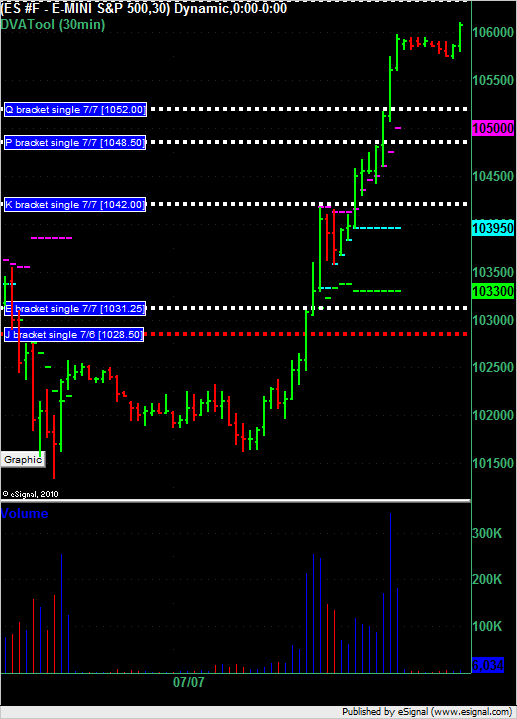 For those interested in trading
single prints
as a strategy here are some links to some forward tests that we did 5 years ago that I believe are still relevant today:
http://www.mypivots.com/board/topic/132/1/single-prints-forward-test-may-2005
http://www.mypivots.com/board/topic/214/1/single-prints-forward-test-june-2005
http://www.mypivots.com/board/topic/312/1/single-prints-forward-test-july-2005
I like getting short now at 62.50 area.....c'mon everybody...afterall 61 is a projection from the Current
MP
charts thread...
air pocket
below into 59 area..we all know how they failed on Wednesdays trade..
perhaps it will keep trending
O/N
...
flat on all three at 58.75..all air filled...and so we begin the recovery process..
The best
fades
come after trend days...so while we never like the trends and try to get better at them we also trade more agressively on a day following.
Just my potential
S/R
MAP with Red lines as significant, Magenta semi-significant, Cyan dashed lines are Wkly Pvts and the right side of the chart has Volume at Price of the past 20 days using this 30-minute chart (circled 3 high volume areas there in yellow). Hope this may be helpful.
Click image for original size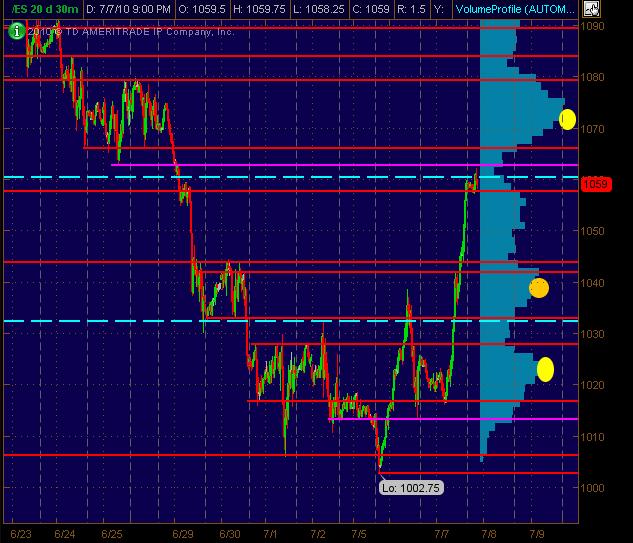 As others have noted, this is a
MATD
that is typically a chop/
fade
trading session in the morning.
have 65 shorts working pre market... 61.75 is first target....will
add
in
RTH
if needed..near 69 ...agressive today
Click image for original size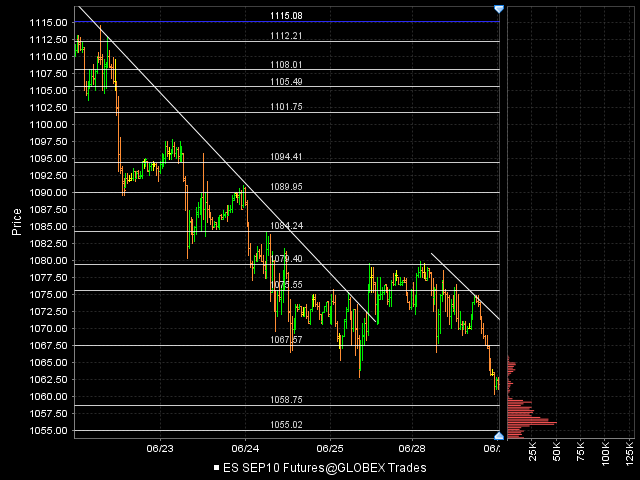 Resistance zones for an
MATD
fade
:
1067: bottom end of the
VA
from Jun23-Jun28
1070-71:
gap
fill (should be initial resistance)
Support zones for
MATD
fade
:
1059:
gap
fill
1056-57:
O/N
lo + prior resistance
1046-47: prior resistance + starting pt of yesterday's follow thru rally
I think
RTH
opening pop is a Brooks trendline overshoot. risk for 9 points down from High (but Brooks also says that overshoot highs get retested
I am sorry about this late post, but old buddy called and I was on the phone with him.
Originally posted by BruceM

that's the goal Paul...in fact I think it would be valuable to write up charts after the day ends as my typing is quick while trading and make mistakes...

I don't want anyone to think of this thread as a signal calling service as it is really more about market distinctions that repeat over time.......I believe that no two traders will really trade a like...I hope that the ideas we post help folks "look" at the market in new ways,,,,especially those who continue to buy and sell breakouts....I think most of us have made that crystal clear that fading is a better way to go over time....we let the trend guys hold us back for two or three days a month knowing we can crush them the next day !!!!

Originally posted by PAUL9

I think Bruce wants you to learn how to do it yourself and not piggyback.
I completely agree with Bruce. This is not and should not be a "trade calling service." What Bruce is doing here is a million times more valuable than a trade calling service. Instead of giving you fish he is teaching you how to fish. (I know that's a corny and overused expression but it is perfectly appropriate here.)
What you should be doing is reading, questioning and understanding what Bruce and the other "vets" are saying. If he's using a term over and over that you don't understand then
PM
me and I'll get it defined in the dictionary and auto-link it from the forum.
Ultimately you should be able to look at a chart and say "I bet that Bruce is going to buy/sell at this point and target points x, y, and z because there are
single prints
over there and it's a
MATD
etc." At that point you don't need a trade calling service because you are already one step ahead of the market and when Bruce is on vacation you are still able to trade profitably.
end of rant