ES short term trading 7-22-10
ES short term trading 7-22-10
Numbers for tomorrows day session:
1091
1086 - 1087
1079 - 1080..HV
1073 - 1075 ...singles will fill and closing
Vwap
1066
1061
1053- 1056
1048
keep in mind we have singles from 70.25 - 74.25
Will refine them once we see what overnight brings
I can't really comment today I have fallen behind in yard maintenance after extensive landscaping this past spring (temps in 90's with new plantings that need to be watered)
Gap
mentioned yesterday has now been filled. odds increase for some sort of retracement, but if retracement cannot get below 50% of today's range, more upside can unfold.
50% of today's
RTH
range is currently 1085.00
move below this creates increased chances for zigging and zagging.
Take a look at this
$TICK
chart. I've put trend lines across the action at the end of yesterday. That is some serious flip flop fighting going on. Don't know if it has any relevance to today but thought the observation was worth making.
Click image for original size

not getting below that 88 is not good here....84.25 is peak volume of first hour so far...I'll settle for the 86 air ..anyone else having problems with the forum today..? seems to be locking on me....freezing
Thought I'd share this
VWAP
chart. The pink line is
VWAP
. See how it rises right out of the gate at 9:30 as prices explode up. Notice on the right volume building in pockets also as price rises, meaning price is being accepted at higher levels. All green in the cells, meaning asks are being hit all the way up.
Short covering? Maybe.
Click image for original size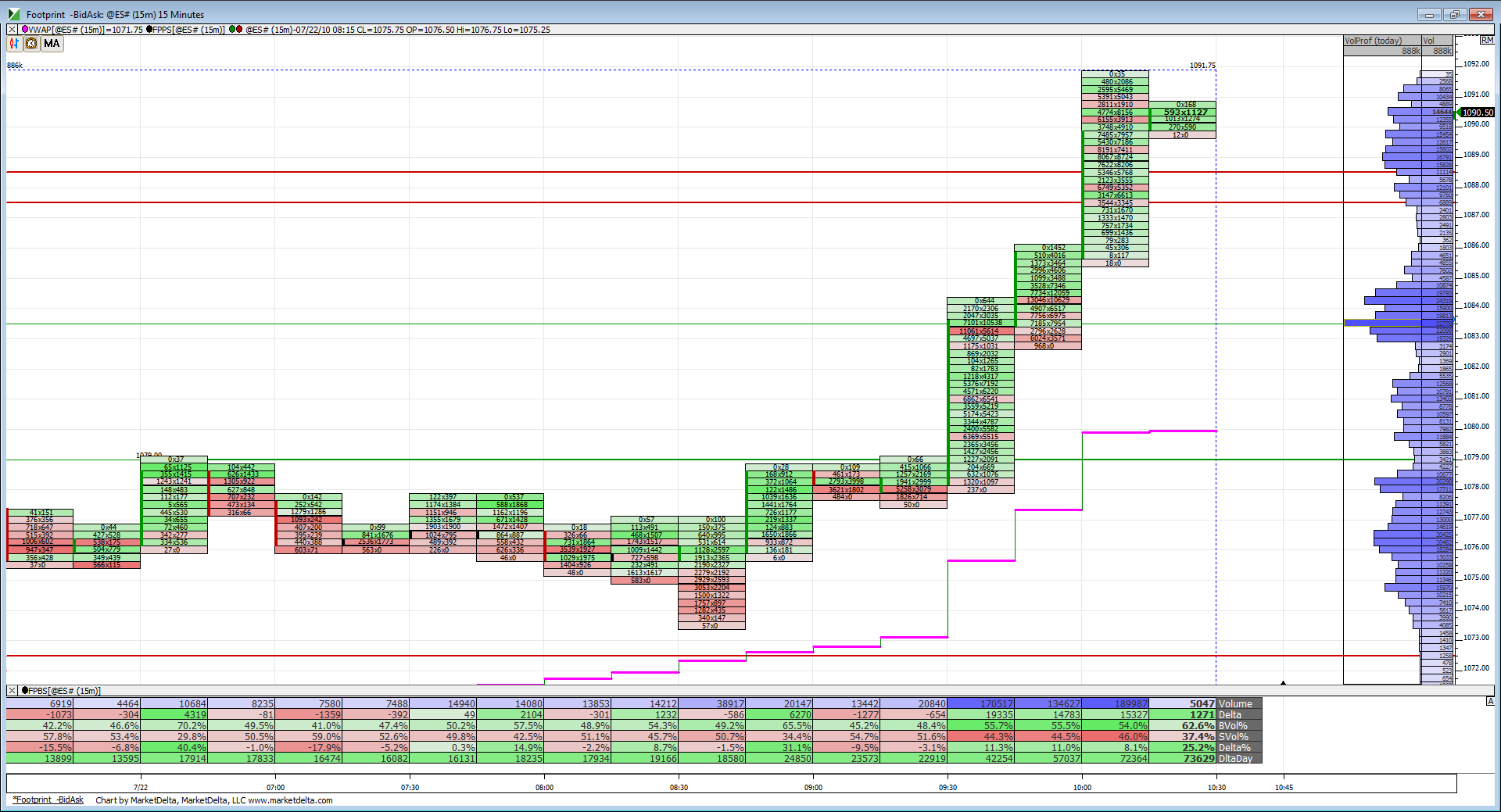 conceptually the highest volume price went from 84.75 to 89.50..and so far they are accepting that price....we need to see what happens if they run out the hour high...either way this is a tough
fade
and kind knew it would be....
yes...we have the open and drive from the begining and no super low
$ticks
..hard for me to be a trend trader!! signs where there but couldn't break the fader mentality...
ideal target for me is still 86....core is on at 88 and 91 area....
trips
below 88.50 now..added at 90.75 ..for
trips
.....still have the 81.50 and 84's...luckily light on those but will affect Loss or Gain
This is me squirming and trying to trade out...good lesson for those who want to see me fail!!
OK, you got the explosive rally off of the 12-13 day low. If you go back and look at my charts you will notice the high never comes in untill day 5 at the earliest, more commonly day 6-8. Friday would be day 3 ,the way i count it. however you have this little demon to deal with....Closing
tick
+1238! And you know how i feel about that! I would not be surprised to see some back and fill tomorrow.certainly by the close mon! ... good trading all!!!