ES short term trading 8-25-10
ES short term trading 8-25-10
They've kept it symmetric
O/N
ahead of the 8:30 a.m. reports. So the center of the range will be important,,,basically the 51.25 - 52.50 area. Below we have 39 - 40 and above we 59 - 60 which I thought would have printed Yesterday. Further up we have 65 - 67.50.
back to 46.5 open line
double
s/r
about 46.25
see which way they take em
Wed lunch is over
vwap
and
POC
at 44.50 which implies we are symmetric....watch for the breakout failures at 46 .75....the breakout traders will buy that number to try and target 48.25 and new highs....I'll pass on breakouts...we may just have another neutral day unless new volume comes in now or if they successful break it down below 42.50
Odds favor a return to vwaps
Are those
trips
@ 1046.75? If so, I should wait for a break down and then trade toward them as a target on the way up?
Is that the idea?
My Investor R/T is showing
trips
but not my
IB
charts which feed my IRT..I need to go by my
IB
charts....but my charts on
IB
are trying to form a ledge at 47.....good point either way Mike...
yes Mike..here is my
VWAP
..we are stuck between those traders that view
VWAP
as support and those of us that think we are just gonna consolidate between
Vwap
and the
SD
's and stay symetric...a surge in Volume up may change that plan.....
Click image for original size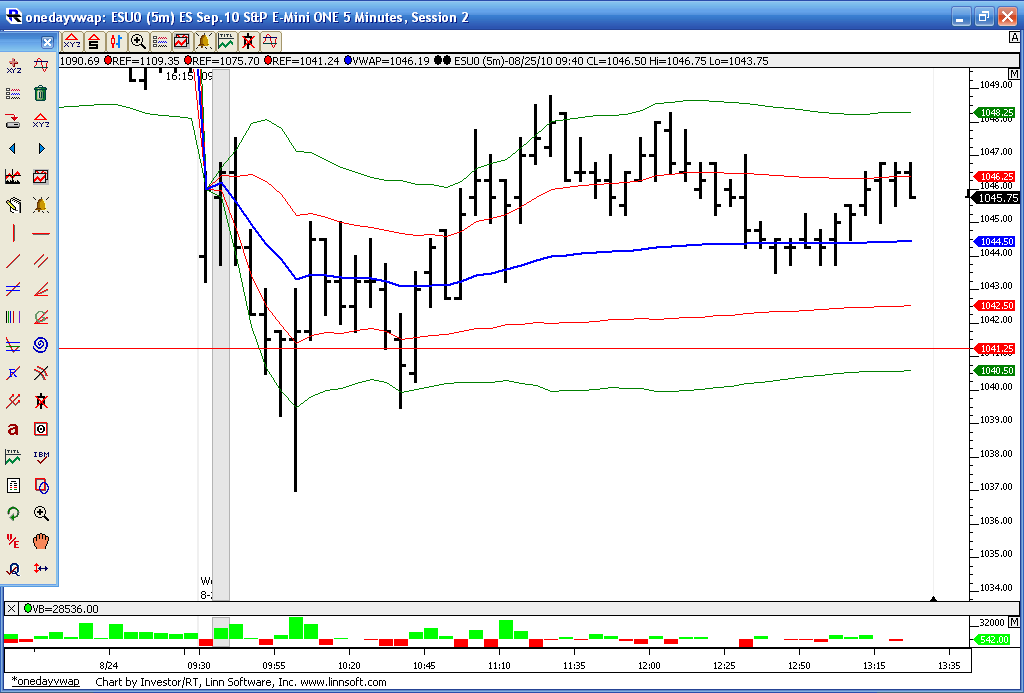 correct...those who bought
Vwap
and the first
SD
breakout are winning so far...
Originally posted by Big Mike

Now the trips have been broken, they are invalid targets?

thanks for the reply, will look at your answer in detail and let you know if i have any questions....thanks again
Originally posted by BruceM

hello and welcome...see the running the triples thread but in general the triples are 3 , 5 minute bars in a row.....they formed today right at yesterdays Vwap and POC and they come back to test vwap and POC often when broken....I also had that price I was watching from yesterday which was 51.25 so I had plenty of reasons for a Possible retest......there was also an air pocket on the one minute down there.....so adding was a bit agressive but justifyable...hope that helps

Originally posted by apk781

hi bruce, i am rather new in this forum; have been following the discussion for a bit but could you elaborate a bit on the reason you added and where the triples were? thanks



Originally posted by BruceM

hopefully everyone saw where the triples were and the reason for my add