ES short-term trading 10-6-10
ES short-term trading 10-6-10
Here is an historical study that (IMHO) is worth tracking and its "set-up" might be realized today.
I've related that I get the
gap
-guys free videos (I don't subscribe and I don't necessarilly trade opening
gaps
) but I do like to see what he has to say about the daily bars and he does provide technical historical studies that are pure data.
Last week he published a study that looked at
Gap
Up openings where the Open was a new 40 trading day H. Incredibly, historically, 82% of these
gaps
fill on the same day.
This happened on Thursday, 9-30-10 and that
gap
filled.
If today, Wed, 10-06-10 opens above 1158.75, that would be a
gap
open at a new 40 trade day High.
selling 58 now...hope they run
O/N
high for adds....this is last campaign for early session
Here is a look at that rotation Monkey mentioned earlier. Above, below, above
VWAP
.
Click image for original size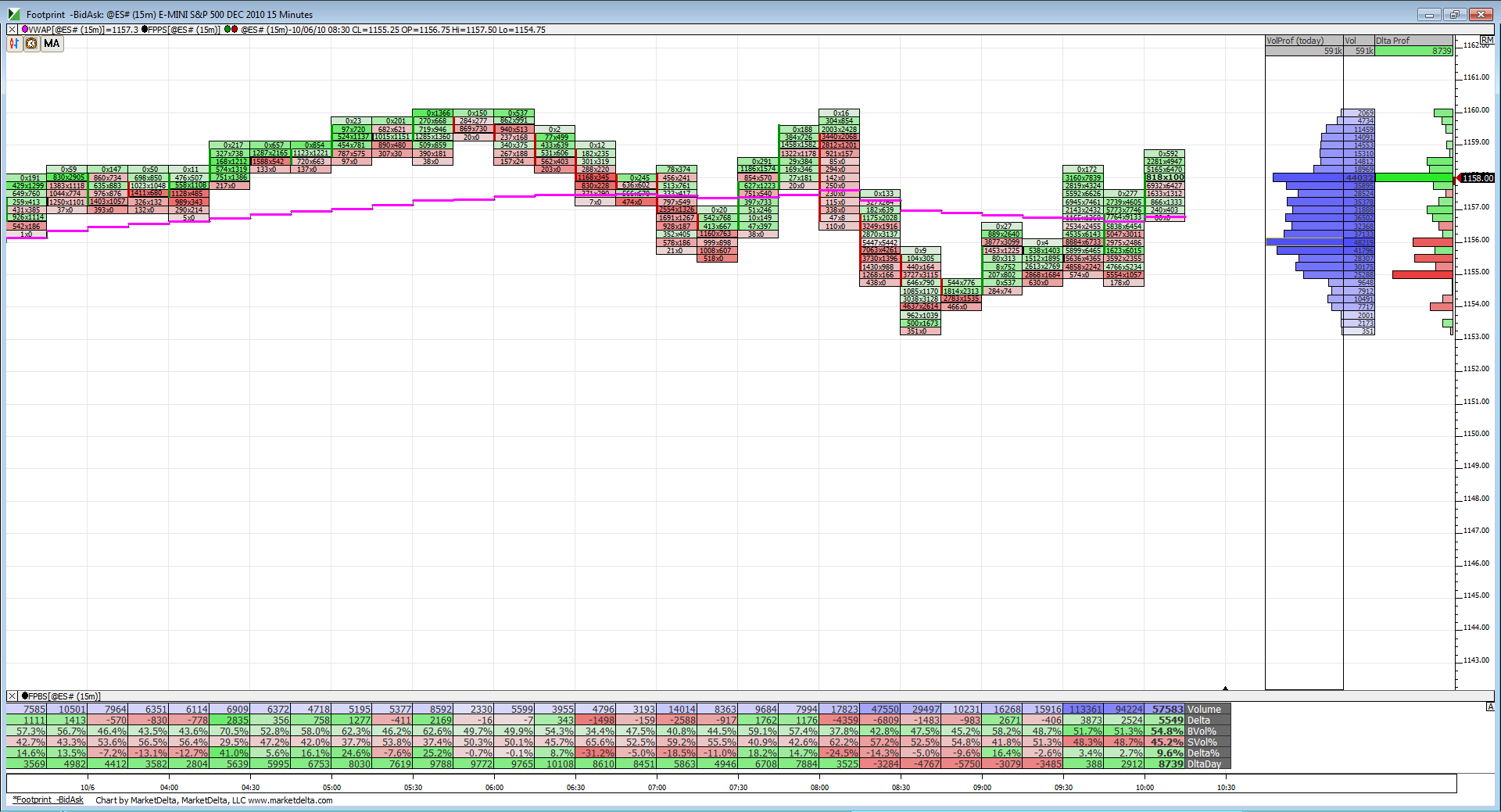 the nerve of the
YM
being above it's
RTH
of yesterday while the es and
NQ
weren't...LOL...no better
fade
concept !!
usually 8- 10 Lorn or next key number...LOL....in this case the
air pocket
from yesterday...
Here is todays POP quiz : It's 12 noon EST and this is how the cash indexes looked...
DOW
: +23
Compx -12
S%P : + .56
Do you favor Buys,sells ? Now no peeking ....
HA
...we all know what did happen but can u see why it might have happened given those numbers?
Like anything Lorn the
trips
need to be in context and I don't like them at the highs and lows....in this particular case we would need to become break out traders to get them.....
Now if they were on the lows it would have been much better as we have a sell rallies mentality today....not a "buy the breakout" mentality"
Still a good reference point and the day is still young..perhaps if
NQ
canget above Mondays high we can think of long possibility...till then it's a hard
fade
to be buyers down here..at least for me..
Bruce could you pls talk about what you are thinking when you have lets say 3
air pockets
below, or above. What are thinking about how many will fill, and will you buy or sell the 1 st air with others below or above. If I am not clear pls say so.
Coming into 3:30 you can see by the
volume profile
on the right most of the volume for the day is still above where prices are now. The
O/N
low of 1053.25 seems to be a sticking point as prices tried to let go but keep coming back to it.
Click image for original size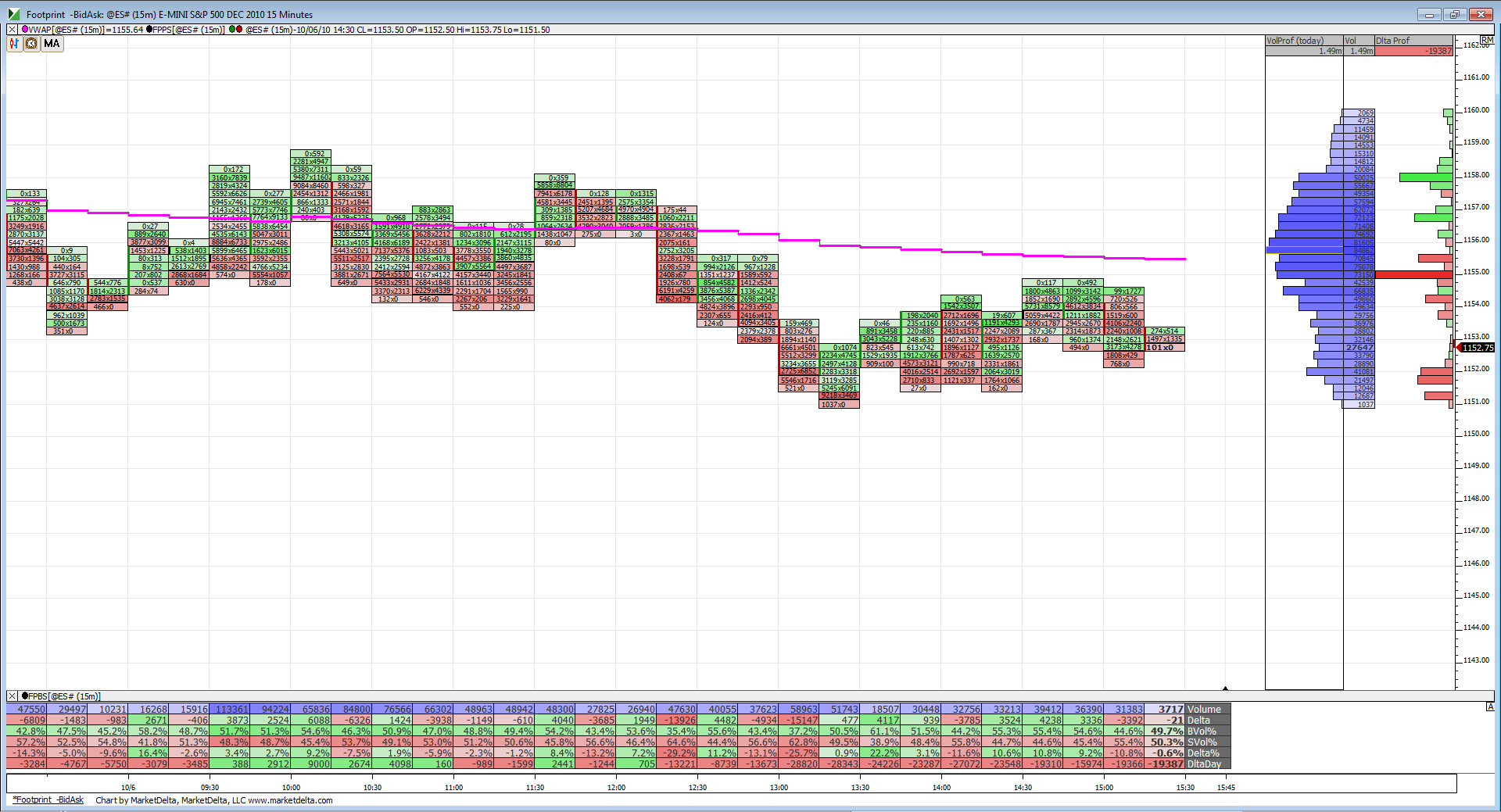 Originally posted by MRamzan

where i can read more about technical indicators and what about the analysis that brokers provide ?

You can read about the indicators almost everywhere on the net.
Just place in Google terms like "technical indicators" "technical analysis indicators" "
price action
indicators", etc.
Brokers today (guilty as charged )have become sales people for software trading platforms. If you are a beginner maybe could you enjoy the benefit of working with a full service broker:
http://www.optimusfutures.com/commodity-futures-phone-execution.htm
our chief broker is Chad, and he will provide you advice and research before the execution of any trade.