ES S/R Map for 11-3-10
It's closing in on 8pm central time with the elections coming in and a bunch of stuff/reports in the morning ... especially the
FOMC
gig.
But here's what I've got as potential
Support and Resistance
price "zones." The Blue lines are derrived from my eyeballing of prior
price action
across multiple time frames. The Light Blue (whitish) dashed lines are the Wkly Pvts.
The Red line is some confluence of fib "exhaustion" projections at the 1199-1200 zone which coincides with potential price action resistance and also showing 1198 as Daily R2 (not to mention the "round number" effect of 1200).
The Maroon lines near the top are simply a ZONE from the
RTH
high and Overnight high from April 26:
1204.50-1207-75 (continuous contract)with a Wkly Pvt of 1205.50 in that zone
.
Below where the
ES
is currently trading is
PASR
potential support and Wkly Pvt of
1192-1193 area
.
Next stop down as only semi-significant potential support is
1189 while 1186
is more significant, both
PASR
levels (which, at only 3 points, could be considered a wider "zone."
Just a map for coming into Wednesday's trading. Hope some find this helpful!
Click image for original size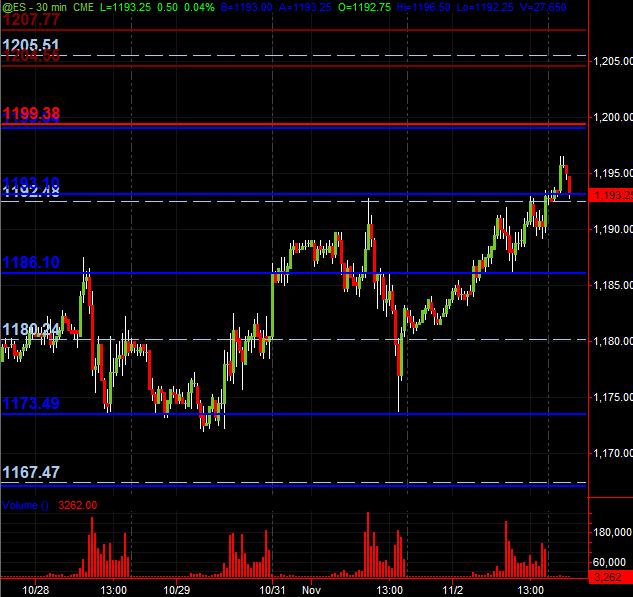 Will not surprise me if the market hits every line on your chart at some point today ...
Agree with that
PT
. There are leftover
triples
from yesterday in
RTH
and they don't stay untouched for long .......usually!
94.50 is top dog from
O/N
so far as of 8:09 a.m...EST. Not really sure why but volume likes that number so far...I guess because the old 93.75 is nearby
I've tightened the footprint so you can see the entire
O/N session
. Range bound at its best, above and below
VWAP
with the
volume profile
showing the middle of the curve where most of the volume is. My 5-day average read on volume on a per 15 minute basis shows a good 10% below average volume so far. I'm sure by 2:15 today that will change.
Click image for original size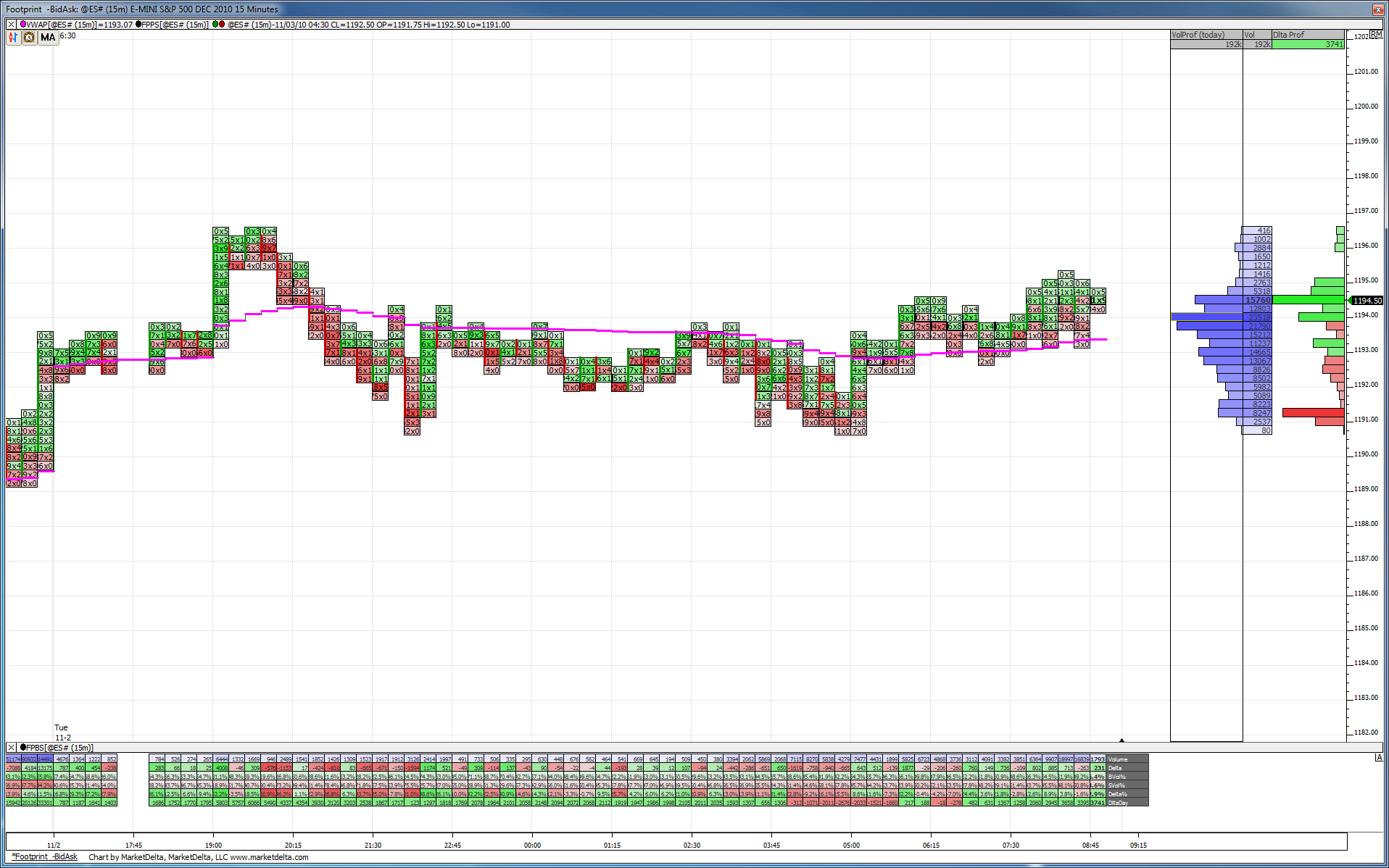 Here is a chart of EURUSD. As part of the larger picture, I really don't think markets will change direction in any meaningful way until this guy changes direction. Maybe they will do it together, maybe one will lead the other. Not sure.
Click image for original size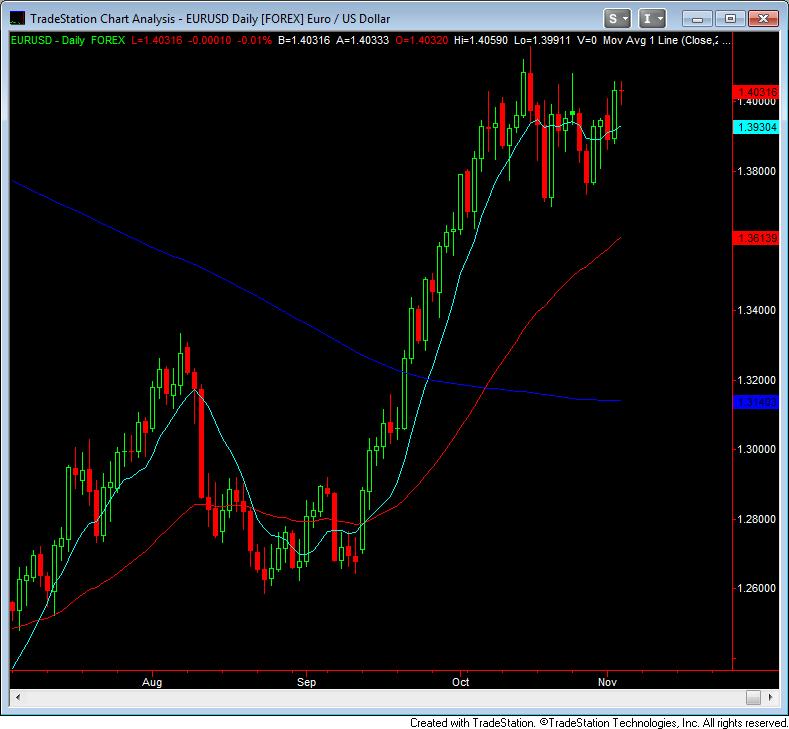 that's a nice visual Lorn....my plan is to get short if we can get up into the 96 area.....as that symetric distribution you show is a sell the rally/buy the dip visual and use that 94 area as a quick and dirty target/magnet.....we also have the 89 - 90 magnet from YD trade to help pull us back into YD
RTH
range.
Biggest concern is that sometimes they start making the grind up at the
RTH
open...so Obviously us faders don't want to get caught up in an updraft that doesn't come back....
just ran the
triples
from yday ... have support here near 86 area, but am on sidelines now with it being Fedapalooza day
Grabbed a couple early short trades...
MP
beginning to feel a little like a trend day... traded easily through yesterdays
value area
and are now below yesterday's
value area low
...
Here are some reference points to keep an eye on going into this afternoon...
Click image for original size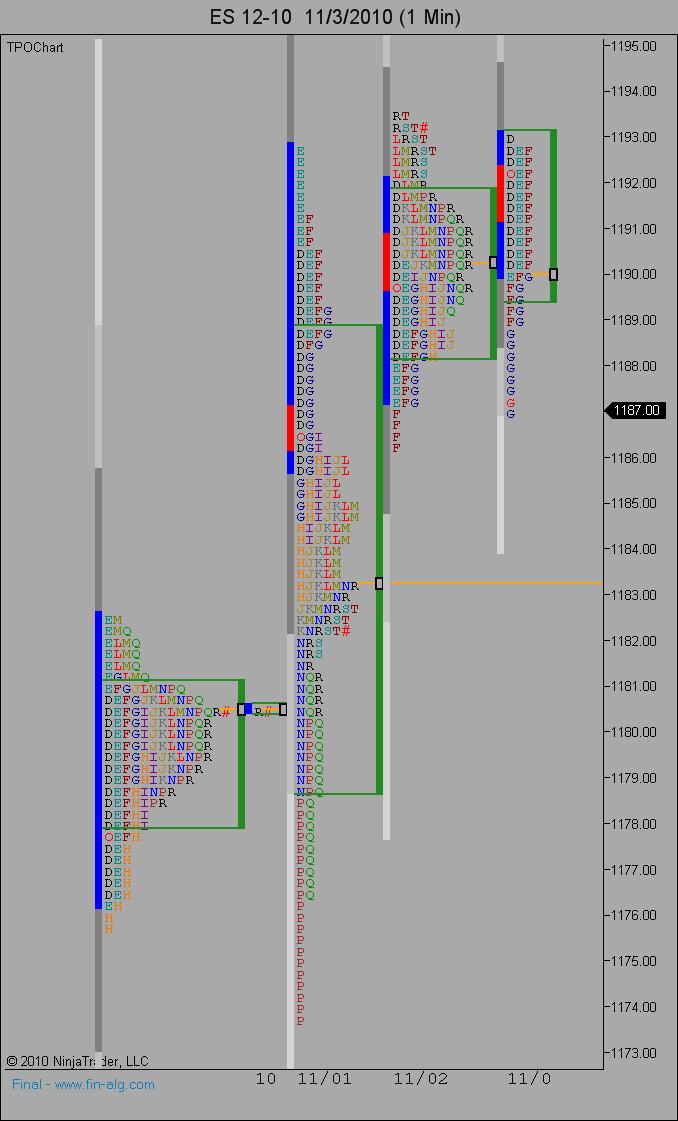 Originally posted by MonkeyMeat

just ran the triples from yday ... have support here near 86 area, but am on sidelines now with it being Fedapalooza day

for anyone that got long 86 area for some insane reason, there's
trips
at 90.50 and
AIR
at 91.25 on my chart ... getting there on Fedapalooza day's another story though
Coming into the announcement here is the footprint chart. I've marked with red down arrows all the bars which have volume above the 5-day average volume. Note how all of them have come underneath
VWAP
. Something else to take note of is the first half hour of
RTH
volumes was extremely below 5-day average, which is very abnormal.
I've also marked the volume bulges on the right side of the chart. Note the lack of volume between the bulges. This suggests prices might want to spend some time filling in volume between the bulges.
No real trade ideas here but just notes I like to keep to help me stay focused on the forest and not get lost looking at the trees.
Click image for original size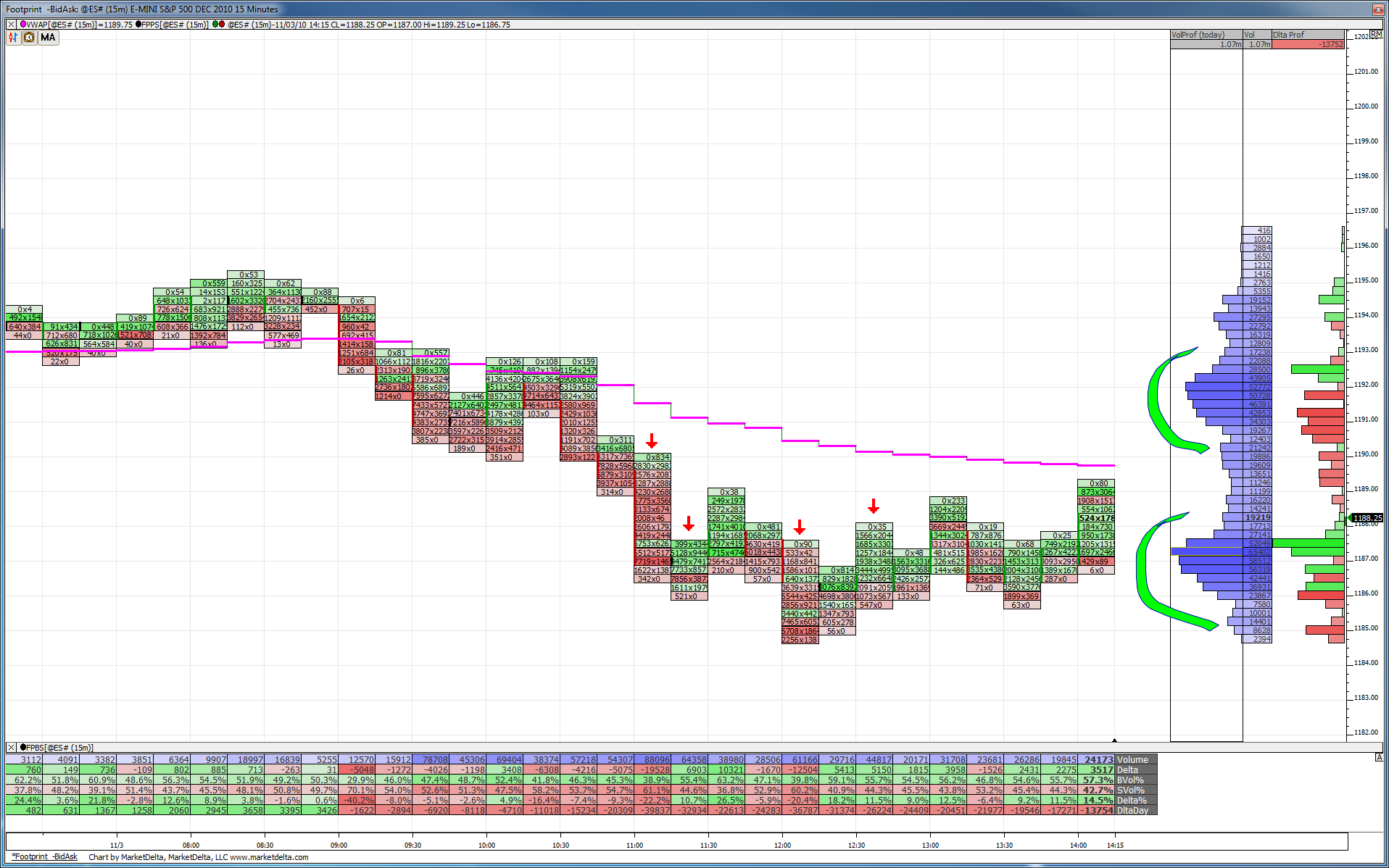 a common pattern it seems is that they test the area they push it out from....so hopefully they will push it higher first because I am a better seller than buyer....the point is that I will look for fading that first push and try to target the pre-fed area...the price just before the volatility increases...and hopefully they will leave a
gap
in the data there!!
the
high volume node
just jumped from 87.50 up to 91.75..... volume is getting attracted at higher prices so that is good for bulls in theory and they tested that
low volume
in the 89 - 90.50 area...reason I'm sitting out now is I don't like how we traded in equal amounts above and below the 87.50 before it flipped higher ( this was also the average of the range !!!)and we still have
low volume
in there....so this can still go down to 87.50
"when in doubt, sit it out" - glad that made sense
MM
...at least I hope it did