The C pattern
Your looking at last weeks trading profile and then the first three days of Thanksgiving week.You can see the high Volume up at 1197 and then down at the 1176 area....these are so far the key areas to monitor.....You can use your imagination and draw the letter "C" from the 1197 number down to the 1176 number...these lower volume areas tend to fill in over time like they did on Mon, Tues and Wednesday.
On Wednesday we had a 10 to 1 up volume day and 5 to 1 lead of advancers to decliners. Unfortunately it was lower volume , holiday trade. The point is that I'd be cautious of any higher trading over the holiday. We usually don't see very strong follow through in the
RTH
session following such a strong day. So if we happen to
gap
higher in the shortened session on Friday then
fades
SHOULD be a good wager.
Click image for original size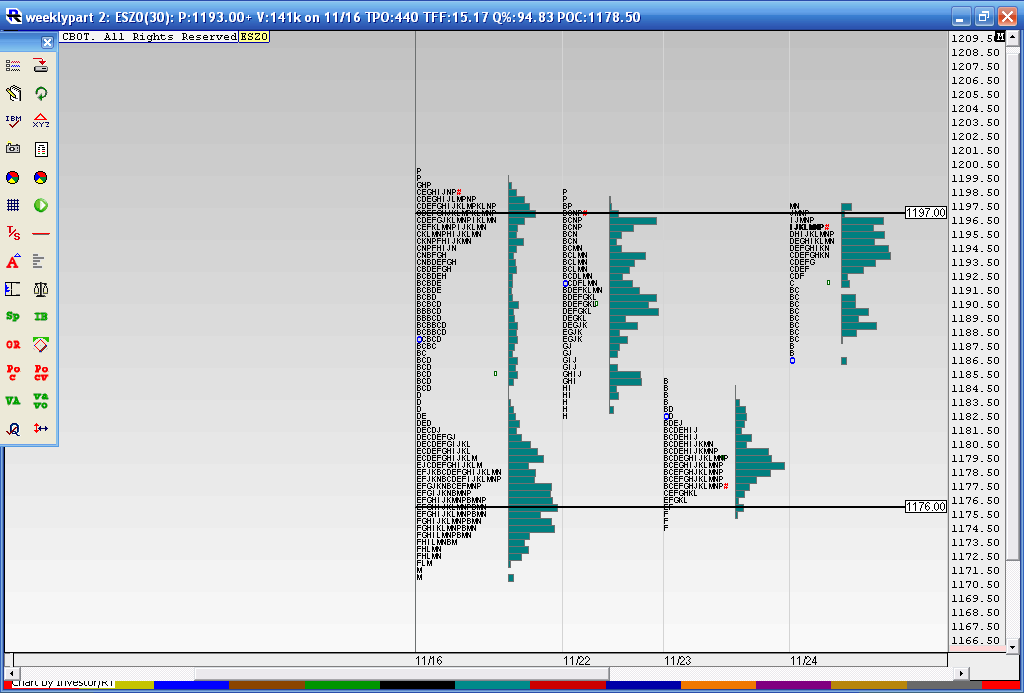 here is how we look when I merge all that data together....look at that
low volume
in the 82 - 87 area.....86.50 was an interesting spot as they just don't want to spend time at that PARTICULAR price...strange but true
Click image for original size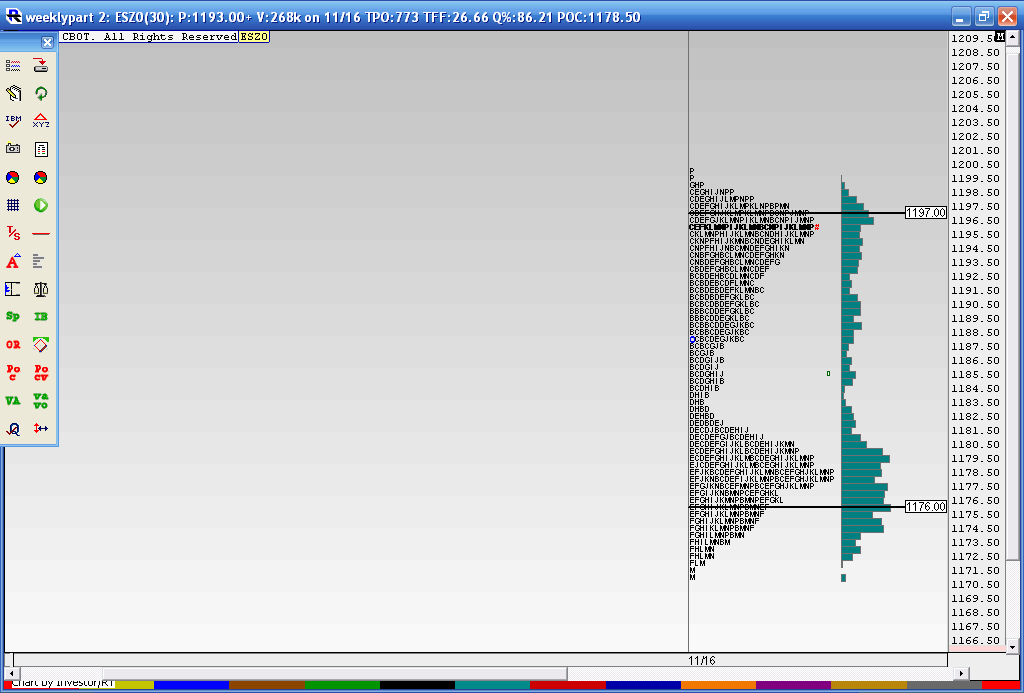 Here's what I've got as
PASR
, shown on a 30-minute chart, coming into Friday. Blue lines potential signif
S/R
... Magenta semi-signif ... Whitish dashed lines Wkly Pvt levels. This is my
ES
"map" that I'm looking at ... hopefully complementing Bruce and other's
MP
and
Volume Profile
observations. Hope it's helpful in some way! Turkey for breakfast in the morning ... ugh! I'm currently swollen up bigger than a dog
tick
from todays feastings.
Click image for original size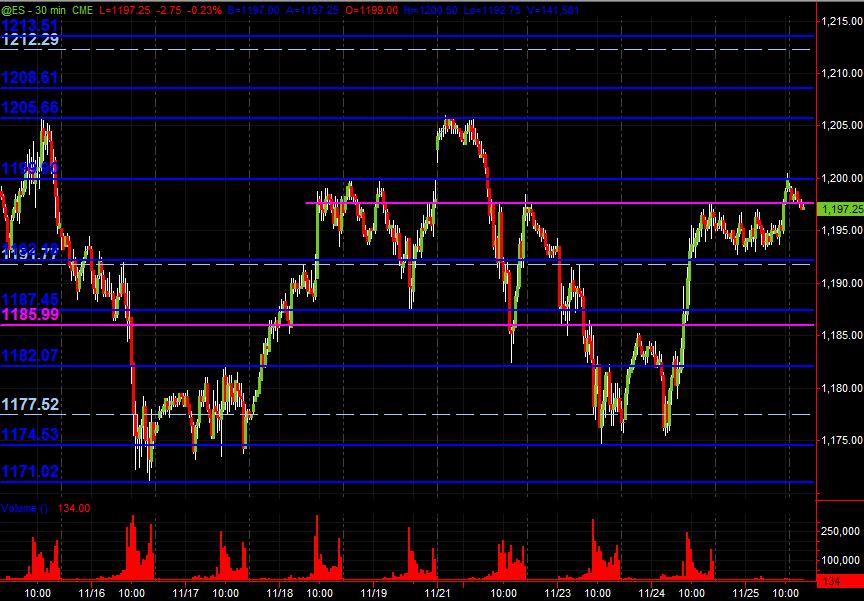 Here's what I've got with
TradeStation
on a Weekly
Volume Profile
(wasn't trying to muddy up the water with the prior posted chart of
PASR
levels). Drew in the "C's" that I think Bruce was alluding to, but with what I've got on the
TS
Weekly chart ... focus on this week and last week. The
PASR
chart can simply be used as an additional tool to dovetail into the auction marketing and patterns displayed on what's been posted so far on the thread. And anyone ... (Bruce or others) correct me if I'm wrong or if something seems askew!
Click image for original size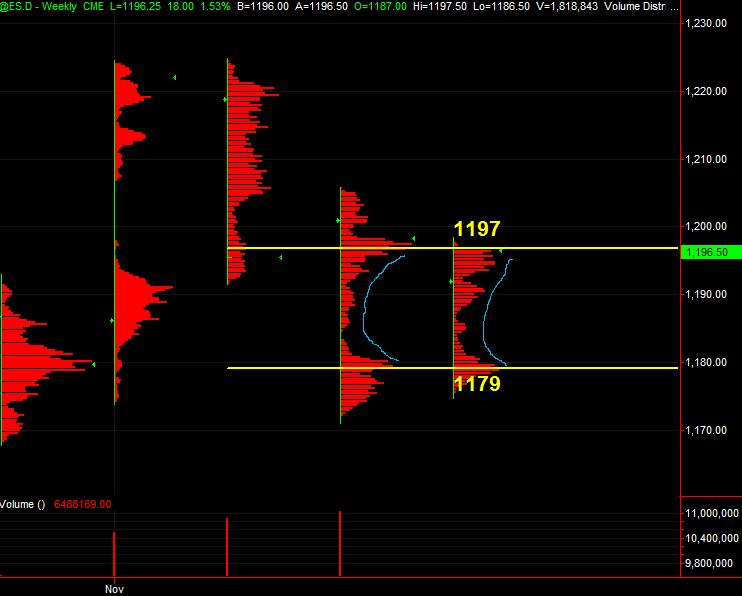 Patterns like these show the value of using
market profile
charts.
The "C" profile pattern is also called a double distribution pattern.
The
low volume
zone you identified is what really jumps off the charts to me. So far the 1130
low volume
zone seems to holding as support on these little tests down.
What I find interesting is the high volume level on your charts lines up on the 50% retracement (1198.00) of the initial down move (1224.75 to 1171.00). Taking this observation one step further, a break down out of this
ABC
setup forms a very nice
AB
=
CD
pattern with point "D" targets at 1148.00 (100%), 1133.75 (127.2) and the 1.618 fib extension at 1115.50.
nobody on 89.50 today////YET !!!! (
air pocket
)...the hour breakout folks will go for that node at 94.50 and 96.50...This is still one big consolidation so trade it as such...remember the early close gives you less time to make up for bad trades today
starting 92 shorts....I know they see that 94 - 96 above. That is a concern...will watch
IB
high if they run it out
there we go...can't expect much from here so anything that drops is a bonus...they have rejected
low volume
area from Wednesdays trade..
I have one contract left to try for that 86.75......that is critical number
here is the breakout up from the "C" pattern...I was expecting this to happen on the downside....so I was completely fooled by these last two days of trading....almost seems depressing to me.....lessons from the market are tough on the ego sometimes.....I'm not sure if posting ones thoughts and trades makes it worse ....but so far the market has spoken and the current direction is up..
With that said I STILL have an uneasy feeling about this rally...something seems a bit off....perhaps it's me who is off.
Click image for original size