selling 1240 and 1242...
In
O/N session
.......1242 hasn't hit yet........betting they don't want to spend much time trading near the 1250
RAT
on this opt. Exp Monday....
will hold for
gap
fill...
lets see if they pop those stops at the reversal bar high......on 5 minute...I still think air and the 35.75
gap
will fill..even on new highs...if they come
10:30 brings another report that some MAY watch today...I'd like to see 36.75 print frist as I missed my initial exit
Will be interesting to see if 1239.75 is challenged after 1st hour as that is 10 point move up from the
O/N
low.
covered this right before report but trying again at 38.50 and prepared to
add
if they pop out above hour highs into 41 area
the problem with any of these trades is that we KNOW that we will probably get a surprise news announcement today...so not really a surprise....
I don't mind taking losses when some news surprises the market and me but since we know one is coming we need to be prepared....for me that preparation comes in the form of smallers contracts on any campaigns....this has been true all week so far...
so far we have HH and Higher lows and no retest of open print...so more trendy than usual..I need to see this get back below 37.50 and soon.....otherwise we come up on the 90 minute window for
fades
....
I'm looking for a test of yesterday's high 1242.25 as the objective. and possibly higher to 1244.00
ES
is now testing 1239 MdP.
ES
now trading 1238.50 @ 10:56
Will void the objective if below 1237.00
holding two to try for that
gap
...but they make them tough as we know...sometimes...50% back was right near complete air fill!!!!!
here is how it looked in my world...I labelled the
gap
and air in case anyone new is here today......otherwise this is old stuff to most....
Click image for original size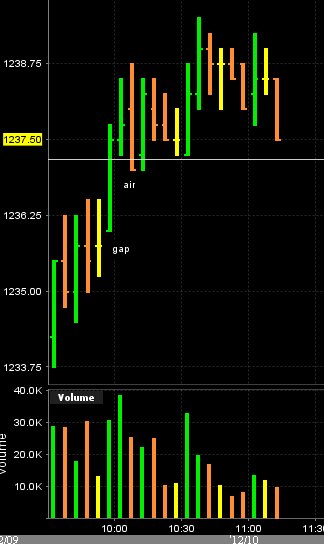 always best to take majority off when u get a complete air fill beacuse that is a breakout point and we never know if buyers will step back in since they got rewarded the first time....
a
gap
in the data is not as high a probability based on past trading days but good to keep track of
38.50 will take these last two off if I can't get that
gap
now
Great job from everyone! BruceM, Lorn, Monkey M, & Pt-mini.

Thanks for sharing the way you see.